Van Olst Sales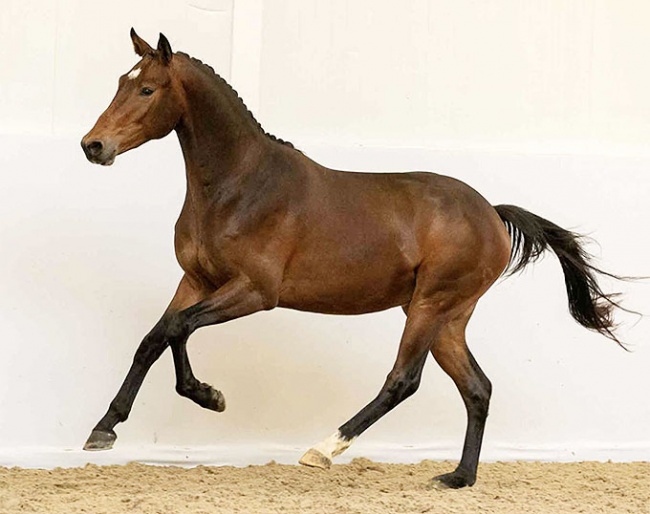 In 2020 Van Olst Sales started with online auctions. After very successful auctions of talented sport horses, foals and broodmares, Van Olst kicks off the year 2021 with an online auction of seven promising 3-year old geldings. 
The bidding begins on 29 January 2021 at 12h00 and concludes on 1 February 2021 at 20h00. 
This is a unique opportunity to buy an affordable and talented 3-year old gelding with an excellent dressage pedigree. 
Diamonds in the Rough
The collection of seven 3-year old dressage geldings consists of diamonds in the rough, who have not yet been saddle broken, but who are shod and fully vetted. 
Nuri van de Anjershof
Nura van de Anjershof is a very elegant and attentive son by top stallion Inclusive. During the KWPN home inspection he convinced the judges with his nice conformation with a lot of expression in front and ground covering gaits. He scored no less than 85 points for his gaits and seems to be a future dressage top horse. 
Nat King Cole Lebu
Nat King Cole Lebu is a well developed, strong eye catcher by Inclusive. You keep looking at this horse. He moves with much power and cadence and has a beautiful expression in front. Dam Wisperer scored 80 points for her gaits at the inspection. She also produced the international dressage horse Elvis (by Rousseau) and the Z2-level Hopedale (by Chippendale). 
Nelson NA
Nelson NA is a light footed, strongly moving future dressage horse with a very expressive trot. He is by Grand Prix stallion Diëgo, who is by preferent sire Negro. Nelson has Lord Leatherdale in his pedigree. He produced Grand Prix stallions Chippendale, Everdale and KWPN horse of the year Glamourdale. 
View the complete collection here
Easy Bidding, Register Now
The Van Olst Sales Online Colt Auction starts on 29 January 2021 at 12h00 and concludes on 1 February 2021 at 20h00. 
In order to bid, you need to register online. Your identity will not be revealed and the bidding is anonymous. Only the organizer has your contact information. 
All horses have been vetted and the information of this can be requested via info@vanolstsales.online. 
To book an appointment to view the horses, contact :
Gertjan van Olst +31 653 161 926 
Niek Haarlink +31 610 861 301