The Netherlands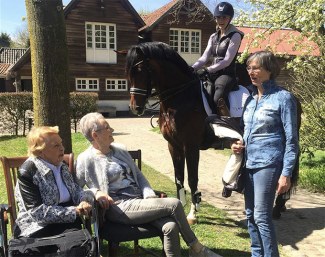 Thea Smarius, the owner of Imke Schellekens-Bartels' top horse Sunrise, has passed away on 12 January 2021. She was 88 years old. 
Hanoverian Love
Thea (née Elisen) and her husband Piet Smarius were horse lovers for life and had a particular affinity with the Hanoverian breed.
They often attended  the Hanoverian Stallion Licensing and were small time breeders, having bred, for instance, the 1999 born Hanoverian Flyaway Wish (by Weltmeyer x Feiner Graf x Bogenschutze). One of their mares, Maedel (by Metternich) competed in the Ratje-Niebuhr breed show.
The were also owners of the licensed Hanoverian stallions Don Presidente (by Dauphin), who is ridden at Under 25 Grand Prix level by Pauline Leffelaar, and Floratio (by Florestan), who was based at the Celle state stud and competed by Wolfhard Witte.
Sunrise
In 1999 the Smarius couple was looking for a rider for their 5-year old Hanoverian mare Sunrise (by Singular Joter x Werther) and found Tineke and Imke at Bartels Academy, where their plus-daughter Marianne was training.
Sunrise was first trained and competed by Tineke Bartels, but after the sale of the 2004 Olympic Games ride Lancet, Imke took over the ride.
With her career on Lancet only being very short lived, Schellekens in fact achieved her biggest career successes on Sunrise. They were a fixture on the Dutch team at the 2006 and 2010 World Equestrian Games, the 2007 and 2009 European Championships and 2008 Olympic Games.  After injuring herself in the winter of 2010, the bay mare needed a long time to recover. She missed out on the 2011 European Championships and 2012 Olympic Games. The 2010 WEG turned out to be the mare's last international show. She was retired from sport in November 2012. 
Best Horse Owners
Thea and Piet Smarius was "the best horse owners", Imke stated. "Without her and her husband Piet I would never have achieved, what I have achieved. They were the nicest people that I know and the best owners you can think of. Together we experienced great moments. They traveled the world to enjoy Sunrise. At Indoor Brabant, she and her family were loyally sitting in the front row, every year."
Thea outlived Piet, who passed away in 2013. 
Related Links
Imke Schellekens' Sunrise Retired to Become a Broodmare
Schellekens' Sunrise to Appear in Public Again
Imke Schellekens-Bartels' Sunrise "Doing Well"
Imke Schellekens' Sunrise Not Fit for 2011 European Championships
Hunter Douglas Ends Sponsorship of Imke Schellekens-Bartels
Imke Schellekens' Sunrise Injured in Lunging Accident