Belgian Warmblood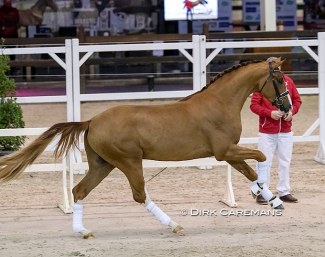 Five dressage colts will be presented during the third phase of the 2021 Belgian Warmblood (BWP) Stallion Licensing in March.
The first and second phase of the 2021 BWP licensing took place at equestrian centre Azelhof in Lier, Belgium, on 11 - 13 January 2021 and was closed to the public because of corona. 
Proven Sires of Young Colts
The BWP stallion licensing committee was led for the first time by Kurt Asselberghs who said he was pleased with more colts presented by younger sires. The BWP studbook is one of the leading breed societies when it comes to show jumping horses and breeders often rely on proven, older sires instead of picking young unproven sires as a combination for their broodmares. 
Asselberghs, however, is happy that breeders take more risks with young stallions. "If you look at the catalog you see a lot of stallions out of strongly performing mare lines. When it concerns the sires, there is a diversity between the famous producers, but also some colts with young BWP-sires. I think it's important that also these young BWP stallions are represented. It creates progress for the breed."
Dressage Colts
On the original entry list, 3 BWP bred three-year old colts were entered and 11 non-BWP registered colts. 
Several of these dressage stallions were not presented because the BWP licensing coincided with the lunging day for the 2021 KWPN Stallion Licensing on 12 January. Four of those stallions were excused and re-invited to appear in the third phase in March as it's a very small group anyway. 
"Because of corona both KWPN and us had to reformat our stallion licensing," said Jef Govaerts, chair of the dressage committee. "These four were expected at the KWPN (for the lunging phase) and we agreed that they can come to the third phase and there do their second phase."
The list of accepted stallions for the third phase includes five names:
Sunnyboy van de Kempenhoeve (BWP, by Don Deluxe x Quaterback) - Breeder and Owner: De Kempenhoeve/Mieke Dries
Sandor Hit van 't Steenputtenhof (BWP, by Special Agent Amour x Sir Donovan) - Breeder and Owner: Geert and Marleen van de Zande-Moeyersons
Nordes Begijnhoeve (KWPN, by Ferdeaux x Tango) - Breeder and Owner: De Begijnhoeve/Rob van Puijenbroek
Negotiator (KWPN, by Hometown x Krack C) - Breeder and Owner: Martien and Frans Burgers
Nashville van de Nethe (KWPN; by Secret x Polarion) - Breeder: De Nethe - Owner: Veronique Swagemaekers and De Nethe
The complete list can be viewed here. 
Photo © Dirk Caremans
Related Links
Quinten Begijnhoeve, Champion of the 2019 Belgian Warmblood Stallion Licensing
Pegase van 't Ruytershof, Champion of the 2018 BWP Stallion Licensing
Ons Noud, Dressage Champion of the 2017 Belgian Warmblood Stallion Licensing
Naxcel V Named Champion of the 2016 Belgian Warmblood Stallion Licensing
Mac Donovan, Dressage Champion of 2015 Belgian Warmblood Stallion Licensing
Kozinsky van den Dries Approved at 2014 Belgian Warmblood Stallion Licensing
Kasanova de la Pomme, Champion of the 2013 Belgian Warmblood Stallion Licensing
Jappeloup van het Dauwhof, Champion of the 2012 Belgian Warmblood Stallion Licensing
Inshallah de Muze, Champion of the 2011 BWP Stallion Licensing