Denmark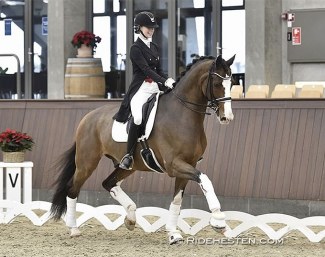 The Danish Equestrian Federation has posted the updated squads of youth riders going into the new calendar year, 2021. 
The lists were updated on 17 December 2020. 
The Danish youth riders are supervised by Dennis Fisker as team trainer, Janne Møller Jensen as team captain and Rigmor Kristensen as team co-ordinator.
Pony Riders
Caroline S. Jørgensen - Dr. Doolittle
Cornelia Sinding - AJ Don't You Forget About Me and Terbofens Charico
Ingeborg Cederholm - Top Tilas
Josephine Gert Nielsen - Dot Com and Ceramonte B
Nanna Leisted Grønbech - Moglie 
Selma Ludvigsen - Egelykkes Perfetto
Sophia Boje Obel Jørgensen - Adriano B
Victoria Toft Waksvik - SL Cuba
Junior Riders
Amalie Skov Christensen - Sandbaeks Wonder-Hitt
Alexander Yde Helgstrand - Grevens Sava
Annabelle Rehn - Vestervangs Garson
Frederikke Gram Jacobsen - Ryvangs Zafina
Laura Gotteberg Jakobsen  - Romio Hojris
Maja Emilie Leth - Nairobi Melody
Young Riders
Cecilie Hedegaard -
Ditte Kvistgaard - Divina
Ida Kirstine Bjørn - Sogaard Ballerina
Kristian Würtz Green - Bovbjergs Zhivago
Laura Ejby Hygum - Sundorfs Aqino
Laura J. Rasmussen - Atoftens Dornier 
Lea Andreassen Torabi - Roberto des Frettes
Maja Juul - Grosse Freude
Maria Mejlgaard Jensen - Antango
Sara Aagaard Hyrm - Skovborgs Romadinov
Sofie K. Hansen - Dieu d'Amour
Sophia Ludvigsen - Safari Klintgaard
Victoria Cecilie Bonefeld Dahl - Comtesse
Photo © Ridehesten
Related Links
Dennis Fisker Appointed New Danish Youth Team Trainer
Thilde Rude Hare Wins 2020 Danish Pony Riders Championships
Hoeck and Ludvigsen Win 2020 Danish Junior/Young Riders Champion