U.S.A.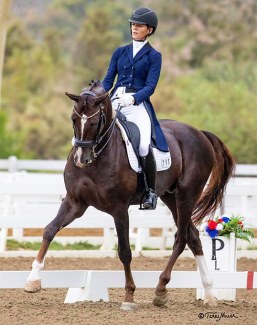 On 6 January 2021, the FEI released the updated table of administrative sanctions with positive controlled medication tests from the last quarter of 2020. 
Controlled Medication
While the list is usually rife with (doping) infractions in the endurance world, dressage horses normally come back as negative. However, for the fourth quarter of 2020, two dressage horses produced a positive test for controlled medication: Carina Scholz' Tarantino and Taylor Rowsey's Demetrios. 
Controlled medication is allowed but not in competition. 
Gabapentin
The 33-year old Taylor Rowsey competed her 9-year old Rhinelander gelding Demetrios (by Diamond Hit x Florestan) at the CDI Thermal on 12 - 15 November 2020. 
The pair was fourth in the 1* Prix St Georges with  67.157% and third in the 1* Intermediaire I with 68.97%. 
Demetrios was tested at the event and came back positive to the controlled medication Gabapentin. It is an Anti-epileptic, used for the treatment of epilepsy and neuropathic pain. 
According to Kentucky Equine Research, Gabapentin has been used in horses for many years is often prescribed as adjunct therapy for horses with pain rising from laminitis, particularly as part of a multimodal approach to pain management.
Administrative Sanction
Instead of appealing the decision in front of the FEI tribunal, Rowsey accepted the administrative sanction on 30 December 2020. 
This means she will not be suspended, but will be disqualified from the CDI Therman (losing her scores from this event), and she has to pay an administrative fee, as well as the legal costs. 
"Unfortunately it was an honest mistake," Rowsey told Eurodressage. "An older, retired horse in my program is on gabapentin and there was cross contamination in the feed room. Both horses were leaving for trips, and feed bags were made at the same time for their departures. While precautions were taken, clearly not strict enough. Demetrios is a very laid back and relaxed horse, the last thing he needs is Gabapentin."
She continued, "I would never intentionally jeopardize my riding career or reputation. It is a rather embarrassing mistake to learn from the hard way, but it will never be made again. I am very sorry that this happened to everyone involved."
Photo © Terri Miller
Related Links
Carina Scholz-Bachmann's Tarantino Tests Positive at 2020 CDI-W Zakrzow
FEI to Accept Morphine as Controlled Medication
Nikanorava Suspended after Positive Medication Test at 2018 CDI-W Moscow
Changes to 2017 FEI Equine Prohibited Substances List Approved
Sue Hearn's Remmington Tests Positive to Controlled Medication