Germany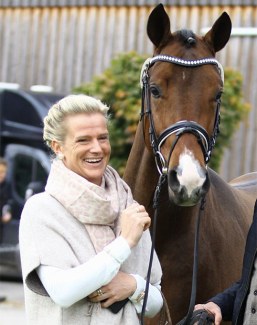 On 12 November 2011, Melanie Wienand's life changed forever. A celebrated auction horse rider for the Hanoverian society in Verden, Wienand fell off a horse and sustained such a traumatic brain injury, that she had to fight for her life. Wienand came out of the dark tunnel after nine months of strenuous rehabilitation, her love for horses unwavered. She has returned to the saddle and dreams of the 2024 Paralymipcs.
Auction Rider
In 2011 the then 31-year old Wienand was living on the fast lane as a professional rider for the Verden Auction centre, a job she picked up in 2008. One month before her accident she piloted auction horse Lemony's Nicket to a record sales price of 900,000 euro. The 3-year old sold to Harmony Sport horses in the U.S.A.
On the tragic day of the November auction, Wienand fell off a youngster that shied and bolted from the flower decorations in the arena. Three thousand people witnessed the accident. Doctors in the audience gave her first aid until an ambulance arrived after which she was rushed to the hospital in Rotenburg in critical condition.
Helmet Policy
Wienand was lucky that she wore a helmet at the time, even though it was not yet a standard policy at the Hanoverian auction center. The helmet lay cracked on the floor of the arena while an unconscious Wienand received first care.
In 2010 U.S Olympian Courtney King-Dye fell off a horse without helmet and suffered a traumatic brain injury, which left her body debilitated for life. Her cognition was fortunately completely spared. Courtney briefly tried riding again at para level, but is now a full-time mom and teaches clinics. Courtney's accident started a global helmet awareness campaign that slowly trickled into Europe. The policy making procedure took long and only in 2021 the FEI made helmet wearing mandatory throughout all levels of dressage sport. 
Around 2011-2012, Verden began introducing helmet wearing to its riders, although auction catalog pictures were still made with riders without head protection. The 2011 November auction, where Melanie had her accident, was one of the first editions in which helmets were actually worn (instead of top hats).
Trail of Tears
Melanie was in an artificial coma for four weeks and when she regained consciousness, the doctors initially told her she would be an invalid for life.  She remembers nothing of the accident.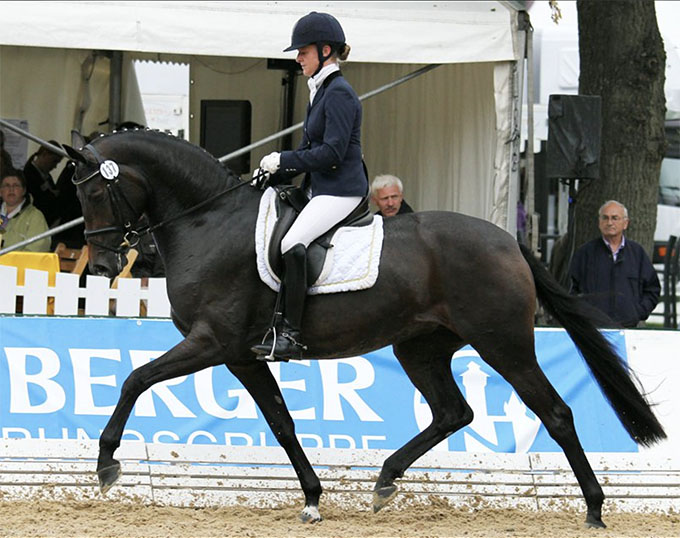 Her rehabilitation took nine months, but still to this day she has to work daily to keep her body supple and functional. She had to re-learn to speak, walk, and write.  Melanie's fighting spirit at the rehab centre impressed all and her recovery to a "new normal" was nothing less than miraculous.
"For a long time they had to pick me up out of the bed, I couldn't do anything. I was like a baby, nothing more," Melanie told Eurodressage. "Because of the spasms I had during the coma, my left arm became angled and without support my head fell to one side. They trained my mind for concentration, memory, speaking, writing, and mental arithmetic. I started like a 4 or 5 year old child. They had to show me everything, dress and wash me, prepare my food. At night I had to wear diapers because nothing worked."
She progressed from a bed to a wheel chair folllowed by a long period in which she required support from a walker. 
"They way out of the wheel chair was a lot of hard training and many teardrops," she confessed. "We trained everywhere: in the water, outside in the park to get my balance back. It was crazy; even today I have a lot of problems with my balance. There was a lot of training to build up my muscles. It took so long, I could write a book about it."
On the long road to recovery, Melanie also learnt much about friendship and disappointment. She realised that she had seriously misjudged some friends and acquaintances from the rider scene, who "turned their backs on me because I was no longer part of the elite," she said. Not the person to hold a grudge, Melanie added that, "I went from being a professional rider to a horse mum."
Therapeutic riding was part of her recovery program, and thankfully her love of horses was not knocked out of her in that tragic fall. Nothing would keep her out of the saddle. "Horses are my therapy and have saved me," Melanie explained.
Back to Working with Horses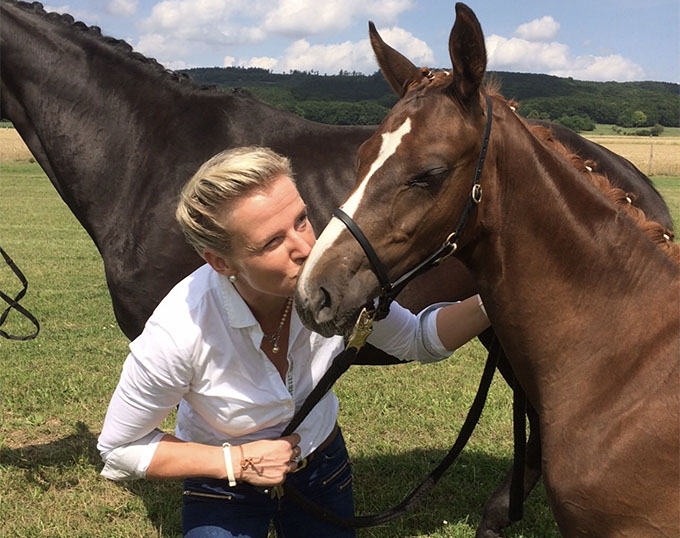 Melanie left the rehabilitation centre after nine months and regained her independence, although her new life brought dramatic change. 
In April 2013 she started working professionally again in the horse world, first in the office as an accountant at the Celle State Stud. From October 2015 till August 2017 she organized seminars and trainings in Warendorf for the Professional Riders' branch of the German equestrian federation. At the moment she is a dressage sales consultant at the Westfalian breed society in Munster-Handorf. 
"The jobs were all fun because because they are horse related," she stated. "When I'm on a horse or hold it by the bridle and look at horses, I feel good. It makes me feel free, independent and non-reliant on the help of others. It don't have that feeling anywhere else."
New Normal
Nine years into her recovery, Melanie can lead a fulfilling life, but will never be her old self again. She experiences problems with her balance and co-ordination. She is limited in her motor skills and no longer able to give fine aids.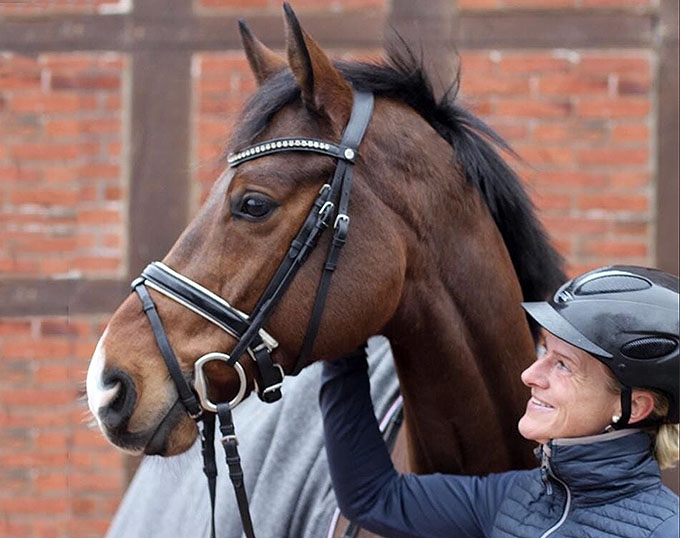 "I can control one leg better than the other and many things are much harder now than before. I feel trapped in my own body," she said. "It's hard to remember that feeling of lightness from before."
She told Eurodressage that "after 9 years my speech is okay, but I'm still a little bit short in my breathing. I cannot go jogging, my body doesn't understand running. Swimming and cycling are also big problems and when I dance I move like a robot." 
She has to work daily on her physical well-being. 
"Nowadays, I go once per week to physiotherapy and get a massage, one day I do EMS Training, and then there is a lot of stretching and yoga elements that I do on my own at home," she said. 
Lemony's Loverboy
In 2015 Melanie returned to the saddle and did her first small local show on Lilli Lottofee (by Londonderry x Brentano II) in June.
Two years later she made her show debut on her own Lemony's Loverboy, an 8-year old Hanoverian by Lemony's Nicket out of Feine Welt (by Furst Piccolo), bred by Volker Stoffers. Wienand and Lemony's Loverboy first competed in riding horse tests and A and L-level classes.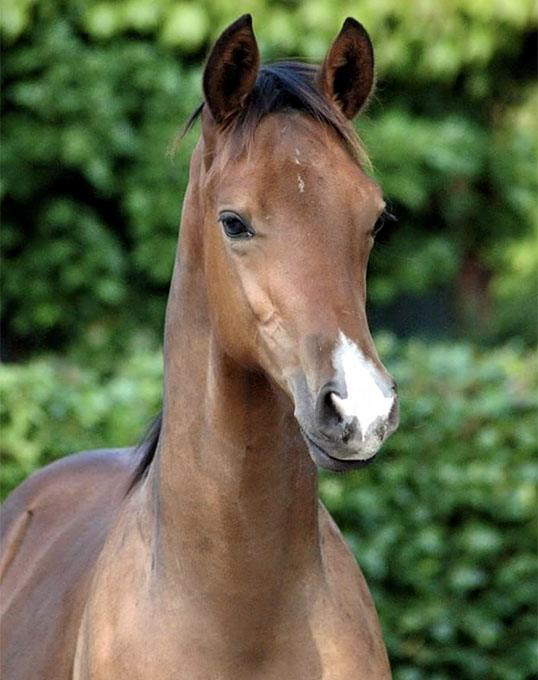 Their para debut was in 2019 at the German Para Championships. Their CPEDI debut followed in Überherrn.
"I bought Loverboy as a foal in March 2013," said Melanie. "He was competed in regular sport as a 4 and 5-year old and when he turned 6 the gelding was allowed to do para sport. His first para show was the German Para Championship in fact, where we finished second."
The now 40-year old Wienand started 2020 with two third places at the CPEDI in Genemuiden in February and got long-listed for the 2020 Tokyo Paralympics. Then COVID-19 came, which postponed all competition and delayed the Olympics. Loverboy also sustained a hoof crack and has had some time off.
Used to facing unforeseen obstacles, Melanie will not let set backs curb her enthusiasm for horse sport. She is aiming for the 2024 Paralympics in Paris.
"That would be a dream," she confessed.
Text by Astrid Appels - Photos © Private
Related Links
Melanie Wienand Slowly on the Road to Recovery
Verden Auction Rider Falls off Horse and Knocked Unconscious