Germany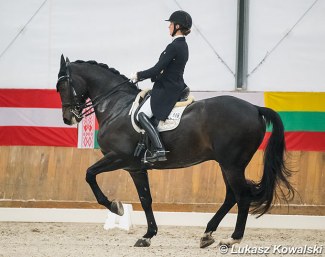 German Carina Scholz-Bachmann has been sanctioned by the FEI for a positive medication test on her horse Tarantino at the 2020 CDI-W Zakrzow.
Doping Test in Zakrzow
The FEI conducted random doping tests at the World Cup qualifier in Zakrzow, Poland, on 23 - 24 October 2020 and Scholz' horse was picked.
A group of seven horses in total were tested there, including Enying, Sandro d'Amour, Dakar, Queeny, Quincy and Vestermarkens Tayler who all tested negative. 
Acepromazine
The 14-year old Hanoverian Tarantino (by Toronto x Carbid), owned by Fabian Scholz, tested positive to the controlled medication "Acepromazine" which is a sedative.
The FEI says the drug has "high potential to influence performance."
Acepromazine, which often comes as an easy to administer oral paste to quiet nervous horses, is allowed upon veterinary prescription, but not in competition. 
Administrative Sanction, No Suspension
Instead of appealing the decision in front of the FEI tribunal, Carina Scholz accepted the administrative sanction on 4 January 2021. 
This means she will not be suspended, but will be disqualified from the CDI-W Zakrzow (losing her scores and world ranking points from this event), and she has to pay an administrative fee, as well as the legal costs. 
In an interview with St.Georg Scholz states she has no clue where the drug came from. 
"Neither I personally nor my employees have administered the drug acepromazine to Tarantino," she said. "I have checked with my stable management and tried to find an explanation for the origin of this substance, but I have not found an answer. This is an absolutely unsatisfactory situation. But since I am the person responsible for my horse, I accept the FEI penalty. "
Carina Scholz is listed in the German B-squad. She married Fabian Scholz in October 2020 is due to deliver their first child this month.
Photo © Lukasz Kowalski
Related Links
German Dressage Squads for 2021 Announced
Bachmann and Scholz Get Married
Carina Bachmann and Tarantino, A Pair to Watch for Germany