Australia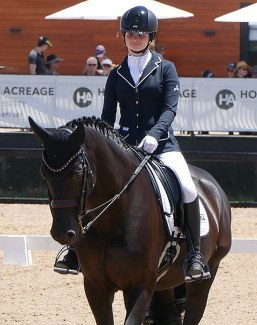 The latest online workshop, which is part of a rider focussed educational series run by the Equestrian Australia High Performance Program, took place on 3 December 2020 and involved Para-dressage athletes from across the globe.
The workshop focussed on the Freestyle to music test that riders are required to perform in competition. The Freestyle is a highlight of every event and is often likened to horse and rider dancing together as the combinations are able to show their personality, with the riders creating their own choreography set to music of their choice.
Freestyle Workshop
The workshop was hosted by five star Para-dressage judge Sue Cunningham, who is also a member of the Ground Jury for the 2020 Tokyo Paralympic Games.
The presentation explained what elements are required to create a winning Freestyle test across each of the five FEI Para-dressage grades. Sue also spoke about what the judges are looking for when a combination enters the arena and how each test is marked - breaking down the scoring structure so the riders can better understand their marks.
In addition Sue went through each of the winning Para-dressage Freestyle tests from the World Equestrian Games 2018 held in Tryon, USA, where she was also a judge. Sue and the riders watched the tests via video stream and Sue went through the marks awarded for each movement in real-time explaining how the test was able to achieve a winning score. 
Para-Equestrian Riders' Representative, and Paralympian, Sharon Jarvis said "It has been of great benefit to be able to listen to the expertise and experience of Sue Cunningham with regards to Freestyle tests. It has been a great opportunity for conscientious Australian riders to make the most of this learning experience. I am a firm believer that you can always learn some thing new and grow your knowledge and I know I have certainly picked up a few tips to help me in the future."
Lone Jorgensen
National Para-Dressage Coach Lone Jorgensen has watched the Australian High Performance riders improve over the past year and is excited to see the benefits of the High Performance Program continue to assist the riders. "The best way to learn is to have skilled and experienced specialists to speak about their subject, the High Performance Para Zoom meetings has made this available. It's been extremely beneficial for everyone involved and I hope we can keep these virtual sessions for the future".
EA High Performance plans to continue the series of workshops for our identified Para-dressage combinations in order to provide the riders with the best possible chance of achieving a podium success at the Tokyo 2020 Paralympic Games next year.
Related Links
Australia Looks Towards Tokyo Paralympic Success after 2020 CPEDI Boneo
All Eyes on Australia's Dressage Stars Boneo Park CDI 3*