F.O.C.U.S.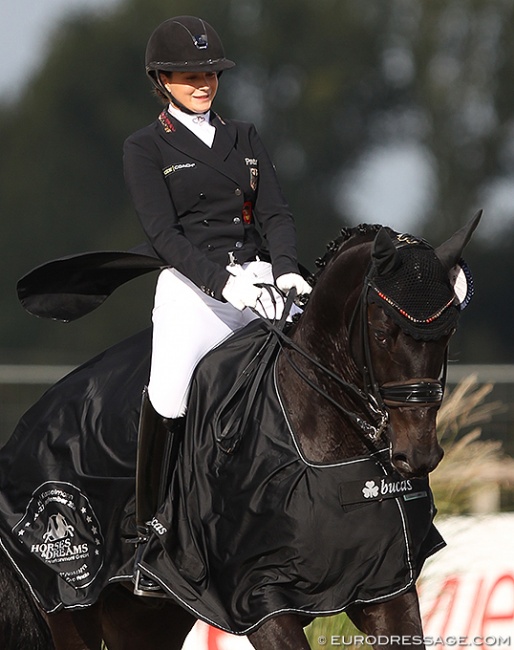 For 2020 European Junior Riders Kur champion Valentina Pistner the year 2020 has been a very unique one. While sport life came to a full stop for all athletes across the globe due to Covid-19, the sudden stand-still also gave time for a focus on training. German junior team rider Pistner took this time off to heart and prepared for the upcoming challenges. She used this pause to improve and returned to the arena with Flamboyant winning team and kur gold and individual silver at the 2020 European Junior Riders Championships. 
The 17-year old Bad Homburg based Valentina and her 12-year old Oldenburg gelding Flamboyant (by Fidertanz x De Niro) have been a combination since 2018 and competed at their third, consecutive European Junior Riders Championships this year.
Challenging 2020 Covid Year
In 2018 they won triple silver at the Euros, in 2019 it was team gold and double bronze, and in 2020 the season highlight offered her a third chance to ride at the European Junior Riders Championships, this year in Pilisjaszfalu, Hungary, where they collected team and Kur gold and individual test silver.
2020 was a very special year for Valentina, but she faced the challenges with courage. 
"It's been quite challenging to adapt to constant changes and not having the usual routine throughout the season," said Valentina. "Usually we have a very well-established routine in managing our time between competitions and keeping the horses motivated, but this year has left us with a lot of uncertainty and the mindset of having to be spontaneous throughout. It did spice things up a bit, but I think we managed the challenge quite well."
Student - Trainer Confidence
Having collected a huge set of medals at three, consecutive European Junior Riders Championships, Valentina reveals that the secret to her success is not only a top horse, but also a thriving student-trainer relationship.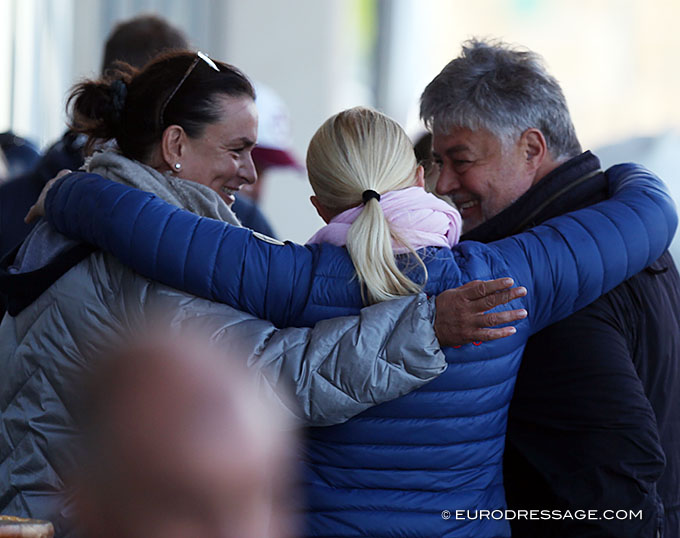 Coached by Stefanie Lugge-Kerner since November 2016, Valentina credits her trainer for staying positive and open minded to the development of her horse while being instructed to keep the rider-horse partnership fresh and energetic through variety.
"To me Steffi is both a coach and a really good friend," she said. "We respect each other a lot and I value all of the past experience she has to offer. We are very close minded in the way we work together and always try to find a solution that works best for all. Most importantly I respect the way she works together with the horses and how she sees each horse as an individual.  As she is a very reflective and calm person, she thinks of ways to keep the horses motivated but also content and balanced. She encourages me to go for a hack or do pole work, which for a dressage rider is sometimes a little scary."
The 45-year old Kerner worked for Hof Kasselmann in the 2000s and this stint offered her the opportunity to compete internationally, which she did until 2009. After that she set up her independent business and began focusing on coaching. 
"Our student-trainer partnership has become very close and I couldn't think of a better trainer than her," Valentina added.
Learning from Every Experience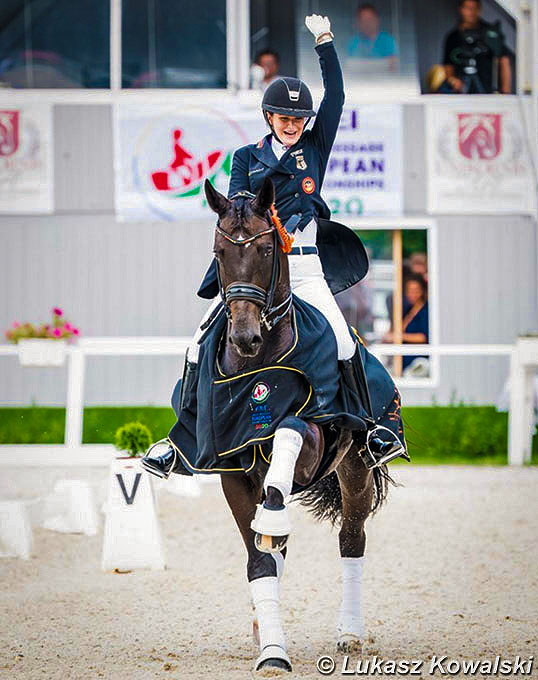 The 2020 Europeans Junior Riders Championships were a roller coaster ride from start to finish. Although quite experienced as a German team rider, Pistner dealt with an unusual turn of events in Hungary, which in the end resulted in the biggest joy in her life, a Kur gold medal. 
"These Europeans were really special to me, not only performance wise but also the whole experience," Valentina admitted. "Although my week in Hungary started off with a bit of a disaster, as Flamboyant had his tongue over the bit, it became better by the second. I had great team mates and support from endless people that helped me forget what happened on the first day and start striving in the individual test and freestyle. Flamboyant was in the best shape ever and it was just magical so see what we were able to achieve in the freestyle. It will forever be a special moment when I turned around to the scoreboard and seeing Flambi and my name on top."
For Valentina it was already a treat to start at these Europeans, which turned out to be the only major continental Championship hosted this 2020 show year with all other major competitions cancelled due to the corona pandemic. 
"Experience wise I loved being able to compete with athletes from all over and seeing how we all contributed to making a European Championship happen in times of corona," she said. "After this rough year one could feel how thankful everyone was to be able to take part and compete, making it a very special atmosphere. Additionally, we were privileged enough to ride in such a fantastic venue to do what we love."
New Challenge at Young Riders' Level
Flamboyant has been Valentina's number one in the barn since 2018. For next year she has planned on moving up to the levels instead of sticking to juniors for a final year.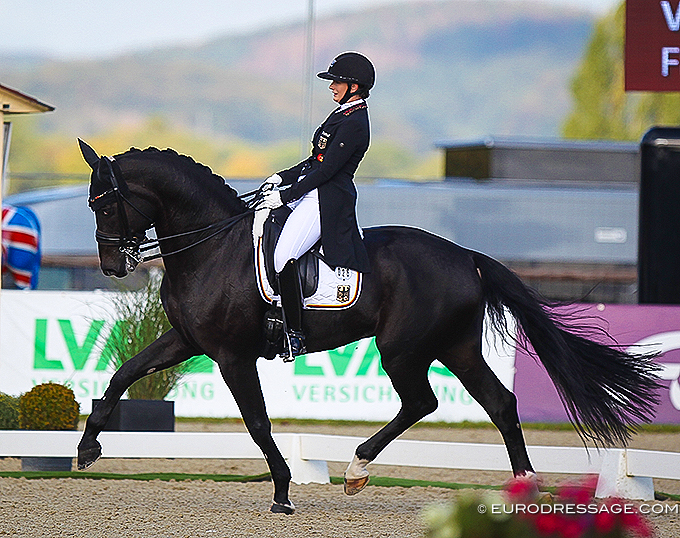 "I was hoping to step up to become a Young Rider," she confessed. "Although age wise I would still be able to compete at Junior level next year, I feel like it's time to move on and live up to a new challenge."
Pistner also owns the 15-year old Hanoverian licensed stallion Lissaro van de Helle (by Lissabon x Matcho AA) which she only competed once internationally in 2017 at junior level. 
"The past months, Lissaro and I have been working towards the Prix St. George level and I'm hoping to be able to show him simultaneously to Flamboyant next season," she said. "It's not to be taken for granted to have two such outstanding horses to compete and work with, so I'm really thankful to be able to have these superstars by my side."
Currently enrolled in the International Baccalaureate, Valentina aims to have passed her IB and Abitur by the end of spring in 2021. In the future Pistner hopes to combine an academic career with her riding. 
"Becoming a professional rider has never really been an option as a full-time career," she explained. "Although I'm not exactly sure what I want to study at university, I know that I will want to continue with horseback riding simultaneously, as this is something that brings so much joy to my life and I just love working with the horses. I know that it is not always easy to combine both paths but I think it will all work out in the end."
Hession New Comer Athlete of the Year 2020
Pistner's achievements at the 2020 European Junior Riders Championships have not gone unnoticed. She has been nominated for title of "New Comer Athlete of the Year 2020" in her home state of Hessia in Germany.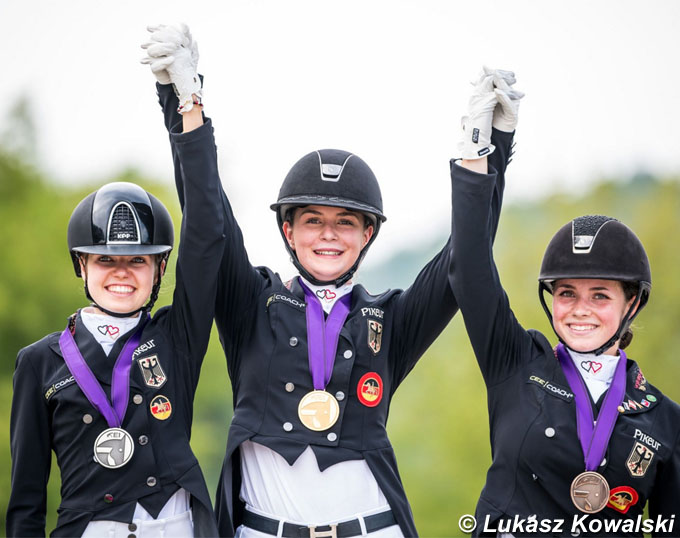 The title is decided by popular vote in combination with an expert panel and voting runs until 13 December 2020. 
Valentina has been selected as "new comer" or shooting star athlete of the year in Hesse alongside long jumper Oliver Koletzko and bobsleigh athlete Malte Schwenzfeier. 
"It's really amazing to see how the hard work over the past years has paid off to become selected as the Hessian New Comer of 2020," she said proudly. "For me this nomination has more to do with honouring my team than myself alone. If there weren't my family that supported me throughout my journey, my trainer that helped me grow and all of the other equally appreciated people standing behind me, I would never have come this far. Not to forget that I've been gifted with Flamboyant, the sweetest and remarkable horse I would wish for, with whom this journey has been so memorable."
Dressage and horse sport fans can vote for Valentina here. 
Related Links