Belgium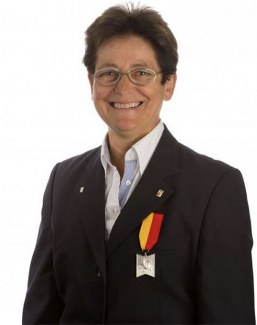 Belgian Grand Prix rider and para dressage official Ann D'Ieteren has received the Order of Merit from the Belgian Olympic and Interfederal Committee (BOIC). 
For the eighth time, the BOIC awarded its Order of Merit to a person who has made an exceptional contribution to the Olympic Movement in our country. This year Ann D'Ieteren is the recipient. 
Anne van Neste-D'Ieteren was selected to represent Belgium at the 1980 Olympic Games in Moscow, but one month before the Games the Belgian Equestrian Federation joined other nations in boycotting the Moscow Games. She was also short listed for the 1984 Olympics in Los Angeles. Aboard Juroto she was six-time Belgian Dressage Champion. 
D'Ieteren has been involved in equestrian sport for 42 years. Since 2009, she has chaired the Belgian Paralympic Committee and been committed to sports for people with disabilities.
She served as Belgian team trainer rom 1997 to 2015, and led the para dressage team to numerous high level international achievements, including 6 Paralympic medals (including 3 gold) at the London 2012 and Rio 2016 Paralympic Games.
From 1985 to 2017, she was a member of the BOIC Board of Directors and during this period she was also a member of the BOIC Selection Commission, which she chaired from 2005 to 2009. From 1980 to 1984, she was vice-president of the BOIC Athletes' Commission. She represented the COIB at the Paralympic Games in Atlanta in 1996, Sydney in 2000, Athens in 2004 and Beijing in 2008.
"With her unparalleled expertise and dedication, she has helped shape the Olympic and Paralympic Movements," the press release read. 
Previous BOIC Order of Merit recipients include world famous cyclists Eddy Merckx (2013) and Patrick Sercu (2014) and judoka Ingrid Berghmans (2016) amongst others.
Related Links
Arlette Holsters and Faible Win 1998 Belgian Dressage Championships
George Wahl's end of the year 1999 Clinic
Stefan van Ingelgem Secures Entry for Belgian Dressage Team at 1999 European Championships
First Belgian Meeting In Quest of Equitation in the French Tradition
Georg Wahl Clinics with Enthusiasm in Belgium