Canada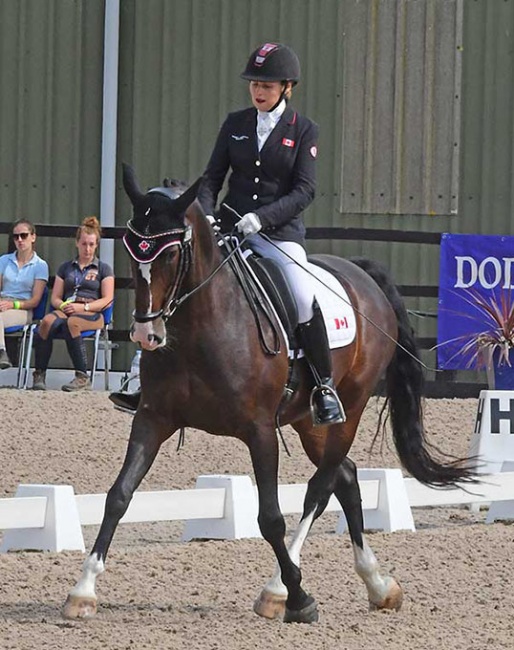 Canadian Paralympian Roberta Sheffield, a resident of Lincolnshire, GBR, recently posted impressive scores riding Fairuza at the Keysoe British Dressage CPEDI 3*, showcasing their growing promise as ones to watch on the journey towards the Tokyo 2020 Paralympic Games.
The 11-year-old mare, who affectionately goes by the name of "Wonky" due to the stripe that zig-zags down her face, has benefited from Roberta's wealth of major games experience since their 2018 debut at the FEI level.
Read on to hear about the lessons Roberta learned from her previous Games appearances and the horses that took her there.
Caen 2014 World Equestrian Games
The 2014 World Equestrian Games (WEG) was my first experience on the big stage. I went into it with a happy, naive innocence and at the same time lucked out with having the ride on Evelyn Little's incredible Bindro T. This Games was such a stepping stone for me: it showed me where I wanted to go and how I really wanted to do it – on my own horse that I had trained from scratch – to bring a deeper sense of meaning to our performance.
What I didn't know at the time was that the experience with Bindro T would teach me a huge amount about forging a partnership with another trained horse, the beautiful Bailaor XXXIII. Both horses were remarkably similar in many ways. They were extremely well schooled, generous horses.  
Rio 2016 Paralympic Games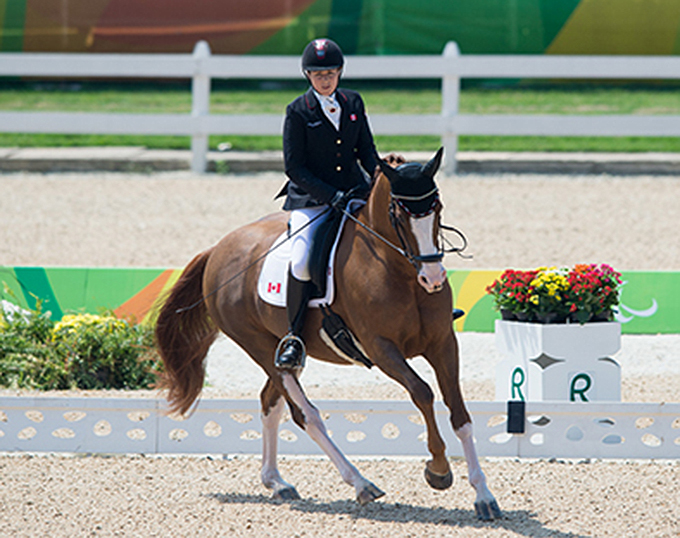 Competing Double Agent ("Darcy") at the 2016 Paralympics was an exercise in trusting fate, overcoming adversity and accepting that you can only control the controllables. Darcy had an allergic reaction to something in the environment at the Games, causing her to have these teeny tiny nosebleeds.
We had to work very hard with the team veterinarian and completely change our strategies for how to exercise her, train her and ride the tests. It was a supreme team effort to get her down the centreline in the best form we could. Luckily, as I had owned Darcy since she was a two year old, I knew her extremely well and could put total trust in her to do the best she could for me in the sandpit, even without our usual warm-up routine.
The proudest moment of my life was becoming a Paralympian wearing the maple leaf on a horse I had selected as a foal and trained from the beginning.
Tryon 2018 World Equestrian Games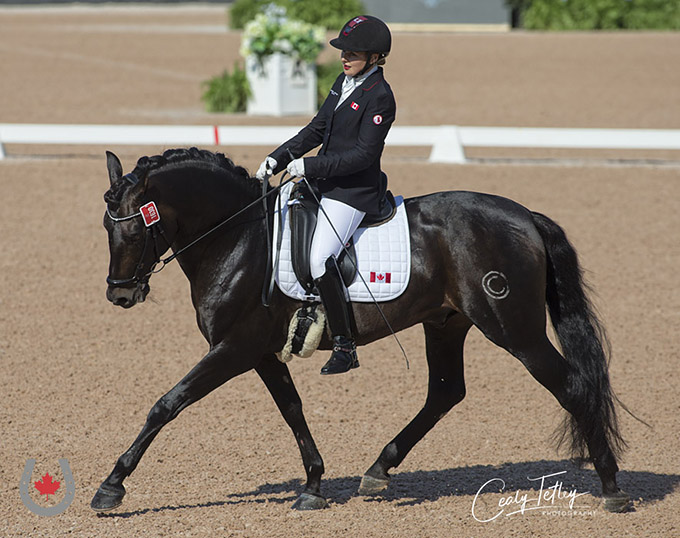 After the 2016 Paralympics, Darcy was sold to a junior rider. This left me without an obvious horse to campaign towards WEG 2018.
Luckily, Darcy's breeder stepped forward and offered me the ride on her Grand Prix trained PRE breeding stallion, Bailaor XXXIII. He is a truly beautiful, fairy tale horse. But as many para-dressage riders will tell you, what you need for the Grand Prix and the para tests are quite different things. Testament to Bailaor's wonderful temperament, he tried so hard to give me the qualities I needed for the Grade 3 Para tests but he really wanted to show the judges his world-class talent for piaffe and passage, as well.
He was a great opportunity for me to experience riding a totally different type of horse who had been trained by one of the best Grand Prix riders in the world. He furthered my education as a rider a huge amount, preparing me so well to ride the sensitive and sincere Fairuza.
Armed with this knowledge of major games performance and the partnership it takes to get there, Roberta is zeroing in on her training with Wonky – specifically, her confidence and focus in different atmospheres – with the goal of representing Canada a fourth time in Tokyo.
Roberta concluded, "To be called to represent Canada at a fourth Games would be a dream come true, especially riding this very, very special horse. Fairuza has become the horse I have always wanted as a little girl and it's every horsey little girl's dream to represent their country on their heart horse. Training a horse to this level is a leap of faith, an artist journey as well as a sporting one. It would be such an honour and privilege to take this piece of nature in its finest form to Tokyo emblazoned with the mighty maple leaf."
Text © Equestrian Canada