FEI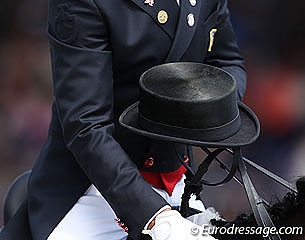 On 18 November 2020 FEI Board officially declined the request of a group of athletes to table a rule revision concerning Protective Headgear on the agenda of the 2020 FEI General Assembly
The FEI Board was informed of two petitions regarding Article 140 of the FEI General Regulations on Protective Headgear. This was voted in by National Federations at the FEI General Assembly 2019 and will require Dressage athletes to wear protective headgear at all times at FEI events as of 1 January 2021.
An athletes' petition, sent to the FEI by the President of the International Dressage Riders' Club (IDRC), requests to maintain the option to use top hats in senior international competitions and urged the FEI to table it for discussion at the FEI General Assembly 2020.
A second petition from a group of physicians calls for the Rule to be implemented as planned at the start of 2021. The FEI has also received unsolicited support for the Protective Headgear Rule from a number of other athletes.
As the FEI did not receive any request for change during the lengthy 2020 rules consultation process, neither from the IDRC nor National Federations, the item has not been included on the FEI General Assembly 2020 agenda for a vote.
The FEI Board discussed the issue and, although this rule has already been approved at last year's General Assembly and is not an FEI Board decision, voted unanimously to maintain implementation on 1 January 2021. The FEI Board support for the General Assembly decision was based on safety grounds, the fact that a full consultation process had been conducted prior to the vote at the 2019 General Assembly, and that there is a clear and transparent process for Rules revision.
Photo © Astrid Appels
Related Links
Werth Continues Her "Pro-Choice" Top Hat Campaign Ahead of 2020 FEI General Assembly
Top Hat Petition "Too Late" as Rule Revision Request Deadline was 1 March 2020
Top Riders Sign Petition to Retain the Choice for a Top Hat in Grand Prix Competition
Daniel Pinto: "Top Hat or Helmet - Shouldn't it be Each Rider's Choice?"