2020 Luxembourg Young Horse Championships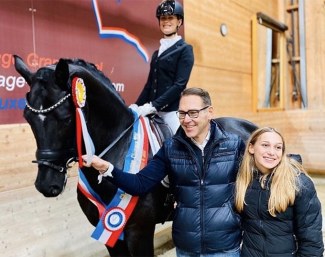 The 4-year old Hanks, the 5-year old Vivaldi's Kansei, the 6-year old Coco Island, and the 7-year old Symfonie became the winners of the 2020 Luxembourg Young Horse Championships held at Ecuries des Prés in Leudelange, Luxembourg on 24 - 25 October 2020. 
The field of competitors consisted of around 8 to 9 combinations per age category and the titles were determined by the preliminary test and Finals test combined, with the Finals tested counting with a coefficient of 1.5.
In the 4-year old division the German Helena Bicker steered Peter Kessler's Oldenburg gelding Hanks (by Henkie x Bretton Woods) to victory with an 8.3 mark in the Finals test. The horse scored 9 for walk, 8 for trot and canter, 8 for training and 8.5 for conformation. Hanks was acquired by Kessler at the 2020 Hof Kasselmann Online Auction for 68,000 euro to. The runner-up was Fie Skarsoe on Peter Jans Schlüschen's Westfalian gelding Burberry (by Buckingham x Laureus). They were third in the finals test with 8.1. but their total put them in second place overall. The third spot went to Danish born Kristine Moller on Hens Thorsen's DSP bred Big Bang (by Bon Coeur x Quadroneur), who scored 8.2 in the finals. The dark bay gelding is bred by Hof Kasselmann's Lars Ligus. 
In the 5-year old division Alexandra Hidien on her own Oldenburg Vivaldi's Kansei (by Vivaldi x Rubinstein) with 7.8. The gelding received 7.5 for walk, 8 for trot and canter, 7.5 for submission and 8 for general impression in the final round. Hidien acquired the chestnut at the 2020 Hof Kasselmann Hybrid Auction for 112,000 euro. Sascha Schulz steered Arlette Jasper-Kohl's Oldenburg mare Bon Gregoria PS (by Bon Bravour x Don Gregory) to the runner-up place after winning the Finals round with an 8.2 total score. The bay mare earned 7.5 for walk, 8.5 for trot and canter, 8 for submission and 8.5 for general impression. Bon Gregoria PS competed at the Bundeschampionate with German Nicole Wego in 2019, where she finished 11th. Three months later the mare sold at the 2019 PSI Auction in Ankum to Jasper-Kohl for 320,000 euro. Third place overall went to Kristine Moller on Silke Druckenmüller's Trakehner mare Herzbeben (by Millennium x King Arthur).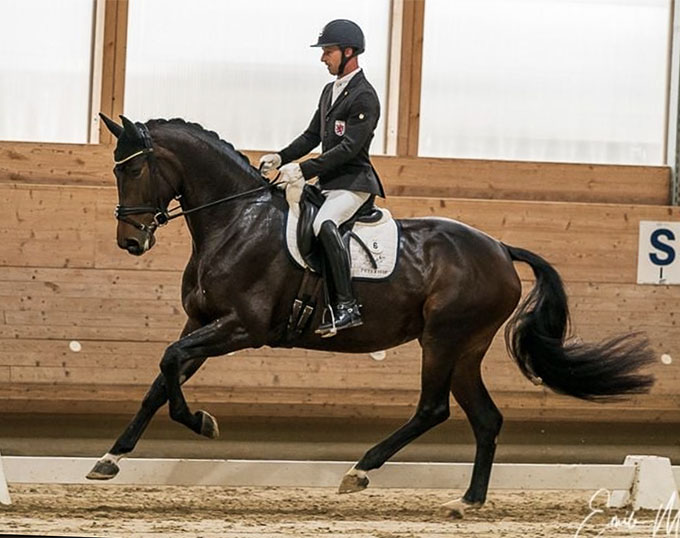 In the 6-year old class, Danish born Fie Skarsoe piloted Peter Jan Schlüsschen's Oldenburg gelding Coco Island (by Cennin x Florencio) to victory on an 8.3 total score in the Finals. The chestnut gelding, who was acquired under the name "Centurio" at the 2018 Oldenburg Spring Elite auction in Vechta for 50,000 euro, scored 8.5 for walk, trot and canter, 7.5 for submission and 8.5 for general impression. Kristine Möller and her own and Jens Thorsen's DSP gelding Spectre (by Sezuan x Silvermoon) were second with 8.2 in the finals. The third place was for Finnish Minna Elina Uronen aboard her own Westfalian Zachary (by Zack x Munchhausen) The gelding is bred by Luxembourg's Tanja Kayser.
In the 7-year old division Mandy Zimmer and Sascha Schulz battled it out for the title with a minimal point difference but it was Zimmer on her own Oldenburg stallion Symphony (by Sir Donnerhall x Furst Heinrich) who topped the board with 73.229%. Schulz and Lian United's Westfalian gelding Dayman (by Daily Deal x Flovino) slotted in second with 72.917%. 
Photos © Emile Mentz - private
Results - 2020 Luxembourg Young Horse Championships - Leudelange
4-year olds
1. Helena Bicker - Hanks (OLD, by Henkie x Bretton Woods) - 8.0 8.0 9.0 8.0 8.5 --- 8.3
2. Kristine Möller - Big Bang (DSP, Bon Coeur x Quadroneur) - 8.5 8.5 8.0 8.5 7.5 --- 8.2
3. Fie Skarsoe - Burberry (WESTF, by  Buckingham x Laureus) - 8.5 8.5 8.0 7.5 8.0 --- 8.1
4. Alexandra Hidien - Bazinga HB (HANN, by Bon Coeur x Wittinger) - 7.5 8.0 8.5 8.0 7.5 --- 7.9
5. Pam Johanns -  Fleur de Romance (HANN, by For Romance x Don Frederico) - 7.0 7.5 7.5 7.0 7.5 --- 7.3
5. Angele Mersch - Hélia (TRAK, by Singolo x Michelangelo) - 7.0 7.5 8.0 7.0 7.0 --- 7.3
7. Jirina Damming Hodacova - Dream Hit (DSP, by Dream Boy x Stockholm) - 7.0 7.0 7.0 7.0 7.0 --- 7
7. Lexie Frast -  Vilanculo (OLD, by Veneno x Rohdiamant) - 7.0 7.0 6.5 7.0 7.5 --- 7
9. Alice Rouyr - Gracieux (?) -  7.0 6.5 6.0 6.5 6.5 --- 6.5
9. Veronique Mersch - Hot Iron (Trak, by Phlox / Hirtentanz) - 6.5 6.5 7.0 6.0 6.5 --- 6.5
5-year olds
1. Sascha Schulz - Bon Gregoria PS (OLD, by Bon Bravour / Don Gregory) - 8.5 7.5 8.5 8.0 8.5 --- 8.2
2. Alexandra Hidien -  Vivaldi's Kansei (OLD, by Vivaldi / Rubinstein) -8.0 7.5 8.0 7.5 8.0 --- 7.8
3. Minna Elina Uronen -  Sonnerie Souveraine (DSP, by Sezuan / Silvermoon) -8.0 7.0 8.0 7.5 8.0 --- 7.7
4. Marion Janetzky Stroh - Coeur J (DSP, by Cassitano / Nordos xx) -7.5 8.5 7.5 7.0 7.5 --- 7.6
5. Andreas Platzdasch - Eclipse (MECKL, by Equitaris / Florestan) - 7.5 7.0 8.0 7.0 7.5 --- 7.4
5. Kristine Möller - Herzbeben (TRAK, by Millennium / King Arthur) -7.5 7.0 7.5 7.5 7.5 --- 7.4
7. Ivana Brestak - Sir Birkenhof (DSP, by Sir Donnerhall I / Glorieux) -7.0 7.5 7.0 7.0 7.5 --- 7.2
8. Sarah Dinges - Diavolesco (HANN, by Dimaggio / Likoto xx) -6.5 7.0 6.5 5.5 6.5 --- 6.4
9. Tessy Schiff Herman -  Honey Dew Drop (SBS, by Djbouti YS / FS Pavarotti) - 6.5 6.0 6.0 5.5 6.0 --- 6
6-year olds
1. Fie Skarsoe Riders - Coco Island OLD (OLD, by Cennin x Florencio) - 8.5 8.5 8.5 7.5 8.5 --- 8.3
2. Kristine Möller- Spectre (DSP, by Sezuan x Silvermoon) - 8.5 8.0 8.5 7.5 8.5 --- 8.2
3. Gillian Ewen - Dr. No (HANN, by Dr. Watson x Royal Blend) - 7.5 7.5 7.5 7.0 7.5 --- 7.4
4. Sophie Rossy - Nacho (WESTF, by Negro x Ehrentusch) - 7.5 6.5 7.5 7.0 7.5 --- 7.2
4. Minna Elina Uronen - Zachary (WESTF, by Zack x Münchhausen) - 7.5 7.0 7.0 7.0 7.5 --- 7.2
6. Alexandra Hidien - Franziskaner (OLD, by Franziskus x Samarant) - 7.5 7.0 7.0 6.5 7.5 --- 7.1
7. Katrin Hansen - Donaustern (TRAK, by Herbstkönig x Donauwalzer) - 7.0 6.5 7.0 6.5 7.0 --- 6.8
8. Mindaugas Paskevicius - Belantissimo (DSP, by Belantis x Askari ) - 6.5 6.5 7.0 6.5 7.0 --- 6.7
7-year olds
1. Mandy Zimmer -  Symphony (OLD, Sir by Donnerhall I / Fürst Heinrich) - 73.229%
2.  Sascha Schulz -  Dayman (Westf, by Daily Deal / Flovino) - 72.917%
3.  Andreas Platzdasch  -  Donadieu TB (Old, by Diamond Hit / Sir Oldenburg) - 68.281%
4.  Sandra Newedel - Donna Diavola (Hann, by Don Index / De Niro) - 66.354%
5.  Gwendoline Hertel - Lord Londontime (Hann, by Londontime / De Niro) - 65.573%
6.  Helena Bicker - Fischer's Helene (Hann , by Fürstenball / Rotspon) -  64.896%
7.  Sarah Dinges  - Habilidoso (by ?) - 63.854%
8.  Mindaugas Paskevicius - Quinn (DSP, by Quaterback / Lord Fantastic) - 62.917%
Related Links
Luxembourg Horses Selected for the 2020 World Young Horse Championships
Bussarto, Price Highlight of the 2020 Hof Kasselmann Online Auction
Karabella, Price Highlight of the 2018 OIdenburg Spring Elite Auction
Fine Deern Sells for 400,000 euro in First Hof Kasselmann Hybrid Auction