Blog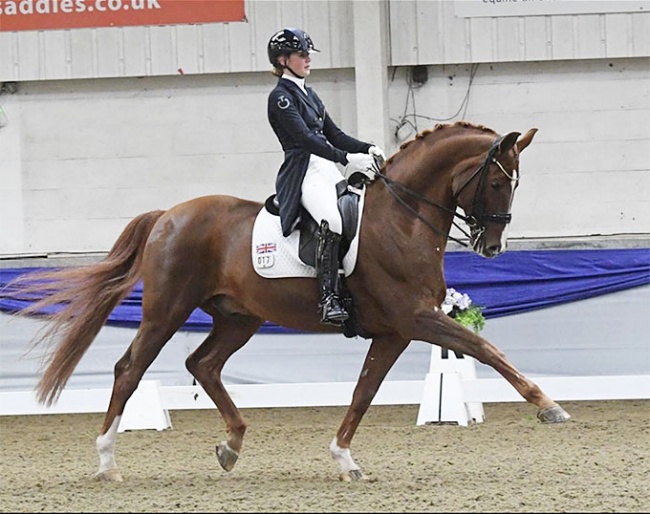 Reporting on international dressage competitions from the point of view of the journalist is regular reading material on Eurodressage.com and we want to swap that perspective for a change. We are starting a new blog series in which we invite riders to write up their experiences preparing and competing at an international and the emotions that come along with it.
First to go is British junior rider Annabella Pidgley (16) who competed the 16-year old Hanoverian Belafonte at the 2020 CDI Keysoe (9 - 11 October 2020), their second CDI so togethr and first international on home turf. This is Annabella's first year as a junior rider, which she combined with her last year on ponies. 
Juggling School with Riding
CDIs as a junior rider are always full on. When I am not competing, I have to be catching up with missed schoolwork in the lorry, but it is all worth it. There is so much excitement that I am finally competing in a tailcoat! Packing for Keysoe was difficult as I have long school days and so I always have to have plenty of help from my mum and my groom - we are list crazy. 
Being a junior rider means that you spend your time between school and riding, as I have GCSEs this year and I already missed a lot of school due to COVID I try and balance everything the best I can. When I am not at school or studying, I am either riding my horses or at the gym. 
For Keysoe this meant that I worked my horse Belafonte at home before I went to school on the Thursday, so I did not miss any lessons that day. I asked my mum and groom to do the trot-up. Later, I joined them once I had finished all my classes.
Masked Competition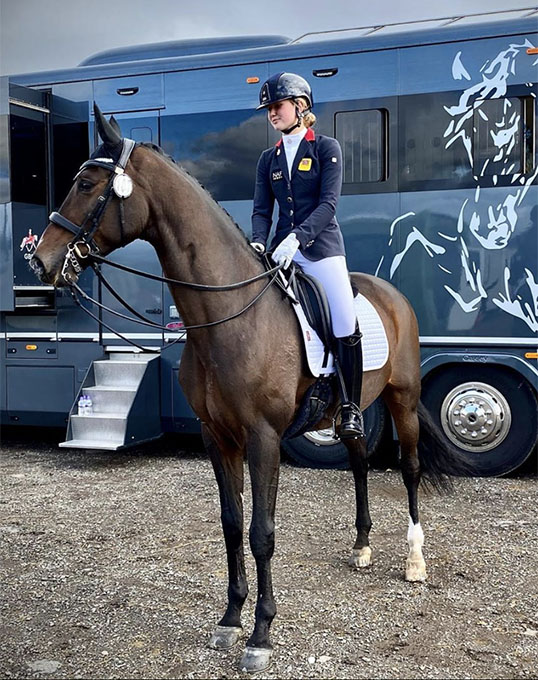 At Keysoe, it was strange seeing everyone watching and walking around in masks and all the stewards were very Corona conscientious. However, the show did lack some atmosphere as there were no spectators allowed to watch the competition, but this did not affect me as I do not really notice them. I am focused on everything in the arena because I am there to compete and this takes up all my attention.
I also brought my other junior horse, Dibert, to Keysoe for training as we have never been to a stay-away show together. I decided to make the most of the opportunity and bring him along. He was amazing all week and behaved immaculately, but I did find it very full on to manage having two horses and also to stay on top of my schoolwork. Still, I cannot wait to be out competing internationally on both of my boys next year.  
Aiming For Three Wins
Belafonte was a star all week and he really felt on top form. Going into Keysoe I was aiming to perform my best and hoped to come away with three wins. I felt "Belli" had truly peaked and that we had worked extremely hard on the three tests.
I was incredibly happy to win the team test with 70.7%, Belli felt amazing and we had a much better trot and canter tour then at our previous international at Grote-Brogel in Belgium. It must have been because we worked on accuracy and real punctuation through the tests. However, in the walk there is still room for improvement as I need to be more precise with my pirouettes and get used to riding them on such a big horse.
My dear little pony Cognac was super at these and could give me an 8 everyday, but now with Belli there is a lot more to put together. 
When to Push, When to Trust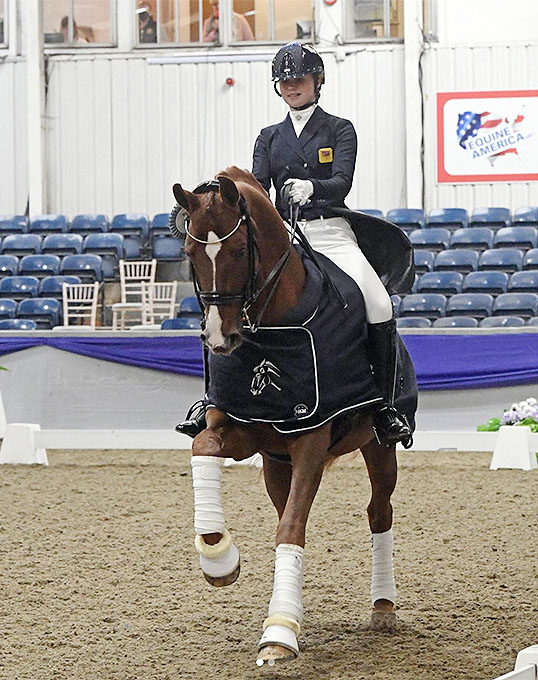 The individual test I felt I hugely let Belli down as I over-rode the extended walk, which resulted in a break and a 4 from the judges. This was such an expensive and novice mistake as it counts as double. This meant that we scored 69.4% and came third, which I was disappointed with as without me making a silly mistake we could have placed higher. Belli did not put a foot wrong. As we are still a new partnership I need to learn when to push and when to trust. In the trot I was very pleased with the feeling Belli gave me. He is always amazing in the ring because he does not really change. This is such an amazing quality to have in a horse. The marks reflected this as they were all mainly 7's and 7.5's but I lost some through inaccuracy, also mirrored in the canter. 
Then, in the freestyle, I just decided to go for it as I certainly wanted another win. Belli warmed up amazingly and he just lit up in the test and truly danced to the music. It was such a great feeling. I wish I could have this all the time! I was so happy with our performance in the freestyle which I genuinely wrote myself, but to top it off we ended on a winning score of 74.3%.
Building a Partnership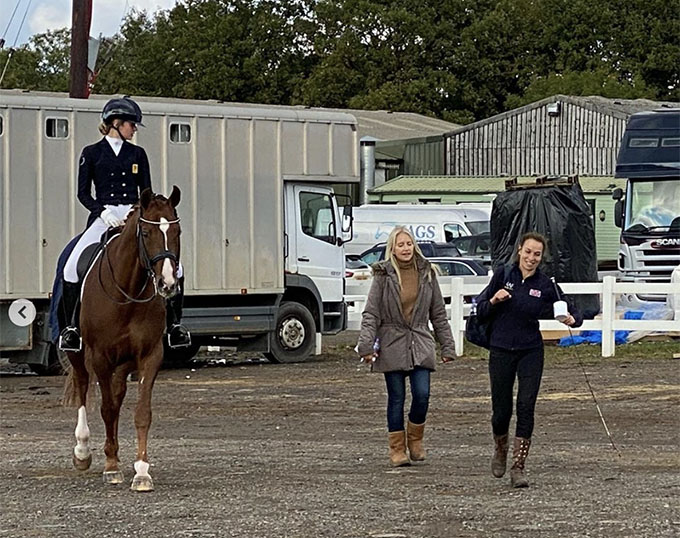 It was an amazing show for me on the whole, but I know that there is a lot to work on especially in the walk, as well as learning to trust Belli in the arena as he always brings such a good feeling. I cannot wait to improve more and continue to learn from Belafonte and build a partnership with him.
Without a doubt, I missed having my trainer Cathrine (Dufour) there and training with her. Due to school and COVID restrictions we have not seen each other since the summer. However, she constantly supports me over the phone and still manages to help me in the best way she can. I am so lucky to have my mum who does an amazing job at helping me with Belli.
Overall, I was very pleased with Belafonte for only our second CDI together.
- by Annabella Pidgley
Photos © Kevin Sparrow / private
Related Links
Scores: 2020 CDI Keysoe
Ellen McCarthy's Belafonte Sold to Annabella Pidgley