Australia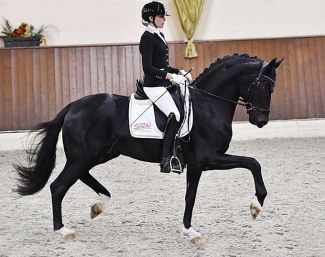 The Australian Equestrian Federation (EA) has announced the final team of horses that will represent Australia at the 2020 World Championships for young dressage horses in Verden, Germany, on 9 - 13 December 2020. 
Incomprehensible Selection, No Apology
On 12 October , EA announced the first set of Australian combinations selected for Verden: two 5-year olds and two 6-year olds were nominated. 
Amongst the selected 6-year old duos was German Anna Catharina Schöffner on the Australian owned Holsteiner Cosmopolitan.
Only after rivals for a team spot pointed out the illegitimacy of Schöffner/Cosmopolitan's nomination, did EA crush the combinations's dreams and withdrew the initially approved entry without making a public statement.
Quando Unico Takes the Spot
The freed up space has now been taking by German based Australian Simone Pearce about Gestut Sprehe's black Hanoverian stallion Quando Unico (by Quantensprung x Fidertanz).
Sprehe acquired the premium colt for 280,000 euro at the 2016 Hanoverian Stallion Licensing. The colt then twice failed the stallion performance test and only ended up passing it by being shipped to the Czech Republic to get his scores there.
Under Pearce the black has developed into a competitive sport horse and now earned his team selection for Australia. The pair won an M-level test in Ankum on 14 October and another one with 8.8 on 18 October.
3x Pearce, 1x McLean
Pearce now has three horses qualified for Verden: the 6-year old Quando Unico and the 5-year olds Dancier Gold and Diamond First. They are joined by the 6-year old F-Type OLD under Warwick McLean. 
No 7-year old Australian combinations have been nominated.
Photo © Ruchel
Related Links
Australian Equestrian Federation Back Paddles on a Team Selection, Once Again. Schöffner/PBM Cosmopolitan Out
First Australian Horses Selected for 2020 World Young Horse Championships