Saddlery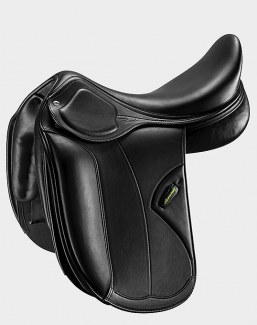 The importance of the rider's comfort and the horse's well-being are key topics in the Amerigo brand philosophy: each saddle model in the Amerigo collection is conceived to suit a particular type of horse.
The HC (High Croup) Dressage saddle is the newest addition and has been specifically designed for horses with high croups that tend to tip the saddle forward when in movement. Long legs, sloping shoulders and toplines that rise towards the croup are increasingly common and these new aspects of horse confirmation have to be taken into consideration in the saddle choice.
The Amerigo HC Dressage saddle is specially created for this situation and also has an extra wide gullet to accommodate horses that are wider through the withers. 
The precise positioning of the riders weight allows the horse the optimal use of its neck and back which together with an unrestricted hindleg movement leads to an easier collection of the horse.
As all Amerigo saddles, the new HC Dressage model comes with the wooden springtree which enables us to create the special shape needed for these type of horses and is complete with the Microfunctional Panel System (MPS), for precise communication between horse and rider. 
Individually made in Italy in refined selected leather, the saddle is available in black or brown colours.
For further information: 
Amerigo Saddles