2020 British Young Pony Championships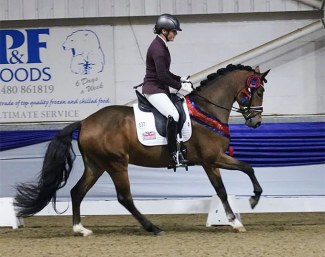 The 4-year old Godric's Dionysus, the 5-year old Sugar House Targaryen, and the 6-year old RSC The Ogopogo became the winners of the 2020 British Young Pony Championships at Keysoe College on 1 - 4 October 2020.
This year's British Dressage Young Pony Championships 2020 saw a small group of young ponies take to the arena at Keysoe over the weekend. Four-year-olds, five-year-olds, and six-year-old ponies took part in a competitive yet safe competition environment under the relevant protocols provided.
Godric's Dionysus
The first class of the day saw the competition begin with the British Dressage 4-year-old Young Pony Championship. Eleanor Darling, with the beautiful Godric's Dionysus claimed victory after the fabulous duo scored an impressive 70%, impressing judges Jenny Ward and Jane McGarel-Groves.
Darling and the British bred Weser Ems registered Godric's Dionysus (by Danger x Donnerwetter x Nordstar) were the only pair to compete in the 4-year old division. 
Millie Mcbride and her palomino MMD Dylan rode Hors Concours and were not officially ranked nor scored. The pony was just in his third competition ever and rider McBride had memorised the wrong test for the Championships. A caller was not allowed unless Millie decided to ride Hors Concours, which she did to give her pony some ring experience. MMD Dylan has no real pedigree as he is "happy field accident." An albino Welsh D stallion got into the field with a high goal polo mare and 11 months later, Dylan was the result .
Sugarhouse Targaryen
The 5-year-old ponies show their talents in front of judges Sandy Phillips and Andrea Smith.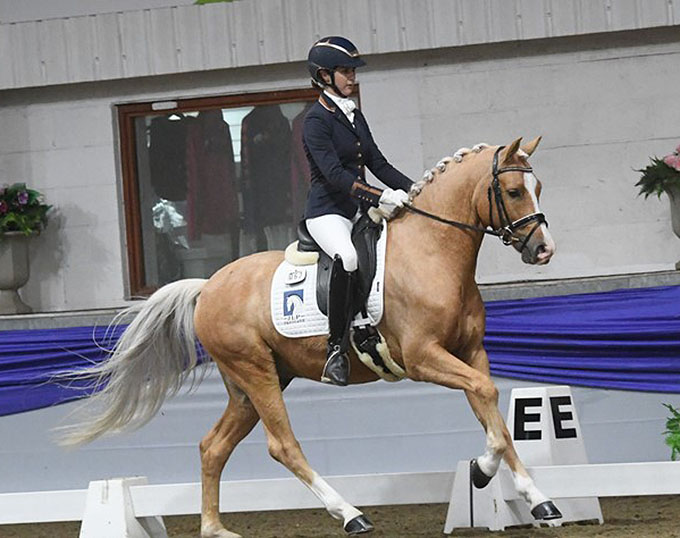 The well-deserved first place went to Lucy Pye and with the AES licensed stallion Sugar House Targaryen (by Llangwedh Sunny Jim x Lux Z) together scoring an outstanding 80.80%!
A thrilled Lucy said, "I was very pleased with him on the day, he felt green in some of the trot work, and still needs to develop a bit of strength to really show his best trot, but he has a super walk and really felt like he relaxed before the canter work. He's bold so I didn't think he would look at the flowers, etc. but he can be a little distracted by other horses so we were really pleased with his attitude given the atmosphere and it being his first Championships."
Lucy and Sugarhouse Targaryen have been a combination since March when he was brought by his owner Kathryn Pickles from Ruth Mealey's Sugarhouse Stud. Lucy explained, "Luckily he arrived just before lockdown so we've been able to spend that time getting to know him!"
She looks forward to the future with the very special 5-year-old pony. "The long-term plan for him is for me to continue to train him up the levels to continue his education and allow him to gain more competition experience and Kathryn will compete him herself as well!"
The silver medal went to Naomi Maxted Massey aboard the British bred mare MM Carry Girl San (by Corbinian x Constantin), who scored  77.00% to finish second. The bronze was for  Eleanor Darling on Jeannette Matthews-Griffith's British Sport Pony bred Wadacre Fancy Pants (by Furst Romancier x Golden Dancer) with 73.20%. 
RSC The Ogopogo
The 6-year-old ponies took to the floor and showcased their talents in front of judges Maria Eillberg and Helen Bradley.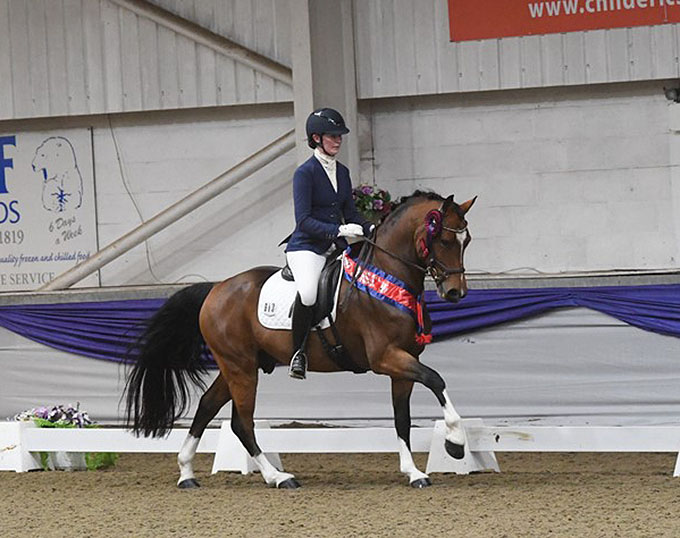 Gloucestershire-based rider, Bryony Goodwin claimed the top spot with the special 6-year-old British Sport pony bred stallion, RSC The Ogopogo (by Ceulan Calan Lan x Feiner Stern), scoring a very impressive 76.20%.
Bryony explained, "'I was very pleased with Pogo on the day, he hasn't competed indoors very much and it was an intimidating arena and a tough test for a six-year-old pony, he tried very hard for me as always and although a bit tense to start with, he relaxed and became more confident throughout the test and was able to show off his super walk, his canter work was a real highlight too!"
She continued, "Pogo has the most gorgeous character, he is the ultimate dream pony and he knows it! He loves to jump and has been to lots of fun rides this summer as well as dressage training."
Bryony's future aspirations are exciting for the pony, "Pogo is having a nice chilled out autumn hacking at home with his owner and breeder Roisin Close, he'll come back to me in the new year to prepare for Elementary regionals, and then we'll be looking to sell him in the Spring!"
Only two pairs competed in the 6-year old division, so Daisy Mansfield and the British Sport Pony bred KL Decan Dun (by FS Champion de Luxe) - 67.80. The dun is bred at Kington Langley Stud.
Photos © Kevin Sparrow - private
Results - 2020 British Young Pony Championships
4-year olds
1. Eleanor Darling - Godric's Dionysus - 70.0
Millie Mcbride - MMD Dylan - HC
5-year olds
1. Lucy Pye - Sugar House Targaryen -  80.80
2. Naomi Maxted Massey - MM Carry Girl San -  77.00
3. Eleanor Darling - Wadacre Fancy Pants - 73.20 
4. Frances Clare Turner - Dypool Miami Reef - 67.00 
Maren Fischer - Popenhoe Picture Perfect - ELI
Stena Hoerner - WFD Donnergold - DNS
6-year olds
1. Bryony Goodwin - RSC The Ogopogo - 76.20
2. Daisy Mansfield - kl Decan Dun - 67.80
Text by British Dressage, edited by Eurodressage 
Related Links
Chartsturmer, Woodlander Sir Gorgeous, George Clooney BS Win 2017 British Young Pony Championships
Top Red, LE Chiffre, Rosewater I Claudius Win 2012 British Young Pony Championships