2020 Performance Plus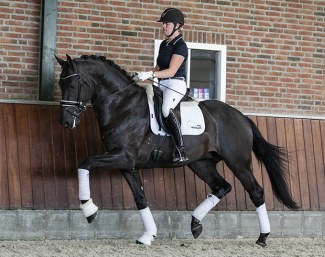 The second Performance Plus Online Auction, which ended Monday 12 October 2020, has been a success again. The auction price highlight was Maradona (by Franklin x Wynton), who exchanged owners for 60.000 euros.
The Franklin-son was bought by the Swedish company Nova Equestrian, run by Sabine Blixt, and will move to Shayna Simon in Loxahatchee, FL, USA.
The 3-year-old stallion Magically Painted Black (by Sir Donnerhall x Gribaldi) was sold to an international dressage rider from Poland for 31,000 euro.
Kris Kross Amsterdam (Gotcha Utopia x Krack C) changed owners for 35,000 euro, he will remain in the Netherlands, as will the 3-year-old Valesco di Vitalis (by Vitalis x Fidertanz), which sold for 33.000 euro.
There were many bids from several countries. The horses were eventually sold to buyers from Sweden, Poland, Germany and Belgium and of course the Netherlands.
Stam-Vader received the most bids, the full proceeds of this special Shetland foal will go to the DVB Foundation. The mission of the DVB Foundation is to support riders with a disability. 
This success naturally will be followed-up. Organizers LvD Sporthorses, MT-Stables, Stal Wetzelaer, Leonie Bos and Reesink Horses have decided that the next auction will take place from 22 till 25 January 2021. 
Related Links
2020 Performance Plus Auction 2: Online Auction with Quality Dressage Horses Has Started
2020 Performance Plus Online Auction Returns with Collection of Young Talent
Jordi Domingo Buys Price Highlight Magic DW in 2020 Performance Plus Auction
Performance Plus: Online Auction of Quality Dressage Horses Has Started!
Performance Plus Auction Returns and Makes New Start as Online Auction
French Kiss, Price Highlight 2007 Performance Plus Auction