Sport Pro Horses Auction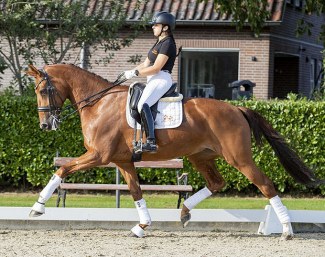 SPORT PRO HORSES  in Uden, The Netherlands, is hosting its first online auction on 20 - 24 October 2020 with a special collection of top dressage horses from young horse level to international Grand Prix. 
Unique and different to other online auctions hosted in 2020, the Sport Pro Horses Auction collection includes upper level trained dressage horses.
The impressive collection has several M and S- Small tour level trained dressage horses the ambitious junior-young rider or adult amateur can ride and compete straight away, as well as  two confirmed at Grand Prix level.
These lots are featured alongside 2-year old starlets and recently saddle broken 3-year old youngsters.
The entire collection can be viewed at sportprohorses-auction.com
Professionally Trained, Fully Vetted
This is your chance to buy a professionally trained, fully vetted dressage horse that can take you straight into the competition arena. All horses can be tried out at the yard in Uden, The Netherlands and vet reports are available upon request. 
The online bidding starts on Tuesday 20 October at 16:00 hrs, and concludes on Saturday 24 October at 18:00 hrs (Dutch time), when the bidding on each horse will be closed online, one by one.
Explore the collection of 15 carefully selected dressage horses in this online auction. 
Small Tour Power: Gavi del Gavi
Named after famous Italian wine, the 9-year old KWPN mare Gavi del Gavi is by Jazz x Krack C. This remarkable combination of Grand Prix stallions in her pedigree make her born to perform. 
Gavi is a very reliable, tall  mare with good movements and willingness to work. She has an amazing character.
She placed 10th in the 2016 Pavo Cup Finals and was long listed for The Netherlands for the 2016 World Young Horse Championships.
This liver chestnut mare now competes at Prix St Georges level, but definitely possesses the talent to go even further. She features a remarkably good walk and has abundant power, scope and push in trot and canter. 
If you are looking for a rising Prix St Georges horse, look at the 6-year old Jack (by Lord Leatherdale x Polansky) or the 6-year old Jollydale (by Everdale x Tolando). Both could take any junior rider straight into the competition ring. 
Try-Outs, Easy Online Bidding
All horses in the collection have been fully vetted and the clinical report as well as X-rays can be requested at the office. 
The horses are all stabled at Sport Pro Horses in Uden, The Netherlands (Patersweg 14), and can be tried out on appointment.
Bidding is very easy. All you have to do is register online and you will get access to the bidding platform. 
For more information or to schedule a try-out, contact: