2020 German Dressage Championships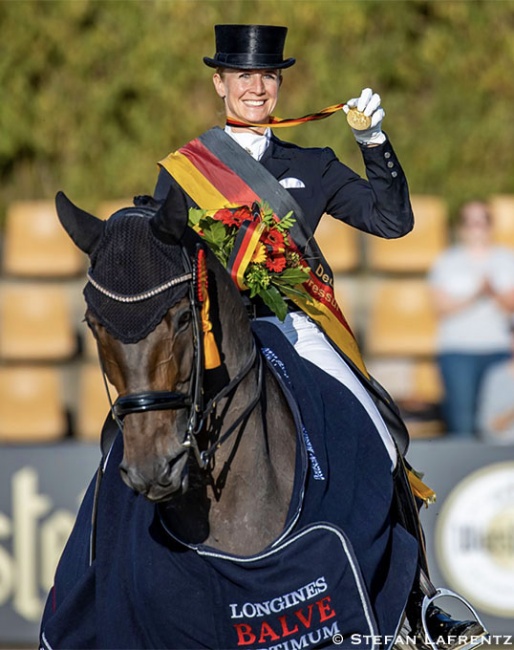 Jessica von Bredow-Werndl edged out the world number one and 15-time German Champion, Isabell Werth, and crowned herself the 2020 German senior Grand Prix Champion in the Grand Prix Special at the Nationals held in Balve on 18 - 20 September 2020. However in the freestyle, Werth remains the Queen of the Kur. 
The German Grand Prix Championships feature two podiums: a podium for the technical champion (decided by the Grand Prix Special) and a podium for the Kur champions (decided by the Kur to Music). 
Show host Rosalie von Landsberg-Velen welcomed Germany's elite Grand Prix riders at her stable in Balve, Germany, for the annual Championships.  This year only a small group of just 11 riders competed at the nationals; several of them not fulfilling the "standard" criterion for Championship participation. Due to corona they received a special invitation from German team trainer Monica Theodorescu to compete in Balve.
The classes were judged this year by 5* judges Ebert, Eisenhardt, Wust and Lehrmann, joined by 4* judge Hess.
Jessica von Bredow-Werndl wins the Technical Championship
In the technical championship it certainly was a neck-to-neck race between Isabell Werth on Weihegold and Jessica von Bredow-Werndl on Dalera. Werth and Christine Arns-Krogman's 15-year old Oldenburg mare Weihegold (by Don Schufro x Sandro Hit) began a bit ring rusty in the Grand Prix, despite her victories at the CDI Achleiten in July. There were a few small niggles in the test and the extended walk was below par, but her passage was on fire. Werth and Weihegold still topped the Grand Prix with 81.600% but had Von Bredow-Werndl on Beatrice Burchler-Keller's 13-year old Trakehner mare Dalera BB (by Easy Game x Handryk) breathing down her neck with 81.340%.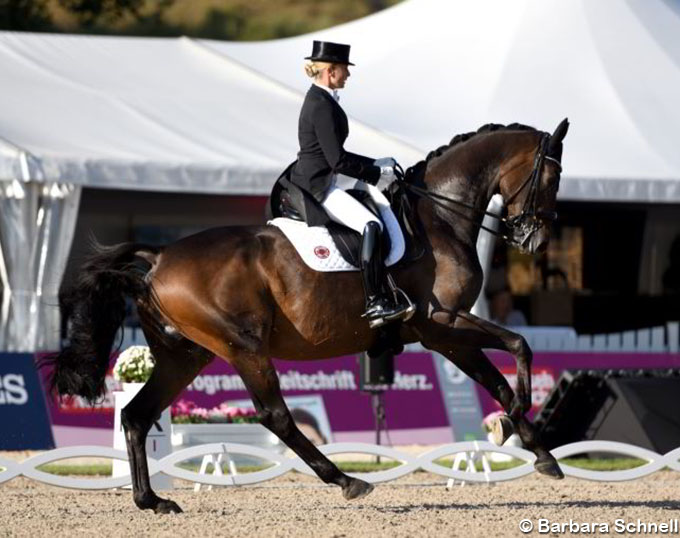 In the Grand Prix Special, though, the tables were turned and Von Bredow-Werndl won the class with a massive 83.549%, almost one full percentage ahead of Werth and Weihegold on 82.569%. A mistake in the tempi changes pushed the score down. With her number one spot in the Special Jessica ended on the highest step of the podium with the gold medal, champion's sash and title, while Werth had silver. 
The technical bronze medal went to the 2019 German GP Special Champion, Dorothee Schneider, on her third Grand Prix horse, Gestut Fohlenhof's 12-year old Hanoverian Faustus (by Falsterbo x Forrest xx). This duo was third in the Grand Prix with a personal best score of 78.360% and third in the Special with another PR, 78.706%. 
"Unreal," said a thrilled 34-year Jessica. "I was actually very nervous in the morning (of the GP Special). Fortunately I got distracted by the young horse I brought along and my son. He reminds me that there are also different things in life." Werndl became the German junior and young rider champion in the early 2000s. Werth remained her cool self and replied "C'est la vie. It was a nice fight with Jessi." Schneider was thrilled with her Faustus. "He finally found himself, is eager to go and is willing to present himself. I'm very very proud of him."
Werth and Weihegold, Kur Gold
Isabell Werth lived up to her reputation as a master in freestyle riding and once more gave a display of her skill in the Freestyle Championship.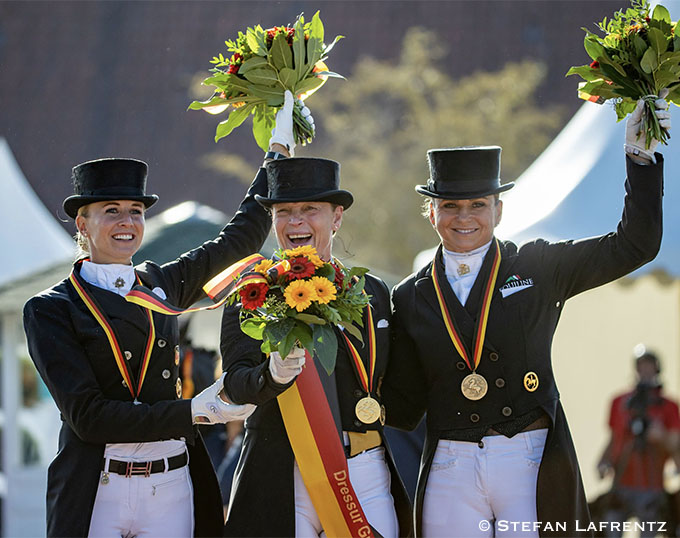 Riding to her 2016 Rio Olympic Games' freestyle, music that also made them win three consecutive World Cup Finals, Werth and Weihegold danced to a 90.825%, a score untouched by Werndl. This is Werth's 16th German Champion's title. 
Although their Lala Land freestyle makes hearts flutter, Jessica and Dalera BB finished second for silver on 89.350%. The bronze medal went to Dorothee Schneider and Faustus on a score of 81.600%.
"Weihe was fantastic. I'm very happy. It was one of her best freestyles. There was not a moment where I would say we lost points there. Weihe gave it her all from start to finish," said Werth, who won kur gold in 2019 aboard Emilio. "Each title makes me happy and is emotional. Of course failures push me, but I can live with yesterday's results in the Special."
Werndl was pleased with silver. "Dalera was on point, super fresh and didn't make mistakes. It could have worked out and of course I wanted to win, but I'm not disappointed, actually I'm even more motivated to continue working," said Werndl. "I'm proud of Dalera's development. She has got more strength and conditioning. I can't wish for more. But she can do more as it all comes easy to her."
Results - 2020 German Dressage Championships - Balve
Grand Prix
1 Isabell Werth - Weihegold OLD - 81.600%
2 Jessica von BredowWerndl -  Dalera BB - 81.340%
3 Dorothee Schneider - Faustus - 78.360%
4 Isabell Werth -  Emilio - 78.020%
5 Benjamin Werndl - Daily mirror - 77.780%
6 Ingrid Klimke - Franziskus - 77.440%
7 Benjamin Werndl - Famoso OLD - 76.560%
8 Helen Langehanenberg - Annabelle - 75.020%
9 Senta Kirchhoff - L'Arbuste OLD - 74.200%
10 Sönke Rothenberger  - Santiano R - 74.160%
11 Carina Bachmann - Tarantino  - 73.720%
12 Jessica Süss - Duisenberg - 71.160%
Frederic Wandres -  Duke of Britain  - ELI
Grand Prix Special
1 Jessica von BredowWerndl -  Dalera BB - 83.549%
2 Isabell Werth -  Weihegold OLD - 82.569%
3 Dorothee Schneider - Faustus - 78.706% 
4 Benjamin Werndl - Daily mirror -  78.431%
5 Isabell Werth -  Emilio -  78.078%
6 Benjamin Werndl -  Famoso OLD - 77.039%
7 Ingrid Klimke  -  Franziskus - 76.627%
8 Helen Langehanenberg -  Annabelle - 75.922% 
9 Sönke Rothenberger - Santiano R -  75.353%
10 Senta Kirchhoff - L'Arbuste OLD - 74.529%
11 Carina Bachmann - Tarantino- 73.059%
12 Jessica Süss - Duisenberg - 70.765%
Grand Prix Kur to Music
1 Isabell Werth  -Weihegold OLD - 90.825%
2 Jessica von BredowWerndl  -  Dalera BB - 89.350%
3 Dorothee Schneider - Faustus - 81.600%
4 Ingrid Klimke  -  Franziskus  - 81.350%
5 Helen Langehanenberg - Annabelle 1- 79.850%
6 Sönke Rothenberger -  Santiano R - 79.000%
7 Carina Bachmann - Tarantino -  76.375%
8 Jessica Süss -  Duisenberg - 75.150%
Related Links
Isabell Werth and Emilio Take Freestyle Gold at 2019 German Championships
Dorothee Schneider Puts on a Show and Wins Gold at 2019 German Championships
Rothenberger Grabs Kur Gold at 2018 German Dressage Championships
Sönke Rothenberger Wins 2018 German Grand Prix Championship
Isabell Werth Wins 2017 German Dressage Championships, 13th Career Title
Isabell Werth and Weihegold Win 2016 German Dressage Championships
Kristina Sprehe Scores Second, Consecutive Title at 2015 German Dressage Championships
Kristina Sprehe Wins 2014 German Dressage Championships
Helen Langehanenberg is First Violin at 2013 German Dressage Championships
Helen Langehanenberg Crowned Queen of Dressage at 2012 German Championships
Rath Secures National Title with Totilas at 2011 German Championships in Balve
Double Gold for Isabell Werth at the 2010 German Dressage Championships
Photo Report 2009 German Dressage Championships
Photo Report - 2008 German Dressage Championships 
Scores: 2007 German Dressage Championships