Germany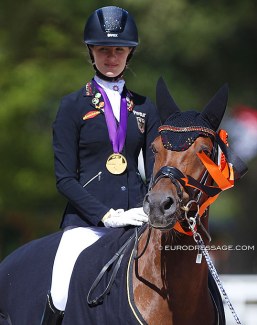 German medal winning team pony Der Kleine Sunnyboy  has been sold to the Von Wulffen family in Germany. 
Der Kleine Sunnyboy is a 10-year old Weser Ems bred gelding by Der Feine Lord out of Diva (by Valentino x Condor x Askan). He is bred by Inge Hinrichs.
The liver chestnut started his career as a stallion getting licensed for breeder at the Weser Erms society in 2012. However, he was mainly focused on sport and gelded later on. He was first competed as a 4-year old by Petra Hinrichs.
However in 2015 Tobias Schulz-Isenbeck took over ownership and allocated the ride to Julia Rohmann. That year the new pair participated in the inaugural and one-time "International Dressage Cup for Young Ponies", an inofficial world young pony championship held in Verden, although the entries were very limited an all-German. The pair finished 11th in the Finals there. 
In 2016 Der Kleine Sunnyboy was ridden at L-level by Paul Schulz-Isenbeck and they competed at the 2016 Bundeschampionate for 6-year old dressage ponies and finished 9th in the Finals. 
International Career with Benner
in 2017 Shona Benner became the new rider of the pony and she ended up acquiring an ownership share from Paul and Tobias Schulz-Isenbeck.
Benner began competing the pony in July 2017 at local events in Germany and made their international show debut in 2018 at the CDI Nieuw en St. Joosland where they won the individual test. They rode the German team selection trials for the European Championships but were not picked. At the 2018 German Pony Championships in September they were sixth overall. 
Their career highlight came in 2019. They competed at CDI'sin Sopot, Lier, Saumur, Hagen and Leudelange and bagged 9 international trophies. They were selected for the German team at the 2019 European Pony Championships in Strzegom, Poland, they won team, individual and kur bronze as highest scoring German pair on the team. However, three weeks later at the 2019 German Pony Championships they were beaten by Rose Oatley and ended up with silver. 
They began the year 2020 being ranked Number One on the FEI World Pony Riders Ranking. In her last year on ponies, Benner gave it her all to improve her feat from 2019 and go for more medals at the 2020 European Pony Championships. Before the corona lockdown they competed at the CDI's in Le Mans and Keysoe and won five out of six classes. They were nominated on the German team and ended up with team gold. However, individually she was fifth and the fourth rider on the German team, making her ineligible to move to the Kur to Music finals. The pair, who was trained by Helen Langehanenberg, ended their partnership with a first team gold, but no additional individual glory. 
Sold to the Von Wulffen Family 
Shona Benner and Der Kleine Sunnyboy were strikingly absent at the 2020 German Pony Championships the second weekend of September 2020.  
"We've decided that the European Championships with the gold medal were a suitable time to say goodbye to the pony years," Benner told Eurodressage when rumours were rife that her pony had sold a week ago. "He is having joyful free time at Helen's stable."
The talented up and coming Germany pony rider Paulina von Wulffen, however, confirmed to Eurodressage that Der Kleine Sunnyboy has joined their family.
"We all fell in love with him, because he has such a lovely character," said Paulina. "I am not sure yet whether I will be riding Der Kleine Sunnyboy, but I do have 5 siblings including 3 younger ones, so we will figure out the details over the of course of the winter."
The 14-year old Paulina has a stellar armada of top ponies to ride, including the 2018 European Pony Champion Top Queen H and the former German team pony Dujardin B.  She began her CDI career in the summer of 2018 with Dujardin B and since 2019 has been gaining mileage and experience with both ponies in the international arena. 
Switching Trainers, Moving to Munsterland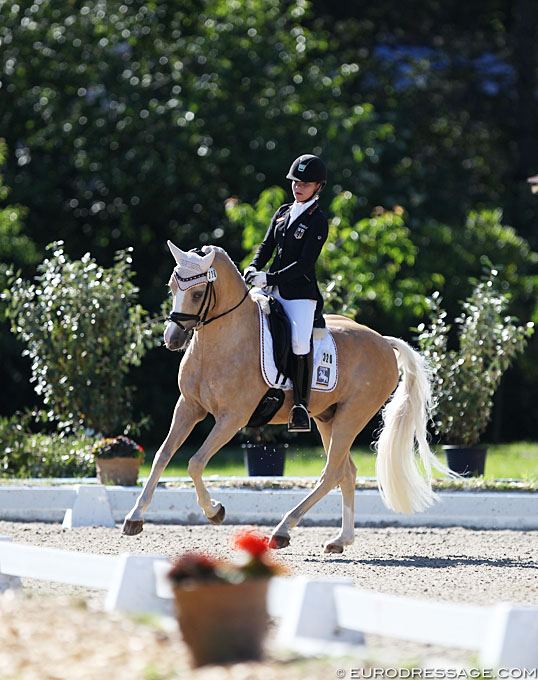 Initially trained by Steffi Krause in Bad Homburg near Frankfurt, Paulina has now switched coaches and joined her sister Elisabeth's trainer, Bianca Nowag, at the DOKR headquarters in Warendorf, Germany. 
"We can all ride in Warendorf together and are no longer stretched across Germany," Paulina told Eurodressage. "We are currently moving to the Münsterland. Bianca is an amazing trainer with so much experience and I really love working with her."
Until the family has moved house entirely, the training in Warendorf will require a commute. However, Paulina is used to it and her stamina to travel for training is a testimony of her perseverance to become a dedicated dressage rider.
"I've only been here (in Warendorf) a few weeks, so right now I am here 3 days a week, usually on the weekends," she explained. "I used to ride near Frankfurt, where I took the train after school, rode late at night, and then early in the morning and took the train back, so I wouldn't miss too much school time. I did that 2-3 times a week. Then I spend all weekends and free days with my horses."
Related Links
Eurodressage Photo Database: Der Kleine Sunnyboy
Shona Benner Secures Brisbane as Junior Rider's Horse
Baumgürtel, Overnight Leader in Individual Test with World Record Score at 2020 European Pony Championships
German Pony Team for 2020 European Youth Championships Announced
Pony Pair Benner and Der Kleine Sunnyboy, World Number One, Sweep 2020 CDI Le Mans
Alexander Yde Helgstrand Takes Triple Gold at 2019 European Pony Championships
German Team Selected for the 2019 European Pony Championships
Photo Report: German Pony Girls Rule 2019 CDI Leudelange
Photo Report: Shona Benner on Strong Form at 2019 CDIO-PJYR Hagen
Scores: 2015 World Championships for Young Dressage Horses