KWPN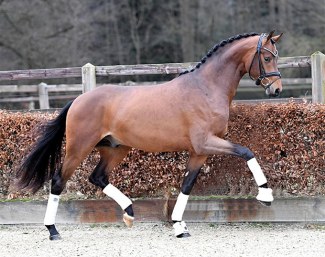 Today, 16 September 2020, the saddle presentation for the 2020 KWPN Autumn Stallion performance test took place in Ermelo, The Netherlands. 
Due to corona the 2020 KWPN Spring Stallion Performance test was cancelled and the approved colts at the 2020 licensing were given an exceptional permit to breed this 2020 season without having done the performance test.
However, the colts still need to do their test in order to obtain  full licensed status, so no less than 37 colts, including six 4-year olds, were presented under saddle by their own rider in front of committee today. 
In addition 8 colts were presented in a rematch to get approved under saddle.
Three colts were seeking a second chance after having already appeared in front of the committee and denied. They were Maigret van de Watermolen (by Daily Diamond x Johnson), Flashbang (by Furst Jazz x Sir Donnerhall) and Mascott STRH (by Toto Jr x Jazz) but neither were accepted even after second inspection. 
Five colts had never been presented to the committee before and were now seeking to entire the licensing process via the saddle presentation. They were: Mr. Szatchuan (by Sezuan x Sandro Hit), an Oldenburg bred Grey Flanell x Sir Dnnerhall owned by Schockemohle and van Uytert, Straight Horse Santiano (by Sezuan x Romanov) owned by Blue Hors stud, and Eugene Reesink's nameless Franziskus x Rock Forever and McLaren (by Morricone x Sir Donnerhall).
Two of them were accepted to do the testing: Straight Horse Santiano and McLaren. They well undergo the veterinary check to see if they pass before starting the performance test. 
The 2020 KWPN Autumn Stallion Performance Test begins on 12 October 2020 and lasts 21 days.
Complete list of presented stallions at the saddle presentation
Photo © Westfalenhof
Related Links
Six Premium Colts at 2020 KWPN Stallion Licensing, Morricone VDT Auction Price Highlight
KWPN Cancels Naming of Licensing Champion, Inserts Lunging
KWPN Decides - Newly Approved Colts Allowed to Breed in 2020 without Performance Test