KWPN Foal Auctions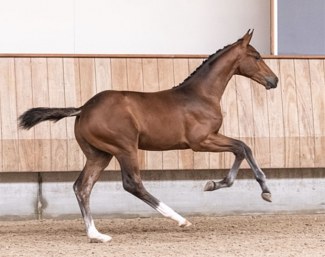 The show jumping bred Phedra became the best selling foal in the fourth KWPN Online Foal Auction of 2020. The top selling dressage foal was Pagani Suthempe, which will move to Spain.
A collection of 35 foals was offered for sale in an online auction which ran from 11 - 14 September 2020. 80% of the foals sold to new owners, and 75% of them will move abroad. 
Especially the show jumping bred foals did very well in this auction with Phedra (by Tangelo van de Zuuthoeve) selling for 22,000 euro to a Greek buyer. 
Buyers from Belgium, Estonia, Greece, Hungary, Ireland, Lithuania, Spain, United Kingdom, Sweden, Switzerland and Holland ended up with a new foal. 
The second most expensive foal of the auction was Pardi (by Apardi) which sold for 8,000 euro to a Dutch client. 
The most expensive dressage foal was Pagani Suthempe (by Kardieno x Florencio) which sold to Spain for just 5,000 euro. 
Piquet (by Taminiau x Tango) stays in Holland for 4,750 euro, while the chestnut coloured Put it in Writing SSS (by Ferguson x Jazz) sold for 4,500 euro.
An Estonian client also  paid 4,500 euro for Pracht Kerel (by Zenon x Flemmingh).
Belgians took home three foals: Paris (by Ferdeaux x Toto Jr) and Perlina N (by Impression x London Swing) for 3,250 euro and Pinacolada TR (by Hennesst x Krack C) for 3,000 euro.