France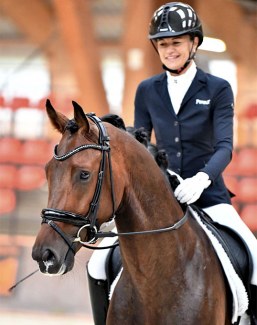 French Olympian Jessica Michel-Botton came, saw and conquered at the 2020 French Breeding Championships in Le Mans, France, on 27 - 30 August 2020. She scored three champion's titles and one reserve champion title with the four horses she brought for the 3-year old classes.
From Saumur to Le Mans
The French Breeding Championships annually take place at the ENE National Equestrian Centre in Saumur, but due the corona pandemic and budget cuts, organizer France Dressage relocated the event to Le Mans, a decision highly liked by the riders. 
"It was a good venue to hold the Breeding Championship," Michel told Eurodressage. "The conditions in Le Mans are very good. For the youngsters under saddle it was a bit challenging in this very big indoor arena, but in the end it all worked out really well."
This year the programme at the Breeding Championships included a new system for the 3-year olds. Owners were able to distinguish between a presentation under saddle or in freedom while in previous years the 3-year olds had to do both rounds. In addition there was also a 3-year old "criterium" class, an under saddle dressage talent scouting competition
Triple Win, Four Titles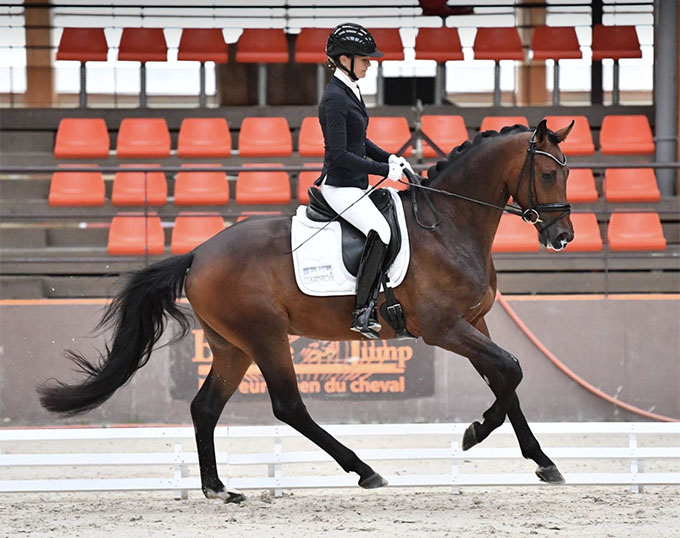 The entire 3-year old divisoin was dominated by horses which Jessica Michel-Botton prepared, trained and presented in Le Mans.
The 3-year old Criterium class, for horses bred outside of France, was by Don Amour Waverley, a British bred Oldenburg by Don Juan de Hus x Sandro Hit which Michel scouted as a foal in the U.K at Waverley Stud after seeing an ad on Eurodressage. He scored 86.75 points for the title, receiving an 8.9 for general impression. The reserve champion was Lorraine Kitzing on the Oldenburg bred Fürst Temptation (by Furstenball x Temptation). 
The 3-year old under saddle class for stallions was dominated by the French bred Oldenburg Vicomte de Hus (by Vivaldi x Don Juan de Hus), bred by Xavier Marie and presented by Michel. This young stallion earned 83.000 for the gold medal and got 8.4 for general impression from judges Marian Dorresteijn, François Fischesser and Josef Freese. Anne Schmitt's Fabio Mercoeur (by Finest x Kasparow) finished second with 79.50 points.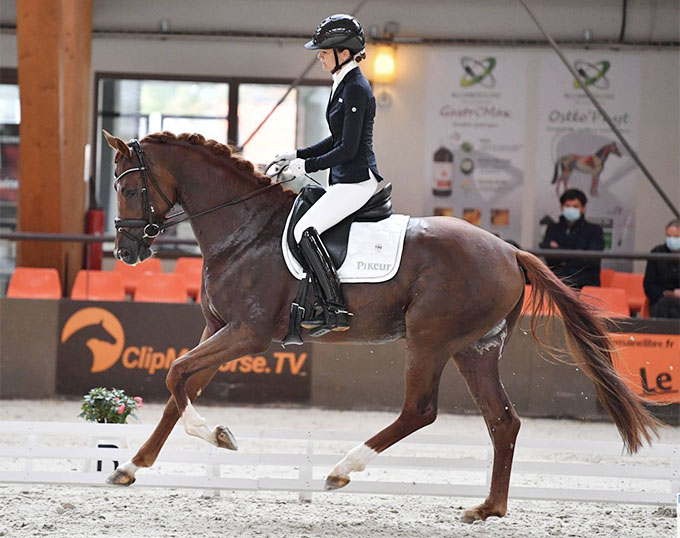 The 3-year old under saddle class for mares and geldings was and easy win for Jessica Michel-Botton and the elegant Selle Français mare Harpege Grez Neuville (by Danciano de Malleret x Gribaldi), bred and owned by Didier Dupeyrat. The talented duo scored 86.00 points for the victory with an 8.5 for general impression. The runner-up was High Hope KXL (by Totilas x Sandro Hit) with 84.25%
In the 3-year old stallions in freedom class the title went to Anne Schmitt's Hanoverian bred Fabio Mercoeur (by Finest x Kasparow). He is bred by Guillaume Gautier and Marine Ferte and scored 84.55 points for the victory with 8.8 for general impression. Jessica Michel-Botton prepared Xavier Marie's Oldenburg registered Da Vinci de Hus (by Damon Hill out of a Poetin clone) for this class and he became the reserve champion with 77.55 points and an 8.0 for general impression.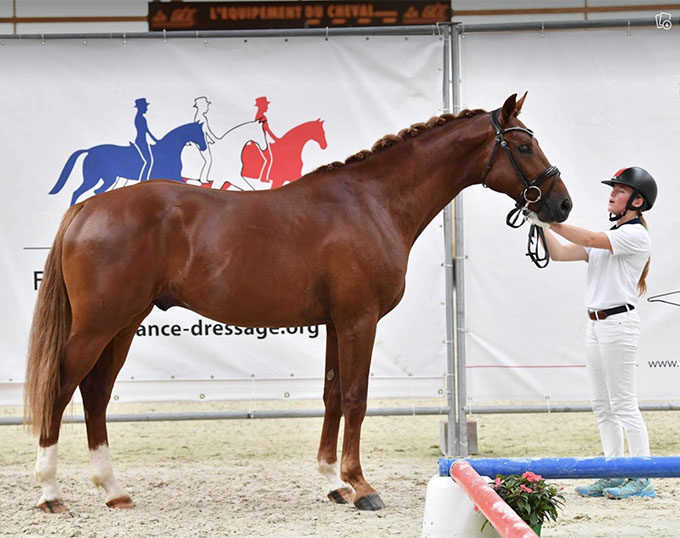 In the 3-year old mares in freedom class Karine Serneels' Selle Francais mare High Hope KXIL (by Totilas x Sandro Hit) struck gold with an 85.25 score and 8.8 for general impression, while Jonas Engstrom's Hirondelle du Minhir (by Don Frederic x Jazz) was the runner-up with 77.15 points and a 7.7 general impression score. 
France Showcases Talent
Dressage horse breeding, ownership and training are hitting new levels in France with a bigger professionalisation and better pedigree choices leading to quality young sport horses. 
The 3-year old classes at the 2020 French Breeding Championships were an excellent platform to showcase the level of quality in the country and the potential for the future. 
"With the 3-year olds, it's a big adventure for them. You want to give them a good experience at their first competition because they have never left their home stable," Jessica Michel-Botton explained.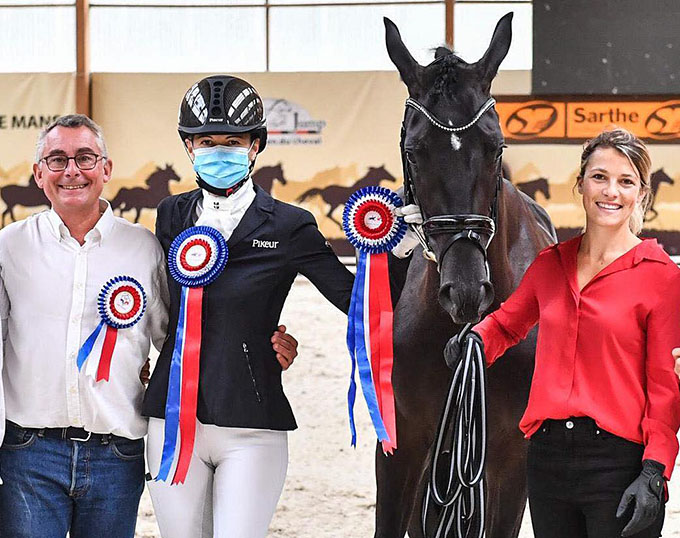 "That's why I'm very happy with the presentation of my four horses, who all delivered at this show. They are four horses with great quality and I'm totally convinced of their potential as competition horses. It is also very rewarding for the owners, of course Haras de Hus with Vicomte and Da Vinci, but also Lise and Didier Dupeyrat with Harpège Grez Neuville and Claudia Chauchard, who co-owns Don Amour Waverley."
Michel-Botton is based with her sales and training business as an independent dressage rider at Haras de Hus in Le Petit-Mars, France. While she manages the dressage barn for yard owner Xavier Marie, she also takes on clients and horses from outside. 
"I have around 15 horses in training. A third of them are from Haras de Hus, the others are all private clients who come to me to have their horses developed up the levels, the classical way, and to help sell them," Jessica explained. "It has been wonderful to combine my duties managing the dressage barn and dressage breeding project at Haras de Hus, alongside training and competing some of France's most talented young dressage horses. It is so rewarding to see the owners and breeders with big smiles on their faces here at the French Breeding Championships. This makes work a pleasure."
Photos © Les Garennes
Related Links
Kankaline de Ticop and Koeur de Jalehone Win 2020 French Foal Championship
Danciano de Malleret Strikes Twice at 2020 French Breeding Championship
Young Horse Rider Wanted for Jessica Michel-Botton at Haras de Hus
Jessica Michel-Botton Takes Dorian Grey, the Pride and Glory of Haras de Hus, to Ermelo
Haras de Malleret to Collaborate with Jessica Michel and Antonella Joannou
Jessica Michel-Botton Gets Ride on KWPN Stallion Kayden