Denmark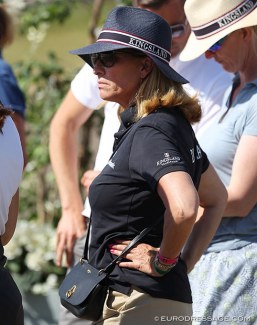 The Danish Equestrian Federation (DRF) has announced that it parted ways with Helle Trolle, the senior Grand Prix team captain, effective immediately. 
The Danish federation wishes to set up a new structure around the Danish national dressage team and there is no place for Trolle in that structure. 
"We believe that the time is ripe to rethink the existing set-up and therefore choose to say goodbye to Helle," said Morten Schram Rodtwitt, the Danish NF director. "As a federation we want to focus on creating an optimal framework and conditions for both our all squad riders and not just the team riders, so they can perform in an optimal way as individuals and as team." 
Helle Krasnik Trolle served as senior team captain since 2017. 
"I'm sincerely sorry and regret this decision," said Trolle, who runs a horse tack distribution centre for Scandinavia. "I will not deny that I will miss all the competent people, eminent riders and not the least the amazing horses I have been so luck to surround myself with the last three years."
Kimi Nielsen, the former Danish senior team captain and the current DRF Technical Director for Elite Dressage, will work in close collaboration with senior team trainer Nathalie zu Sayn-Wittgenstein will work out a new framework for Grand Prix squad management.
Photo © Astrid Appels
Related Links
Helle Krasnik Trolle Appointed New Danish Grand Prix Team Captain
Final Choices for Danish Team Made for 2019 European Dressage Championships
Mette Müller Appointed Danish Under 25 Team Captain
Kimi Nielsen Resigns at Danish Grand Prix Team Captain
Kimi Nielsen Appointed as Danish Elite and Talent Manager Dressage