Bulgaria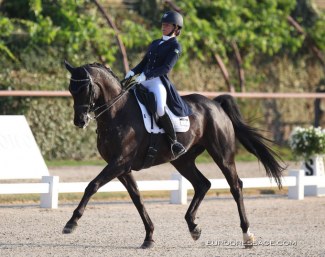 The master list for the 2020 European Young Riders and Under 25 Championships, held at the European Youth Championships on 16 - 20 August 2020, is known.
The Master list shows that 57 Young Riders have been entered for the 2020 European YR Championships, exactly the same amount as in 2019 in San Giovani. For the 2020 European under 25 Championships, 30 riders are nominated to compete, while in 2019 there were 33 competing. 
Here are the Young Riders and Under 25 Grand Prix Riders from eastern European countries that are selected to compete in Budapest.
Young Riders
Ukrainian Young Rider Team
Anastasiya Cherdak - Seven
Daria Nedava - Langro 
Oleksandra Potiienko - Dakar
Young Rider Individuals are:
Mirela Raykova - Brooklyn (BUL)
Aneta Havlickova - Fieneke (CZE)
Laura Liskova  - Worman (CZE)
Lavinia Macropoulou - Hope for the Future (GRE)
Noga Kadshai - Sierappel (ISR)
Daria Maria Paliciuc - Everton (RUM)
Under 25 Riders
U25 Individuals
Katsiaryna Bialevich - Zamora (BLR)
Krassina Krusteva - Cerano (BUL)
Photo © Astrid Appels
Related Link
Eurodressage Coverage of the 2020 European Youth Championships