Hof Kasselmann Hybrid Auction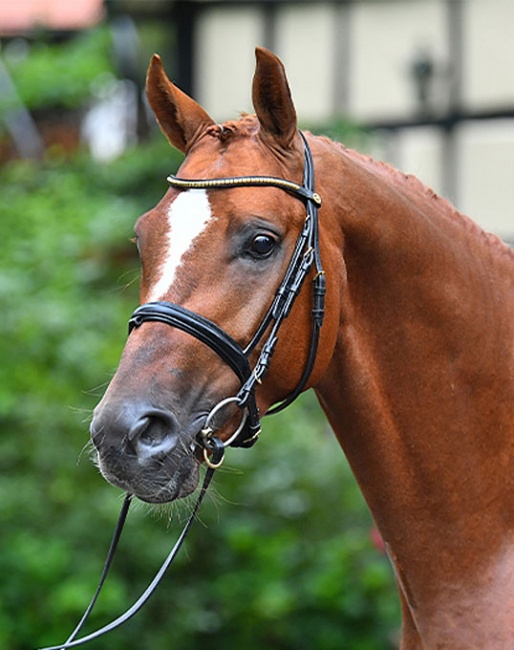 Hof Kasselmann will be hosting its very auction of young dressage horses and upper level trained competition horses in a "Hybrid" format on 8 August 2020
Bidding on the 13 elite dressage horses in the first Hof Kasselmann Hybrid Auction on 8 August 2020 will be accepted either live at the event with an auctioneer striking the hammer, or either by phone or online from the comfort of your home and computer.
The collection not only includes highly promising young horses with the potential and quality required for a great career in the sport, but also some experienced horses trained up to advanced and small tour level.
Catalog Nr 7: For a Look
Catalog number 7 is For a Look, a 4-year old Hanoverian stallion by Fursten-Look x Don Primero x Brentano II.
This impressive chestnut stallion is sired by Fürsten-Look, who won bronze at the World Young Horse Championships and who qualified for the Nurnberger burgpokal finals of 2020. 
For a Look is a diamond in the making, ready to be polished for the big sport.
He has a strong hind leg that is always active and reaching under. Each stride in canter is uphill and is easy to sit. His walk is exceptional with a pure 4-beat rhythm and much ground cover.  
Register Online to Bid
Register today on the Hof Kasselmann Hybrid Auction site and create your active profile.  Registry is required for bidding and is hassle free.
Further information the Hof Kasselmann Hybrid Auction can be found at www.hofkasselmann-auction.com
For enquiries on individual horses or if you like to receive further information, please don't hesitate to contact us!