2020 Bundeschampionate Qualifier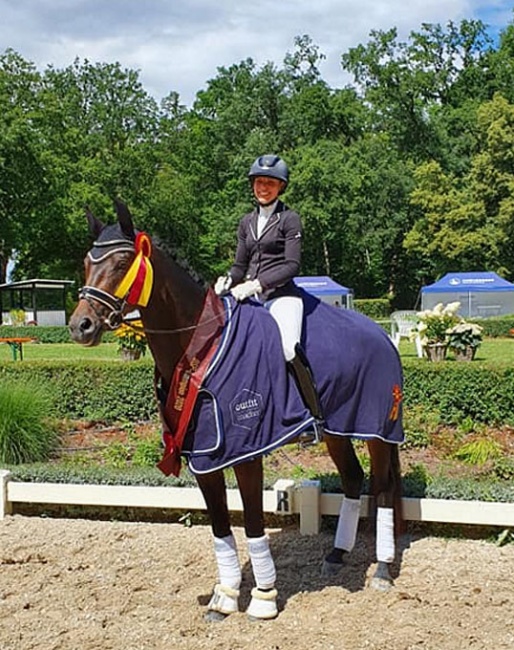 The 5-year old Zoé and Danny Cool, and the 6-year old Da Capo were the winners of the Bundeschampionate qualification classes held at Hofgut Kranichstein in Darmstadt, Germany, on 24-25 July 2020.
In the 5-year old division a large field of 30 combinations battled it out in pursuit of an 8.0 or higher score for Warendorf qualification. Two pairs placed first with an 8.2 score. Judges Peter Olsson, Hartwig Knapp and Knut Danzberg rewarded Ramona Ritzel and the German Sport Horse mare Zoé with 8 for walk, canter, submission and 8.5 for trot and general impression. Lisa Horier and Margit Eisner's DSP mare Danny Cool (by Danciano x Sandro Hit) received 8 for walk, 8.5 for trot and canter, 7.5 for submission and 8.5 for general impression. Two combinations tied in third place with 8.1.: Dorothee Schneider on Elisabeth Max-Theurer's Oldenburg mare Fontana di Trevi MT (by For Romance x Londonderry) and Ines Knoll on Sigrid Wolf-Matthieu's Rhinelander gelding Goldsee (by Goldberg x San Amour).
The 6-year old class was considerably smaller with just eight pairs. It was judged by Tim Koch, Peter Olsson, Hartwig Knapp and they placed Sophie Stilgenbauer and the Rhinelander gelding Da Capo (by Don Frederic x Sandro Hit) first with 8.2. points. The bay mare got 9 for walk, 7.5 for trot, 8 for canter and submission and 8.5 for general impression. Anna Schöffner and PBM Cosmopolitan (by Concetto x Larinar) landed second place with 8.0. the horse earned straight 8s for walk, trot, canter, submission and general impression. 
Results - 2020 Bundeschampionate Qualifier - Darmstadt
5-year olds
1. Ramona Ritzel - Zoé (by Zalando / Fürst Romancier) - 8.2
1 Lisa Horler - Danny Cool (by Danciano / Sandro Hit) - 8.2
3 Dorothee Schneider -  Fontana di Trevi MT (by For Romance I / Londonderry) - 8.1
3 Ines Knoll - Goldsee (by Goldberg / San Amour) - 8.1
5 Antonia Öhrstam -  Zapato (by Zalando / Don Diamond) - 8
5 Anna Weilert -  Benedetto (by Bombastic / San Muscadet) - 8
7 Anna Weilert - Dante's Stern (by Dante Weltino / Fidertanz) - 7.8
7 Geertje Hesse­ Wadenspanner -  Zansibar (by Zirkon (Zodiac) / Don Argentinus) - 7.8
7 Alina Schneider -  First Touch (by Rock for You / Samba Hit) - 7.8
10 Laura Strobel - Dalmer's Damon (by Damon Hill / Florestan) - 7.7
11 Ines Knoll - Quo Vadis K (by Quotenkönig / Londonderry) - 7.5
11 Max Wadenspanner - San Marco (by Scuderia / Brentano II) - 7.5
11 Jula Mayer -  Sir Mokka Rocker (by Sarotti Mocca­Sahne / Dancier) - 7.5
11 Lukas Maier - Doubtless (by Don Nobless / His Highness) - 7.5
15 Johanna Laing - Dante Royal (by Dante Weltino / Lord Sinclair) - 7.4
15 Klarissa­Alexandra Liss - Diva Benita L (by De Niro / San Amour) - 7.4
17 Stefanie Hladik - Didgeridoo (by Don Frederic / Piaster) - 7.3
17 Antonia Öhrstam - Braveheart (by Bretton Woods / Fürst Heinrich) - 7.3
19 Astrid Neumayer -  Nikki Lauda GV (by Negro (Novabor) / Sir Donnerhall) - 7.2
19 Carina Harnisch - Sheldon Cooper (by Sezuan / Rosenstein) - 7.2
21 Hayley Beresford  -  Fraser Island (by Finest / Laurentio) - 7.1
21 Ramona Ritzel - Showtime (by Topas / Weltmeyer) - 7.1
23 Philipp Paradiso -  Flowmotion (by Fürst Fohlenhof / Lord Loxley) - 7
24 Katrin Burger - Wild Love Woodlander (by Wild Child / For Compliment) - 6.9
25 Angelika Mayr  -  Fitzroy (by Feedback / Sandro Hit ) - 6.8
26 Anja de Bruijn -  Quality by Design (by Quadroneur / QuandoQuando) - 6.6
26 Marcel Schmidt -  Santa Dorina DB (by San Florestano / Diamond Hit) - 6.6
28 Sebastian Seuberth - For Justice (by Fashion Maker x Ehrentanz) - 6.5
Johanna Wadenspanner - Gut Wettlkam's Larry Bird (by Lord Leatherdale / San Amour) - RET
Jessica Mende - Call me Calisto (by Coal Diamond / Dedo) - ELI
6-year olds
1. 1 Sophie Stilgenbauer -  Da Capo (by Don Frederic / Sandro Hit) - 8.2
2 Anna Schöffner -  PBM Cosmopolitan (by Concetto x Larinar) - 8
3 Astrid Neumayer -  Best Secret (by Belantis I / Brandenburger) - 7.8
4 Kim Pfeiffer - Speedway (by Schwarzgold / Anduc) - 7.7
5 Ralf Kornprobst -  Wild­Elektra (by Escolar / Coriograf B) - 7.5
6 Laura Strobel -  Dave Brubeck (by Desiderio / Sandro Hit) - 7.4
7 Lea Reiche -  Dark Dancer (by De Niro / Sandro Hit) - 7.3
8 Stefanie Baumgartner -  Sasine (by Sir Donnerhall) - 6.9
Related Link
Eurodressage Coverage of the 2020 Bundeschampionate