Belgium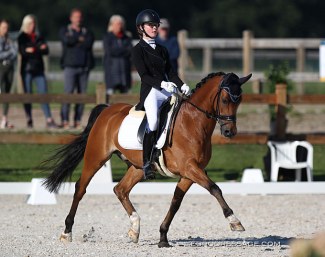 The Belgian Equestrian Federation has announced four teams and one individual rider that will represent Belgium at the 2020 European Youth Championships in Budapest, Hungary, on 9 - 30 August 2020.
Belgian youth team captain Alain Rauw made his selection based on the results achieved by the riders at the national shows in 2020 as well as one international, the CDI Grote Brogel two weeks ago. 
Following a vet check on 21 July, the teams were presented by Rauw to the Belgian Dressage Committee and approved.
Going to Budapest are:
Children
Brittany Clabots – Fluegel
Nicolas Josse – Flirt van het Bloemenhof
Max Van Durme – Dijon
Pony Riders
Ine Blommaert – Wise Guy
Liezel Everars – FS Capelli de Niro
Emilie Herweyers – Don't Dream WE
Britt Van De Weyer – N-Constantino vd Bolkerhoeve
The first reserve is Maité Colling on Donaldson; the second reserve is Noa Joosen on Miss Miracle
Junior Riders
Clara Collard – Escape
Jette De Jong – Heavenly Charming
Katelijne Maes – Ibou van de Kapelhoef
Karoline Sofie Vestergaard  – Junior Hit
The first reseve is Louise Brauwers on Esprit, the second reserve is Clara Mourlon-Beernaert on Furst Dior
Young Riders
Suraya Hendrikx – Dear Friend 
Laura Luyten – J2L Lamborghini
Beaudine Pieters – Elbrasco-L
Amber Van Den Steen – Fame
The first reserve is Lauranne Lammens on Hilcara van het Vijverbos, the second reserve is Hanna Faymonville on Go Go girl VDC
Under 25
Lore Vandeborne – Ikke-Pia van de Bergerhoeve
Photo © Astrid Appels
Related Link
Eurodressage Coverage of the 2020 European Youth Championships