2020 Bundeschampionate Qualifier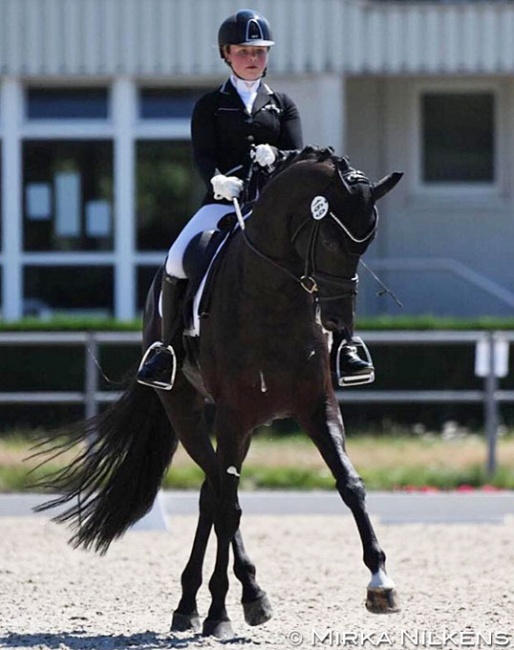 The 5-year old Sandoz and the 6-year old Fürstenliebe W were the winners of the Bundeschampionate qualification classes held at the Rhinelander regional show at Gut Langforth in Langenfeld, Germany, on 23 July 2020.
In the 5-year old division professional Ann-Christin Wienkamp rode Christian Landoldt's Westfalian stallion Sandoz  (by Sezuan x Desperados) into the winner's circle with an 8.2 score. The black stallion got 8 for walk and trot, 8.5 for canter, 8 for submission and 8.5 for general impression from judges Hans-Peter Schmitz, Andrea Schmittert and Catrin Wingender. After placing third at the Hamm Bucha qualifier on 17 July, the pair did not secure their ticket to Warendorf. Lisa Erlemeyer and Johannes Wolff's Hanoverian gelding Floriccino K (by Floriscount x San Remo) were second on 7.6. They got 7 for walk, 8 for trot, 7.5 for canter and submission and 8 for general impression. 
In the 6-year old class former German Young Rider team member Paulina Holzknecht rode her own Oldenburg gelding Fürstenliebe W (by Fürstenball x Florencio) to victory with an 8.3 total score. Judges Peter Mannheims, Reinhard Richenhagen and Hans-Peter Schmitz rewarded the black gelding with 8 for walk and trot, and 8.5 for canter, submission and general impression. Joana Peterka and Fritz Krümmel's Hanoverian gelding Delacure (by Deveraux x Brentano II) tied in second place on 7.7. with Jochen Bender aboard the Rhinelander gelding Fiorenzo (by Feedback x Riccione). Delacure got 7.5 for walk, 8 for trot and canter, 7 for submission and 8 for general impression, while Fiorenzo earned 7.5 for walk and canter, 8.5 for trot, 7 for submission and 8 for general impression. 
Photo © Mirka Nilkens
Results - 2020 Bundeschampionate Qualifier - Langenfeld
5-year olds
1. Ann-­Christin Wienkamp -  Sandoz  (by Sezuan x Desperados) - 8.2
2 Lisa Erlemeyer -  Floriccino K (by Floriscount x San Remo)  - 7.6
3 Maik Schemmann-  Fifth Avenue (by For Romance I / Don Frederico) - 7.4
3 Carola Timpe - Fleur du Coeur (by Fashion Maker / Sir Donnerhall) - 7.4
5 Carlos Caetano -  Don Rubi (by Don Frederico / Rubinero) - 7.3
6 Christian Reisch  - Estonia (by Escolar / Florenciano) - 7.2
7 Roxanne Feller - Bellanera (by Santo Domingo / Jazz Time) -  7 
8 Marco Fernandez Sanchez - Buenos Dias Bailador (by Buckingham / Sandro Hit) - 6.9
8 Andre Wersich -  Franzi (by Finest / Royal Classic) - 6.9
6-year olds
1. Paulina Holzknecht -  Fürstenliebe W (by Fürstenball / Florencio) - 8.3
2 Joana Peterka - Delacure (by Deveraux / Brentano II) - 7.7
2 Jochen Bender -  Fiorenzo (by Feedback / Riccione) - 7.7
4 Jil Lana Seidel - Duna Blanca (by Don Darius / Fabriano) - 7.6
4 Lydia Camp -  Kacyro (by Saint Cyr / Freudenfest) - 7.6
6 Anne Krenzke -  Cody D(by Codex One / Caspar) - 7.4
7 Lydia Camp - Pettersson (by Hirtentanz / Maizauber) - 7.3
8 Daniel Oster - Die White Lady (by Don Index / Royal Blend) - 7.2
Related Link
Eurodressage Coverage of the 2020 Bundeschampionate