2020 Bundeschampionate Qualifier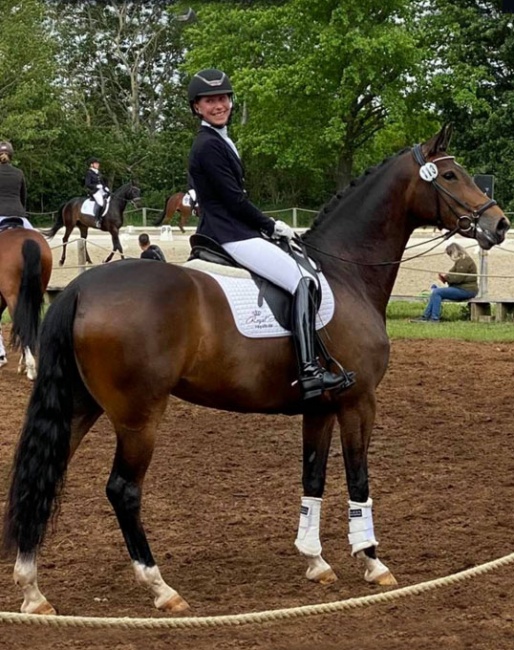 The 5-year old Sommernacht and the 6-year old Flash Gordon were the winners of the Bundeschampionate qualification classes held at Stallion Station Maas Hell in Klein Offenseth, Germany, on 15 July 2020.
This show was organized uniquely as a BuCha qualifier and judges Carsten Munk, Peter Olsson, Britta Bando, and Gabriele von Appen assessed the tests. 
In the 5-year old division Greta Heemsoth and Ingo Pape's Oldenburg mare Sommernacht (by Rocco Granata x San Remo) topped the board with 8.4 points. The bay mare earned 8.5 for walk and trot, 8 for canter, and 8.5 for submission and general impression. Markus von Holdt and Kumiko Yahashi's Hanoverian stallion Finest Diamond (by Finest x Rohdiamant) were second with 8.3 points. The black stallion got 8.5 for walk and canter, 7.5 for trot and 8.5 for submission and general impression. Liv Malin Heite and Dirk Pohlmann's Hanoverian Dao Fo (by Danciano x Locklsey II) were third with 8.0.
In the 6-year old class Stefanie Hein steered German U25 rider Ninja Rathjens' Oldenburg gelding Flash Gordon (by Fiderbach x Don Romantic) to victory with an 8.0 total score. The chestnut gelding earned 8.5 for walk, 8 for trot, 7.5 for canter and 8 for submission and general impression. Alexandra Bimschas and Sarah Kay Hubner's Hanoverian gelding San Maddox (by San Amour x Rotspon) were second with 7.7., a score not sufficient to earn a ticket to Warendorf. The minimum requirement is 8.0. San Meddox received 8.5 for walk, 7.5 for trot, 8 for canter, 7 for submission and 7.5 for general impression. Anna-Lena Kracht and Katja Thater's Oldenburg mare Hollywood (by Dante Weltino x Herzensdieb) as well as Danish Martin Christensen on Gudrun Bauer's Oldenburg gelding Bitcoin (by Bordeaux x Rubinstein) tied in third place with 7.6.
Results - 2020 Bundeschampionate Qualifier - Klein Offenseth
5-year olds
1. Greta Heemsoth  - Sommernacht (by Rocco Granata / San Remo) - 8.4
2 Markus von Holdt -  Finest Diamond (by Finest / Rohdiamant) - 8.3
3 Liv Malin Heite -  Dao Fo (by Danciano / Locksley II) - 8
4 Jessica Lynn Thomas - Greyson (by Grey Flanell / Fürst Romancier) - 7.7
5 Jana Christin Sönnichsen - Sindbad (by San Amour I / Don Frederico) - 7.6
6 Ken­Christian Horst -  Fjara (by Fürstenball / Brentano II) - 7.5
7 Philipp Paradiso -  Flowmotion (by Fürst Fohlenhof / Lord Loxley ) - 7.3
8 Vanessa Kempkes - Farah Felicita (by Finest / Sandro Hit) - 7.1
9 Josephine Wolff - Querida (by Quasar de Charry / Hohenstein) - 7
10 Ken­Christian Horst -  Glorious Holly (by Governor / Ampere) - 6.9
11 Antonia Voss -  First Dance (by Fürstenball / San Amour) - 6.8
12 Vanessa­Sarah Hahnrath - Dare2Dream (by Dante Weltino / Fürst Romancier) - 6.6
13 Lara Nehring - Vivaldi's Hit (by Van Vivaldi / Sandro Hit) - 5.9
6-year olds
1. Stefanie Hein - Flash Gordon (by Fiderbach / Don Romantic) - 8
2 Alexandra Bimschas - San Meddox (by San Amour I / Rotspon) - 7.7
3 Anna­Lena Kracht - Hollywood (by Dante Weltino / Herzensdieb) - 7.6
3 Martin Christensen - Bitcoin OLD (by  Bordeaux (NLD) / Rubinstein) - 7.6
5 Melinda Ignatius - Quentin (by Quasar de Charry / Münchhausen) - 7.5
6 KimberlyElisabeth Hinrichs - Clarksville (by Cascadello I / Canto) - 7.4
7 Eva Rainsborough -  Bismillah (by Belissimo M / Quaterback) - 7.3
7 Greta Heemsoth - Daytona (by De Niro / Quaterback) - 7.3
9 Manuel Bammel  - Pramwaldhof's Bamboo (by Beradini / Rubinstein) - 7.2
10 Britta Kastorf -  Quatermaster (by Quaterback / Farinelli) - 7
11 Kathrin Bielfeldt­ Wittke - Scharapowa (by Sir Heinrich / Riccio) - 6.8
12 Kathrin Bielfeldt­ Wittke  -  Dark Revolution (by Depeche Mode / Fürst Heinrich) - 6.7
Related Link
Eurodressage Coverage of the 2020 Bundeschampionate