Italy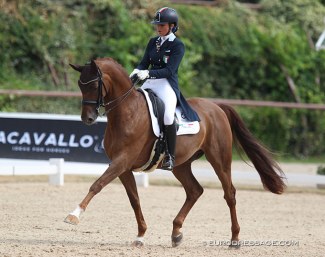 The Italian equestrian federation (FISE) has announced the children and junior team that will represent Italy at the 2020 European Youth Championships in Budapest, Hungary, on 9 - 16 August 2020. 
Due to the corona pandemic, FISE decided to base its team selection on the two best results team candidates achieved in the period 1 January 2020 - 20 July 2020 with the CDN Ornago being an observation trial. 
FISE decided to send no Under 25 combinations to Budapest based on the results that have been scored.
The Young Riders team will be announced after the 27 July deadline. No announcement has been made yet about a pony team.
The Italian children team includes:
Riccardo Spagni - Cesan
Maria Beatrice Nucci - FG Alterego
Mina Felicitas Simeone - Rantauplan
Anna Tarabella - May
The Italian junior team includes: 
Alessia Volpini - Easy Deasy
Valentina Merli - Le Bom
Caterina Sangiorgi - Totally More RH
Bernadette Rizzuto - Cover Girl
Four juniors have been named reserve riders: 1) Ginevra Bianco on Dali Salvador, 2) Martina Lippi on Rubin's Rockstar, 3) Rachele Bancora on Exupery and 4) Maria Vittoria Duranti on Bionika di Fonte Abeti. 
Photo © Astrid Appels
Related Link
Eurodressage Coverage of the 2020 European Youth Championships