2020 CDI Achleiten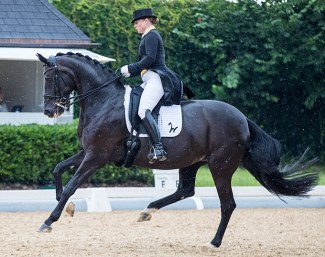 Isabell Werth has found her groove at the CDI Achleiten in Austria. After sweeping four classes at the CDI at the start of July, she has returned for another winning streak. 
Aboard her number two Grand Prix horse Weihegold she scored 81% and with her student's rising GP star Quantaz she posted 80% in the two Grand Prix classes held at the CDI Achleiten on Friday 24 July 2020. 
Austrian 5* dressage judge Elisabeth Max-Theurer is hosting a series of three small internationals at her gorgeous home, Castle Achleiten in Röhr, Austria, as a post-corona opportunity to compete at an internationaI.  The first post-corona CDI was on 3 - 5 July and allowed only 15 pairs to compete to this invitational event. The second CDI on 23 - 26 July is only slightly bigger with similar pairs present. 
81% with Weihegold in the Grand Prix for Special
The World number 1 had scheduled her return to the arena with her World Cup Finals' winning mare Weihegold (by Don Schufro x Sandro Hit) at last week's CDI Hagen, but unfortunately had to withdraw there because of the sad passing of her aunt. She then trailered both Quantaz and Weihegold to Achleiten for a show check.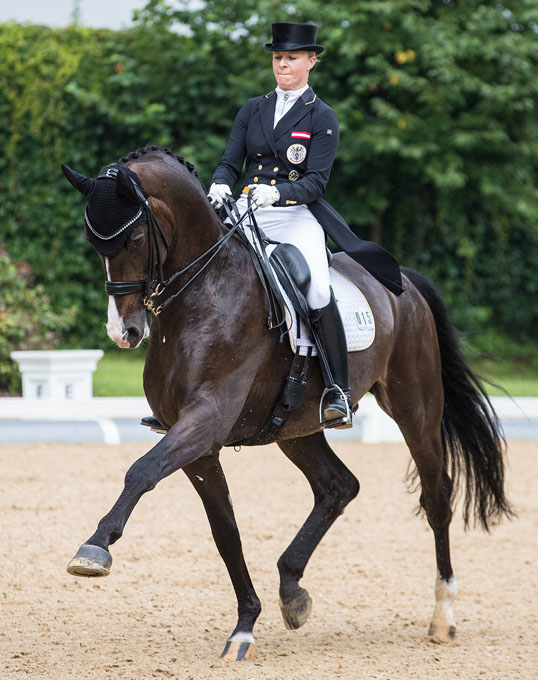 In rainy weather, the experienced black mare and her even more experienced 51-year old rider received 81.174% from the panel of judges which included four 5* judges (Ebert, Lang, Umbach, Eisenhardt) and one 4* judge (Voser). Werth's student Victoria Max-Theurer followed in second place with the newly acquired 10-year old Westfalian Abegglen (by Ampere x Carabas) on a personal best score of 77.631%.
Australian Simone Pearce is on a roll with the 13-year old Hanoverian stallion Destano (by Desperados x Brentano II), taking over the ride from Swedish Michelle Hagman who trained the horse to Grand Prix level. Pearce and Destano scored 74.152% in Achleiten and achieved an Australian Grand Prix record score!
80% with Quantaz in the Grand Prix for Kur
In the Grand Prix for Kur tour, Werth saddled Victoria Max-Theurer's 10-year old Brandenburger bred Quantaz (by Quaterback x Hohenstein) and scored her second 80%+ score of the day. Judges Voser, Schwab, Ebert, Umbach, and Eisenhardt rewarded Werth with 80.348% although the individual judges' marks ranged between 78.47% and 82.06%. 
"I can't remember (that I scored 80% twice in one day), as usually the classes are spread out over a few days. I'm happy, it's a nice feeling," Werth commented. "Quantaz has developed himself well over the last three weeks. Today he was more secure than in the first show. Weihegold presented herself well, a really nice round. The expectations with her are always very high, so she really did very well."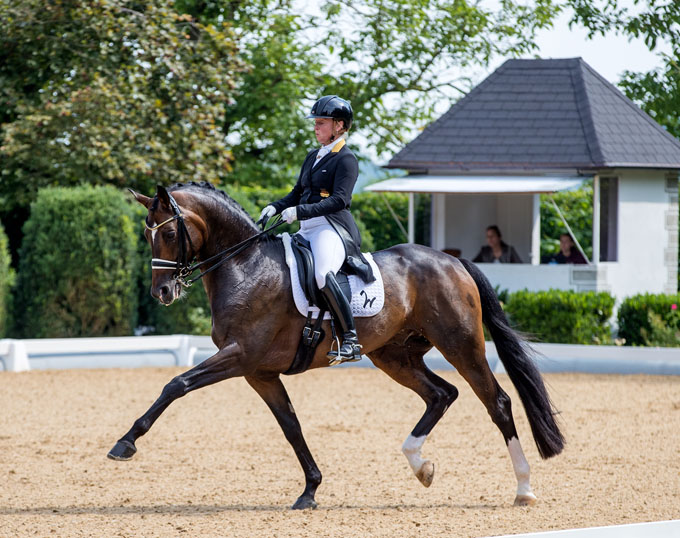 Victoria Max-Theurer and her 10-year old Westfalian Rockabilly (by Rock Forever x Ehrentusch) were second with 73.783%. 
"I'm very happy and to be honest also a bit overwhelmed," said Victoria Max-Theurer. "With Rockabilly there was a mistake in the two tempi changes, but I got two nice results. I couldn't wish for more. Both horses haven't been that long at this level, so i'm really proud."
Germany's Frederic Wandres followed in third place aboard Elena Knyaginicheva's former World Young Horse Champion Sa Coeur (by Sir Donnerhall x Don Davidoff) . They scored 72.326%. After winning the World Young Horse Championship under Eva Möller, Sa Coeur has done a European Grand Tour. He has been with a string of riders, first in the U.K. with Michael Eilberg, then back in Germany to be ridden by Insa Hansen at Hof Kasselmann, back to the U.K. to be further trained and shown by Emile Faurie , followed by a change in plans with the horse moving to Patrik Kittel's yard to be sold, only to return back to Hof Kasselmann to find a successful match with Wandres.
Photos © Michael Rzepa
Related Links
Scores: 2020 CDI Achleiten