Belgium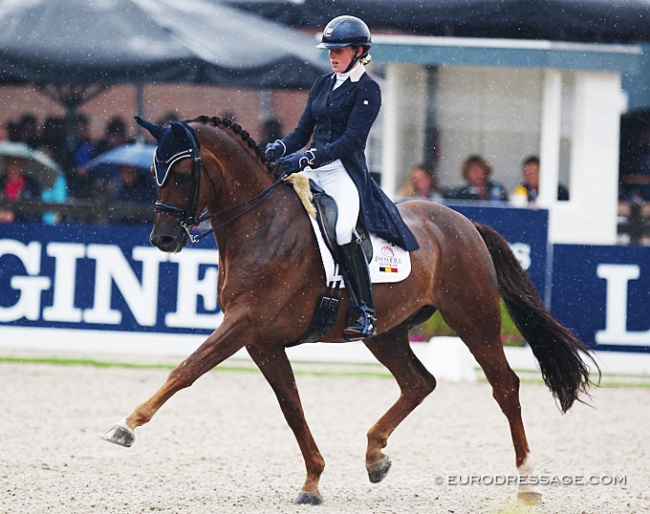 The Belgian Equestrian Federation (KBRSF) has announced the selection system it will adopt to pick the combinations that will represent Belgium at the 2020 World Young Horse Championships. 
The 2020 edition of the World Championships for Young Dressage Horses will take place in Verden, Germany, but because of the corona pandemic they have been moved from 5 - 9 August to an indoor event on 9 - 13 December 2020. 
This means that the Belgian selection trials have changed from three qualifiers to two. 
For the selection, preference will be given to Belgian bred and registered horses, but if they are no good qualificants, other breeds might be chosen
Selection Session 1
The first selection session will be held on 14 October 2020 at Stal Bocage in Dentergem
At the first "selection session" the 5-year olds will be presented in groups of 2 or 3, and the 6- and 7-year olds individually. They have to show the required movements for their age in a random order in a 7-minute time.
The selection panel will consist of "an expert and/or international judges."
They will chose the combinations who are invited to the second selection session
Selection Session 2
The second selection session will be held on 14 November 2020 at C.E. de la Belle Fleur in Cheratte.
Each invited combination will have to ride the Finals test, which will be assessed by 2 FEI-judges or 2 experts and 1 FEI-judge. 
The selected combinations will, of course, have to have met the FEI Minimum Eligibility Requirement (MER) before the entry date for the World Championships. Each combination will have to have scored a minimum of 75% (5 and 6-yo) and 70% (7-yo) at a national or international show. 
Photo © Astrid Appels
Related Links
Eurodressage Coverage of the 2020 World Championships for Young Dressage Horses
FEI Changes Minimum Eligibility Requirements for 2020 World Young Horse Championships in Verden
It's Official! 2020 World Young Horse Championships to Take Place 9 - 13 December 2020