Switzerland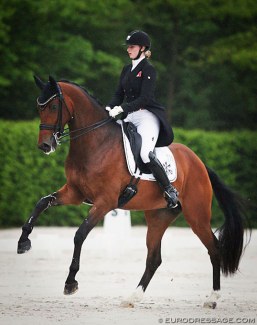 The dressage selection committee of the Swiss Equestrian Federation has nominated the riders which will represent Switzerland at the 2020 European Youth Championships in Budapest on 9 - 20 August 2020. 
Because there were hardly any national and international shows this year due to the Covid-19 pandemic, the Swiss federation decided to host a training seminar upon which selection would be based. "We chose this format to provide equal conditions for all for a EYC selection," said a Swiss FN press official. 
The selection trial took place at the national equestrian centre in Berne, Switzerland, on 17 - 19 July 2020n where judges Katarina Wüst, Dieter Schüe and Hans Voser assessed the riders. Two riders declined to be selected: junior Meilin Nogvan (on Dream of Night Fluswiss) and young rider Laura Grunder (on Rapace). 
Swiss Youth Team captain Heidi Bemelmans commented: "because of the corona pandemic we can't really say which countries will send teams and riders to the European Championships, so for us it's hard to set a target. Initially Sweden and Great Britain would not send a team to Budapest, or only individuals. Germany, Denmark and The Netherlands will be there in full force. It will be exciting. All (Swiss) riders will travel to the EYC with great motivation and with the goal to present their ponies and horses in best form in front of the international competition. As a target we set qualifying for the individual finals."
No children have been selected.
Pony Riders
Valentina Bona - Douglas de Luxe FC, owner: Dagmar Bona
Robynne Graf -  Dallas IV, owner: Simone and Markus Graf
Layla Schmid - Ashen Dew Drop, owner: Daniel von Arx-Schmid
Junior riders
Tallulah Lynn Nater - De Vito W, owner: Tallulah Lynn Nater
Renée Stadler -  Danzador, owner: Carol and Josef Stadler
Noemi Zindel -  Delphino, owner: Sandra and Arno Zindel-Weber
Junge Reiter
Lars Bürgler - Remember Passion, owner: Marianne Bürgler
Ramona Schmid, - Kelly Sue, owner: Ramona Schmid
Young rider Carl-Lennart Korsch and Fantasy can still obtain selection depending on his performance at the CDN in Donaueschingen (GER) at the end of July. 
Under 25
Charlotta Rogerson -  Famora, owner: James Rogerson
In Budapest, the riders will be accompanied by team captain Heidi Bemelmans and team veterinarians Stephanie Weber-Schön (ponies) and Christoph Kühnle (jr,yr, U25). 
Photo © Astrid Appels
Related Link
Eurodressage Coverage of the 2020 European Youth Championships