2020 Bundeschampionate Qualifier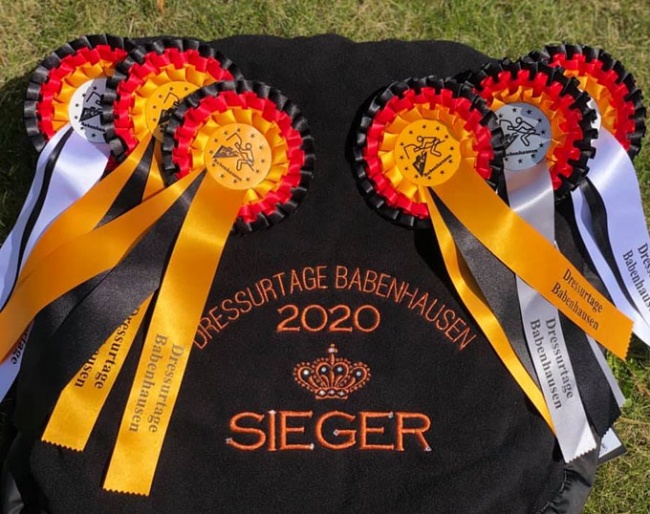 The 5-year old Zansibar and the 6-year old Lennon became the winners of the Bundeschampionate qualification classes held at the regional show in Babenhausen on 11 - 12 July 2020. 
A large field comprised of 26 combinations competed in the L-level dressage horse test for 5-year olds. Judges Sonja Pilton, Wolfgang Schierloh and Gabi Schlicht favoured the ride of Geertje Wadenspanner-Hesse on Margit Pröls' DSP gelding Zansibar (by Zirkon x Don Argentinus). The pair won the class with 8.5 points after earning 8 for walk, 8.5 for trot and canter, 9 for submission and 8.5 for general  impression. Lisa Müller and her husband Thomas' Oldenburg mare Floricella (by Furstenball x Dormello) placed second with 8.1.. The bay mare got 8.5 for walk and trot, 8 for canter, 7.5 for submission and 8 for general impression. Two combinations tied in third place with 8.0: Lisa Maria Klössinger on Daytona Dreams (by Don Nobless x Baroncelli) and Alexandra Sessler on Devolution (by Don Nobless x Weltmeyer). 
Seventeen combinations competed in the M-level dressage horse test for 6-year olds. The class was judged by Cornelia Albrecht, Hartwig Knapp and Gabi Schlicht. Ina-Katrin Schmid and Wolfgang Reich's Hanoverian gelding Lennon (by Londontime x Dancier) aced the test with a season high score of 8.9 points. The liver chestnut gained top scores with 8.5 for walk, and 9 for trot, canter, submission and general impression. Christina Boos and Simone Bonnemeier's Westfalian mare Soraya (by Sunday x Rohdiamant) were second with 8.2. This bay mare got 8 for walk, canter, submission and 8.5 for trot and general impression. Sandra Schwalm and Ira Hagemann's Hanoverian gelding Le Roc (by Londontime x Lauries Crusador xx) were third with 8.1.
Results - 2020 Bundeschampionate Qualifier - Babenhausen
5-year olds
1.  Zansibar (by Zirkon   / Don Argentinus) - Wadenspanner,Geertje - 8.50
2. Gut Wettlkam's Floricella (by Fürstenball / Dormello) - Müller,Lisa - 8.10
3.  Daytona Dreams (by Don Nobless / Baroncelli) - Klössinger,Lisa­Maria - 8.00
3.  Devolution (by Don Nobless / Weltmeyer) - Sessler,Alexandra - 8.00
5.  Fürst William (by Fürst Romancier / Royal Hit) - Burger,Katrin - 7.70
5.  Zoé (by Zalando / Fürst Romancier) - Ritzel,Ramona - 7.70
7.  Goldsee (by Goldberg / San Amour) - Knoll,Ines - 7.66
8.  Fraser Island (by Finest / Laurentio) - Beresford,Hayley - 7.60
8.  Quentin von Nymphenburg (by Quaterhall / Limonit) - Hanft,Silke -  7.60
8.  Didgeridoo (by Don Frederic / Piaster) - Hladik,Stefanie - 7.60
8.  Farello Jam (by Fürst Wilhelm / Rohdiamant) - Sessler,Alexandra -  7.60
12.  Gut Wettlkam's Larry Bird (by Lord Leatherdale / San Amour) - Wadenspanner,Johanna -  7.50
12.  Daintree (by Diamond Hit) - Beresford,Hayley - 7.50
14.  Vatout (by Van Vivaldi / Abanos) - Petit,Andrea - 7.30
14.  Floritello (by Floriscount / Don Schufro) - Wadenspanner,Walter - 7.30
16.  Fleurette (by For Romance I / Farewell III) - Arnegger,Katharina - 7.10
16.  Benoît 5 / Westf / W / F / Belissimo M / Ehrentusch) - Fohrer,Marion - 7.10
16.  Zick Zack (by Zalando / Friendship) - Jorck­ Jorckston,Christina - 7.10
16.  Quo Vadis K (by Quotenkönig / Londonderry) - Knoll,Ines - 7.10
16.  Felipe (by Fürstenball / Scolari) - Olson,Kristina - 7.10
21.  Wicked Game Woodlander (by Wild Child / St. Moritz) - Beisler,Elisabeth - 6.90
21.  Dante's Hit WR (by Dante Weltino / Sandro Hit) - Federkeil,Corinna - 6.90
23.  San Marco (by Scuderia / Brentano II) - Wadenspanner,Max - 6.80
24.  Filippa (by Finest / Hohenstein) - Eff,Anna­Lena  - 6.30
24.  Showtime (by Topas / Weltmeyer) - Ritzel,Ramona - 6.30
26.  Dallenio (by Millennium / Handryk) - Böye,Eilika - 6.20
6-year olds
1.  Lennon (by Londontime / Dancier) - Schmid,Ina­Katrin  - 8.90
2.  Soraya (by Sunday / Rohdiamant) - Boos,Christina - 8.20
3.  Le Roc (by Londontime / Lauries Crusador xx) - Schwalm,Sandra  - 8.10
4.  FBW Final Result (by Franziskus / Royaldik) - Blessing,Marc­Oliver  -  8.00
4.  Moosbend's Rockadera (by Rock Forever I / Ricardos) - De Ridder,Jill  - 8.00
4.  Dagobert (by Destano / Donnerhall) - Wadenspanner,Max - 8.00
7.  Davanti (by Damon Hill / Fürst Heinrich) - Wadenspanner,Walter H - 7.80
8.  Dickens (by Don Diamond / Sarkozy) - Trost,Christina  - 7.60
9.  Odette (by Grey Flanell / Samba Hit) - Burger,Katrin - 7.50
9.  Qu'est ­ce que c'est (by Quaterhall / Silberschmied) - Jung,Linda  -  7.50
9.  Saavik (by Scuderia / Lauries Crusador xx) - Sessler,Alexandra  -  7.50
12.  Sir Toivo (by Sir Kinley / Don Romantic ) - Steißlinger,Friedrich  - 7.40
13.  Nice Surprise S (by Negro (Novabor) / Rohdiamant ) - Mücke,Philipp  - 7.10
13.  Quagmyre (by Quantensprung / Lauries Crusador xx) - Schmid,Christiane  - 7.10
15.  Finlay MF (by Foundation / Jazz Time) - Fohrer,Marion  - 7.00
16.  San Bernardo 6 / Old / W / R / San Amour I / Fürst Heinrich) - Rüesch,Chiara - 6.40
Foundition (by Foundation / Laudatio) - Petit,Andrea - RET/ELI/DNS
Related Link
Eurodressage Coverage of the 2020 Bundeschampionate