2020 CDI Grote Brogel
After international show starts in Mariakalnok (HUN), Arezzo (ITA) and Achleiten (AUT), the first international dressage competition in western Europe - post corona - kicked off on Thursday 9 July at equestrian centre Breugelhoeve in Grote-Brogel, Belgium.
Easing Into It
Only 20 minutes away from Eurodressage headquarters, the competition in Grote Brogel was a very smooth start of the post corona show season after an almost five month break from intensive show coverage that normally marks my spring season.
My last CDI was in Lier, Belgium, the last weekend of February, and it was nice to ease back into the swing of things (of horse show photography) at a brand new international dressage competition, pretty much on my doorstep! Although rain showers were forecast for the day, the weather turned out to be perfect: not too hot, not too cold.. There was some wind, but nothing bad. 
Breugelhoeve Memories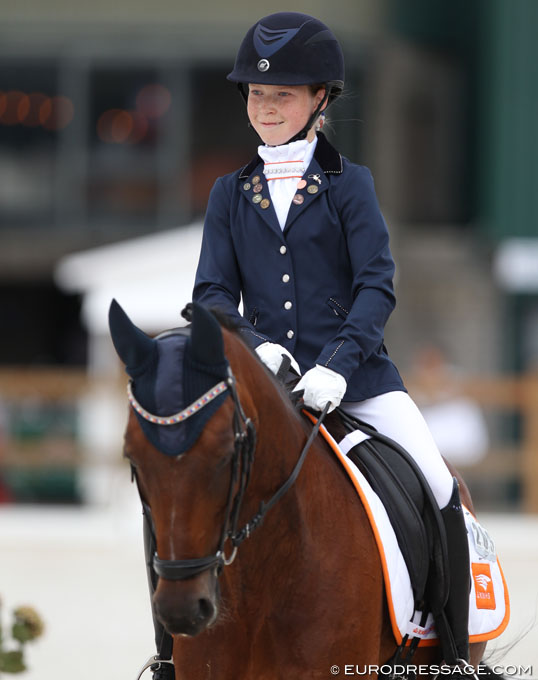 Now under brand new management and after some refurbishing (especially the cafeteria section and new footing in the outdoor arena), Breugelhoeve is a riding centre that fills me with intense memories. I spent some of my first pony camps there as a 9 year old, then competed at national level in the FEI pony divisions on my own treasured pony Didi when I was 15 years old. And now, pretty much 25 years later, I'm back at Breugelhoeve for a CDI as a an equestrian journalist.
To make matters sound even more as serendipity, the first rider I photographed today was Dutch children rider Manouk Zuiderent, a 12-year talented Dutch rider on the oversized Rhinelander pony Dollarboy SG. Her schoolmaster competed under four different Belgian riders at international FEI pony level between 2012 and 2019 and did one European Pony Championships in 2013. Remarkably when the Zuiderent family bought this pony and had him officially measured for the FEI pony tests at the Dutch Equestrian Federation in Ermelo, the gelding stands 153 centimeters and in principle was never even eligible to compete in the pony classes. Maybe he grew 2-5 centimeters at age 17?
Anyway, Manouk Zuiderent is the daughter of Martha Zuiderent, who runs Stal Sintels in Breda, The Netherlands. And now it happens to be that my father purchased a 3-year old New Forest Pony in 1990 as a surprise For me (Didi) at that stable, then run by now grandma Elly Zuiderent. "Toeval bestaat niet," they say in Dutch (there is no co-incidence).
Ah, I also forgot to mention that the show grounds are next to a famous Belgian airforce base, where F16 jets have their training flights. Their deafening roar when they land and take off or circle round the city are quite a nuisance but the horses seem all very unphased to what is happening above their head. Hopefully the pilots are on leave on the weekend.  By the way, the Grote Brogel airforce base is also very notorious for its storage of a stash of America's nuclear weapons, a not-so-appreciated consequence of Allied forces liberating Europe in World War II.
Spotting Talent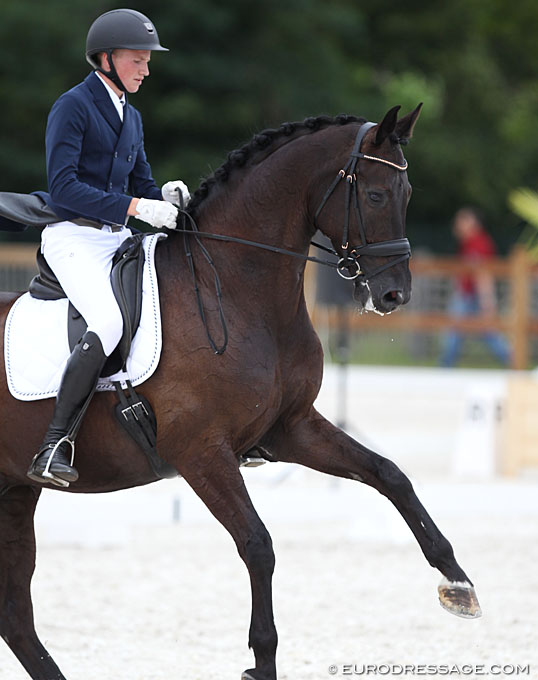 I could dedicate this photo report and article to the winners of the first three classes of the day at the CDI Grote Brogel (Children rider Brittany Clabots, junior Marie Bauer, young rider Luna Laabs), but instead I want to talk a little bit about the talent I spotted at this show. 
There is nothing more fun than seeing brand new combinations compete for the first time. It doesn't always go well: nerves come into play, horses are spooky and unfamiliar with the electric atmosphere of a CDI, or the combination simply needs to mature more and gain mileage. 
In the Children division young Zuiderent impressed with her quite seat, while Belgian Max van Durme rode his 17-year old KWPN gelding Dijon (by Lord Sinclair x Flemmingh) in a really nice frame. The young boy wiped away a few tears because of some blips in his test, but he should feel very proud for such an accomplished CDI debut, showing talent and promise for the future!
In the junior team test familiar faces  were a minority in the group of 18 riders. Two horses really made an impression with their talent and potential. Spanish combination Lilly Martinez Jacobs has a super mover in her 13-year old German bred Janosch (by Johnson x Samba Hit I) but the fine-tuning was not yet there.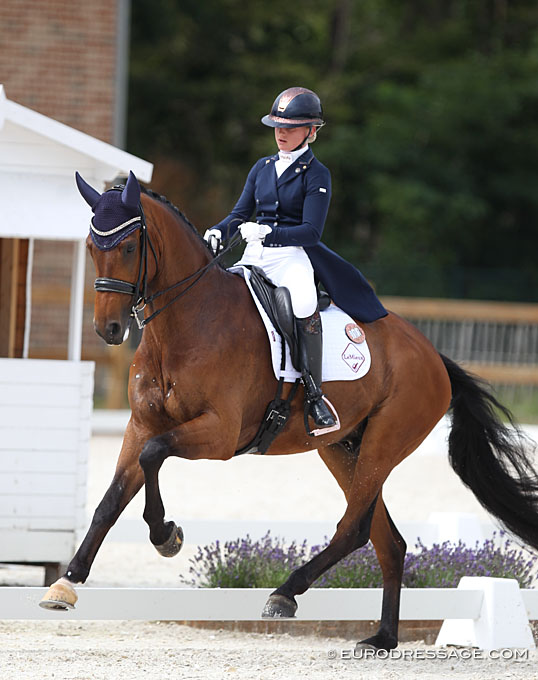 Dutch born, Belgian Jette de Jong has a mega star for the future in her 8-year old KWPN gelding Heavenly Charming (by Charmeur x United). In trot the horse is still looking for a regular rhythm but the canter is wow with such uphill changes. But maybe the nicest, friendliest riding came from total new comer and CDI debutant Michiel Nevelsteen on the 9-year old Lars van het Kristoffelhof (by Florencio x Gribaldi). The young man has been scouted by trainer Els Michiels on the LRV local show circuit and offered a chance to dream big in the sport. The rookie had the best, steady hand position and consistent bridle contact of all juniors in the class, even though the left rein could be a bit more elastic still. Well done!
In the Young Riders Team Championship test, the panel of judges seemed as ring rusty as some combinations, with huge score differences between the three judges (Leyman, van Twist, Ardu). The winner, Luna Laabs on the Danish bred Wild Willy Granly (by De Noir x Weltmeyer) scored between 70.588 and 76.765%. The second placed pair, Suraya Hendrikx on Dear Friend, scored between 67.500 and 74.559%. Woopsie.
There was a new British face on the continent: Alicia Lee on the 11-year old Hanoverian mare Bonita (by Benetton Dream x Prince Thatch xx). The bay mare is a very talented mover, but could show more self carriage with a lighter bridle contact. They earned 69.657%. Dutch Brian Barnett brought two big movers to the show; Querello (by Quaterback x Weltmeyer) and Infora Dance (by Don Schufro x Skydancer) but both horses struggled to show good rideability in these outdoor conditions.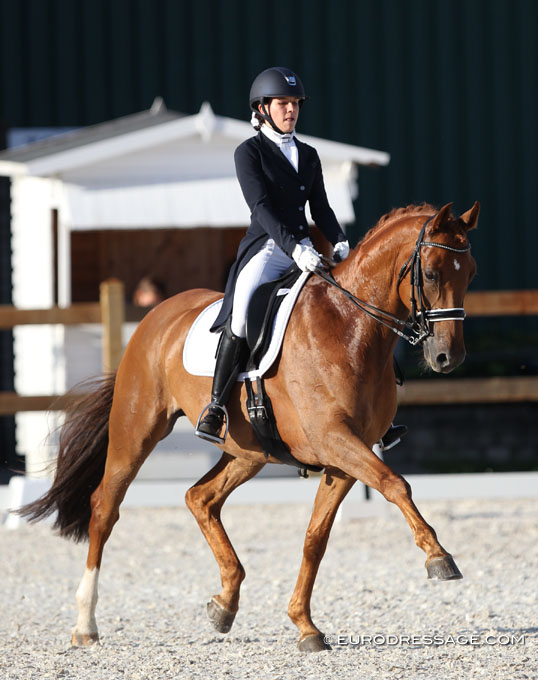 The Young Riders' pair that peaked our interest the most was brand new face, Belgian Lise Vietti on the 9-year old Dutch bred Gianti (by Romanov x D-Day) The chestnut showed so much elegance and lightness, the contact with the bit was pleasant and soft instead of some of the forced, hand held riding that was seen today, unfortunately. 
The first day at the CDI Grote Brogel was inspirational and let's cross fingers for dry weather tomorrow.  Another side note. I was surprised to see that the majority of riders could even bother to braid their horses for the horse inspection. Is the disheveled look the new thing in 2020? 
Text and Photos © Astrid Appels - NO REPRODUCTION ALLOWED !!! 
Interested in photos for your social media or prints, send us an email with your name and we'll get in touch. 
Related Link
Scores: 2020 CDI Grote Brogel