KWPN Foal Auctions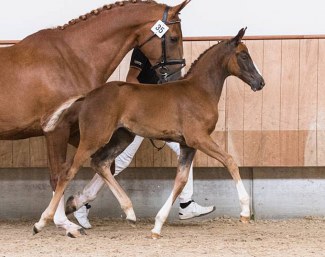 The KWPN society has kicked off its campaign of Online Foal Auction with the first auction concluding on 6 July 2020. In this edition the best selling foals were jumper bred and Patera-Ryal-K achieved the highest knock down price.
Six foals out of a collection of 31 sold for 7,000 euro or more and fifteen sold to foreign owners. 
Jumper Foals Appealed
The jumper bred Patera-Ryal K (by Zapatero x Indoctro) sold for 17,000 euro to Poland. She is a full sister to the KWPN licensed stallion Flying Dream.
The most expensive dressage foal was Princess Irene (by Toto Jr x Goodtimes), which sold to a Dutch client for 9,000 euro. 
Picobella Dansa (by Le Formidable x Dream Boy) will move to the U.S.A. for 7,500 euro. 
A Belgian customer bought Palermo (by Negro x Lord Leatherdale) for 4,250 euro.
The average price for a dressage foal in this auction was 4,700 euro.
Stand Out Foals Sell Well, Others Not So
Wim Versteeg of the KWPN society made the following conclusion of the first of seven KWPN Online Foals. 
"It is striking that we are offered more foals with interesting pedigrees and lineage. This results in greater foreign interest and better auction prices. On the other hand we have to conclude that foals who appeal less from a technical breeding point of view and who can't convince in their gaits, are difficult to sell. Our starting point with the KWPN online foal auctions is that we want to support our breeders in offering a market for their foals."