2020 Bundeschampionate Qualifier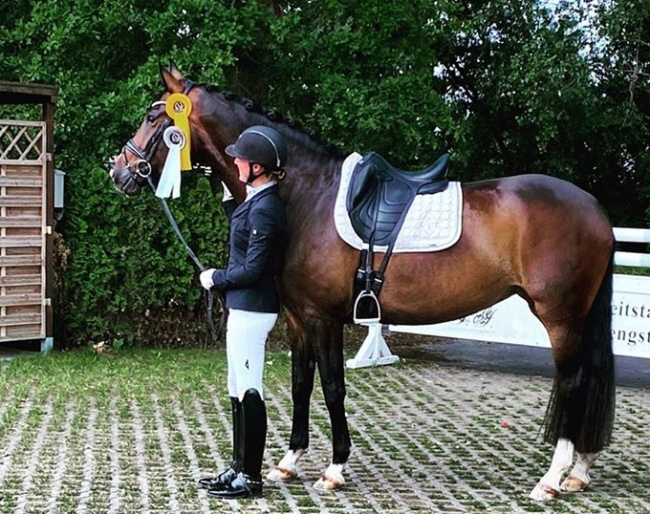 The 5-year old Deleih la Carree and the 6-year old Frederike O were the winners of the Bundeschampionate qualifier held at Riding Stable Pausin in Schönwalde/Glien on Sunday 5 July 2020.
Organized by Ibrahim Tahani, the competition was only small with six 5-year olds and just two 6-year olds trying for a ticket to Warendorf.
The L-dressage horse test was judged by Regina Stenz, Dieter Krull and Ralph Schmidt and they put Catherine Meyer on Silke Pelzer's Deleih la Carree  first with 8.1 points. The Oldenburg mare by Dimaggio x Sandro Hit received 8 for walk and canter, 8.5 for trot, 7.5 for submission and 8.5 for general impression. Meyer also placed second with Pelzer's Oldenburg mare Second Sister vom Rosencarree (by Sandro Hit x Royal Diamond) on 8.0. This mare earned 7.5 for walk, 8.5 for trot, and 8 for canter, submission and general impression. Three combinations in fact tied in second place. The other two were Leslie Rohrbacher on Maren Bergen's Oldenburg stallion Salantis (by San Amour x Don Primero). He earned 7.5 for walk, 8.5 for trot and canter, 7.5 for submission and 8 for general impression; and Alexandra Struzynski on the Oldenburg gelding Dante's Luca (by Dante Weltino x Royal Diamond) The black gelding got straight 8s.
The same panel of judges officiated for the M-level dressage horse test for 6-year olds, which was won by Lisa Maria Schneider on Christian-Ohnse's Hanoverian mare Frederike O (by Furstenball x Sandro Hit). The dark bay mare got 7.5 for walk, 8 for trot, 7.5 for canter and 8 for submission and general impression to finish on 7.8, not enough to go to Warendorf. Belgian Bart Desender went from winning with MJS Pferde's Hanoverian gelding Fine Art von Bellin (by Fidertanz x De Niro) at the Neustadt/Dosse qualifier on 1 July 2020 straight to the one in Höven, where they earned 7.7 in total to place second. The horse got 7.5 for walk, 8.5 for trot, 8 for canter, 7 for submission and 7.5 for general impression. 
Results - 2020 Bundeschampionate Qualifier - Schönwald
5-year olds
1.  Deleih la Carree (by Dimaggio / Sandro Hit) - Mayer,Catherine - 8.10
2.  Second Sister vom Rosencarree (by Sandro Hit x Rohdiamant ) - Mayer,Catherine - 8.00
2.  Salantis (by San Amour I / Don Primero) - Rohrbacher,Leslie - 8.00
2.  Dante's Luca (by Dante Weltino / Royal Diamond) - Struzynski,Alexandra - 8.00
5.  Flow Jack (by Finest / De Niro) - Gerullis,Pia Anina - 7.40
5.  Scarini (by Scaglietti / Quaterback) - Haacke,Hendrik - 7.40
6-year olds
1. Frederike O (by Fürstenball / Sandro Hit) - Schneider,Lisa Maria -  7.80
2 . Fine Art von Bellin (b Fidertanz / De Niro) - Desender,Bart R- 7.70
Related Link
Eurodressage Coverage of the 2020 Bundeschampionate