2020 Bundeschampionate Qualifier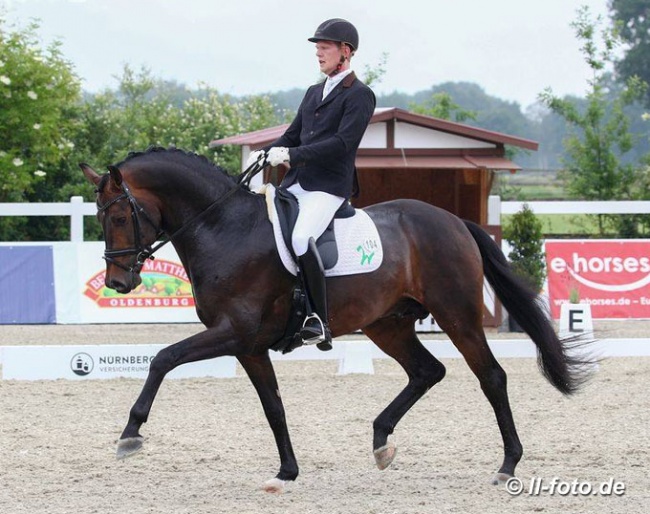 The German selection trials for the Bundeschampionate are in full swing with selection opportunities happening almost every day now for the past week. On 30 June two qualifiers were held. At the one in Hünxe-Bruckhausenn the 5-year old R-Design and the 6-year old Falihandro were the winners. 
In the 5-year old division 10 combinations appeared. Andreas Voss and the Westfalian stallion R-Design (by Rock for Me x Hochadel) achieved the winning score of 8.2 points. The chestnut stallion got 8.5 for walk, 8 for trot, canter and submission and 8.5 for general impression. Annika Korte and the Oldenburg mare Tara (by Tomahawk x Hotline) have been traveling from Rhede (19 June) to Kronberg (27 June) to Hünxe (30 June) to chase a qualification ticket and they finally hit the 8.0 mark in Hünxe to earn their entry in Warendorf. The dark bay mare got 7.5 for walk, 8.5 for trot, and 8 for canter, submission and general impression. Lisa Erlemeyer and the Hanoverian gelding Floriccino K (by Floriscount x San Remo) were third with 7.6. 
Ten pairs competing in the 6-year old division, which was won by Niklaas Feilzer on the Hanoverian stallion Falihandro (by Furstenball x Dancier) with 8.2 points. The dark bay stallion earned 7.5 for walk, 8.5 for trot, 8 for canter, 8.5 for submission and general impression. Portuguese Carlos Caetano and the Westfalian gelding Federer (by Franziskus x Damon Hill) were the runners-up with 8.0. The dark bay gelding got 8 for walk, 9 for trot, 7.5 for canter and submission and 8 for general impression. 
Photo © LL-foto
Results - 2020 Bundeschampionate Qualifier - Hünxe
5-year olds
1 Andreas Voß -  R-­Design (by Rock for Me / Hochadel) - 8.2
2 Annika Korte - Tara (by Tomahawk / Hotline) - 8
3 Lisa Erlemeyer -  Floriccino K (by Floriscount / San Remo) - 7.6
4 Jana Freund - Fine Designed MJ (by Finest / Diamond Hit) - 7.5
4 Lena Backes - Millenniums Little Lady (by Millennium / Rubinstein) - 7.5
4 Carlos Caetano  - anity Fair (by Vivaldi / Sandro Hit) - 7.5
7 Judith Knoch - Gretah (by Grey Flanell / Sir Donnerhall) - 7.3
8 Maike Mende - Girovanni T (by Sir Donnerhall I / Don Girovanni) - 7.2
9 Dennis Jürgen Viebahn  -  Stradivari (by Sezuan / Vivaldi) - 6.4
Carolin van der Linde - Famous Grouse (by Floriscount / Lauries Crusador xx) - ELI
6-year olds
1. Niklaas Feilzer -  Falihandro (by Fürstenball / Dancier) - 8.2
2 Carlos Caetano - Federer (by Franziskus / Damon Hill) - 8
3 Lydia Camp - Pettersson (by Hirtentanz / Maizauber) - 7.6
3 Alexa Engel - Baron Bolligru E (by Bordeaux (NLD) / Londonderry) - 7.6
3 Annika Korte -  Dana del Ray (by Don Index / Contendro) - 7.6
6 Hannah Wießner - Sieshof's Fürstenrock (by Fürstenball / Rockwell ) - 7.5
7 Lisa Erlemeyer - Dancing Star (by Dancing World / Rascalino) - 7.2
8 Judith Knoch -  Franziska ZE (by Franziskus / Don Frederico) - 6.6
9 Jil Lana Seidel - Duna Blanca (by Don Darius / Fabriano) - 6.4
9 Johanne Pauline von Danwitz - F ­ Type (by Franziskus / Chico's Boy) - 6.4
Related Link
Eurodressage Coverage of the 2020 Bundeschampionate