The Netherlands
Children rider Kebie Raaijmakers, junior rider Sanne van der Pols, young rider Daphne van Peperstraten, and Under 25 rider Febe van Zwambagt stood out as best performing rider at the first of two observation and selection trials for Dutch team selection for the 2020 European Youth Riders Championships.
The 2020 European Youth Championships are taking place in Budapest on 9 - 30 August 2020.
However due to the corona pandemic and slow, unsynchronized opening of borders and competitions in European countries, the Dutch Equestrian Federation decided that their team selection would depend on two nationally organized selection moments to which all riders in their respective age categories are invited. 
The first "observation" trial was held in Exloo, The Netherlands, for Children, Juniors, Young Riders, and U25 riders. As competitions are only allowed in Holland as of 1 July 2020, this selection trial was titled a "measure moment" and no scores and rankings were officially published, even though the riders received their score as an indicator for their performance. 
Dutch Team trainer Monique Peutz was present in Exloo to assess the combinations that fall under her supervision: junior, young riders and Under 25 riders. Imke Schellekens is in charge of the Children. Her pony riders will compete in two observation trials later in July. 
In the Children division 16 combinations presented itself for team consideration. Kebie Raaijmakers and Children routinier Happy Feet (by Tuschinski) broke a personal record and scored 78,8%. Newcomer Elisa de Loos and the 11-year old KWPN gelding Enzo (by Oscar) produced the second best score of 75.03%, while Maura Knipscheer and the 15-year old Amaretto (by Krack C) were third with 74.80%. Veerle van Hof and the 12-year old Don Diablo (by Westpoint) and Veerle Farla on the 10-year old Formidable (by Tango) moved themselves into the top five with 74.00% and 73.01%.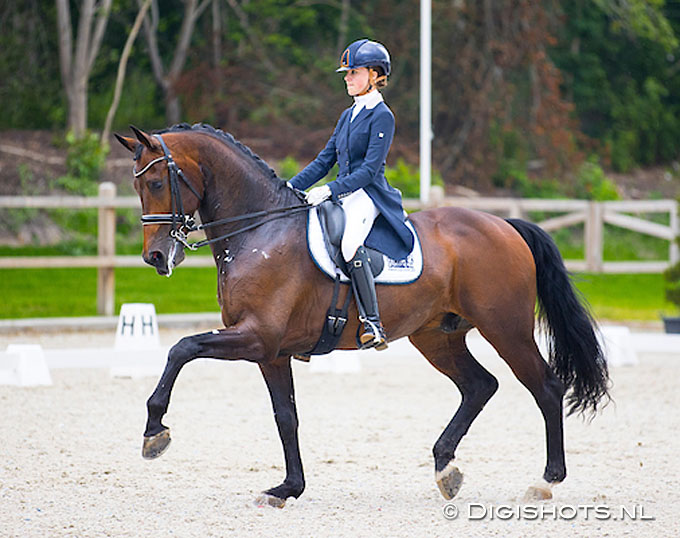 In the Junior Rider division there was 21 pairs competing. Sanne van der Pols showed strong riding on her two horses Cuvanck PP (by Downtown x Munchhausen) and her 11-year old Dutch warmblood gelding Excellentie (by Don Schufro x Riverman). Trained by Coby van Baalen, Van der Pols achieved the highest day score of 72.77% on Cuvanck and also posted the fourth best score of 71.01% on Excellentie. Micky Schelstraete and the 9-year old KWPN gelding Grand-Charmeur (by Apache x Cocktail) were on Sanne's heels and only scored a fraction less with 72.71%. Pony rider Evi van Rooij is also trying her luck in the junior classes on her brand new ride, Don Tango B (by Jazz x Contango) and was third on 71.76%. Last year's pony team rider Robin Heiden has moved into the junior division with Gasmonkey (by Tuschinsk x Ferro) and posted 70.80%, edging out Pem Verbeek on the 14-year old Oldenburg gelding Fernando Torress (by Florencio x Sandro Song) who received 70.20%. 
Daphne van Peperstraten and her long-time partner, 13-year old Dutch warmblood gelding Cupido (by Johnson x Duco) were again the measure of all things in the Young Riders division, which counted 19 pairs. They scored a whopping 78.57%. Newcomer to the age category, Marten Luiten and the 10-year old Fynona (by Ampere x Gribaldi), seemed to have no trouble with the small tour level moments. A silver European Junior medalist last year, Luiten scored 77.59% at the first observation trial. Routinier Thalia Rockx produced the third and fourth highest score in the YR division. Aboard her home bred 9-year old Golden Dancer (by Bretton Woods) she scored 73.60% and with the home bred 9-year old Gerda Nova (by Romanov x Don Schufro) she scored 72.30%.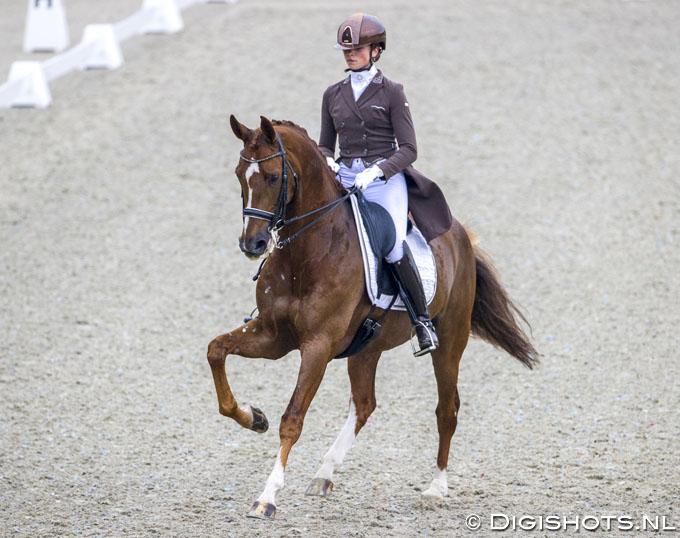 The Under 25 division was surprisingly the biggest category of all at the first trial with 25 pairs presenting themselves for selection. The familiar faces ruled the roost, but it wasn't the 2019 European U25 champion Jeanine Nieuwenhuis who scored the highest. Instead, Febe van Zwambagt and her new ride of the year,  Van Norel and Gabrielle Rensink's 11-year old Dutch bred Edson (by Winningmood x Oscar), aced the division with 73.03%, edging out Nieuwenhuis on TC Athene (by United x Jazz) with 72.30%. Jasmien de Koeyer and Esperanza (by Desperados x Krack C) were third on 71.90%. Febe van Zwambagt also placed fourth on her second horse Fyeo (by United x Jazz) with 71.70%. Mercedes Verweij and  the 2017 Dutch Grand Prix team horse Four Seasons, a 16-year old Westfalian gelding by Furst Piccolo x Mon Cheri, landed fifth place with 71.10%. A new pair on the Dutch U25 scene is Dana van Lierop aboard Karin Retera's KWPN bred Chocolate Cookie RDP (by Johnson x Livingstone), shown last year by Nikki Schaap. They scored 69.90%
Photos © Digishots 
Related Links
Two Observation Trials to Decide Dutch Teams for 2020 European Youth Championships
Alex van Silfhout Promoted as Dutch Grand Prix Team Trainer, Imke Schellekens Pony Team Trainer