The Netherlands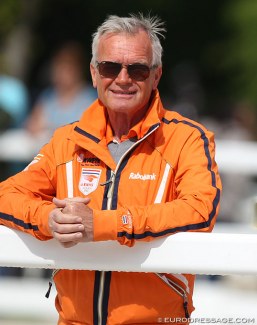 Alex van Silfhout has been appointed the new Dutch Grand Prix team trainer. He is leaving his post as youth team trainer to step up to the highest level.
The Dutch Equestrian Federation announced its new team trainer appointments as of 2019 on 11 January. Two new positions have been filled. 
Van Silfhout moves up to the senior Grand Prix riders, abandoning his post as Junior-Young riders-U25 team trainer. This position will now be filled by Monique Peutz, who was previously the pony-children team trainer.
The position of pony-children team trainer has been allocated to Imke Schellekens-Bartels, who walks into the footsteps of her mother Tineke Bartels, who was the Dutch Pony team trainer before Peutz. 
"As youth coaches Monique and I worked together much," said Alex van Silfhout about his promotion. "Imke is a super addition to that. The plan is that we are available for each other and discuss a lot. We all need to go in the same direction with dressage sport in Holland. I'm sure that the three of us will be able to make big leaps forward." 
The position of Grand Prix team trainer became vacant when Rien van der Schaft handed in his resignation effective immediately, right before the 2018 World Equestrian Games. Van der Schaft felt that the job did not involve any proper team training, but was more an administrative task of being chef d'equipe.  KNHS technical director Maarten van der Heijden served as ad interim coach for the remainder of the year. 
Photo © Astrid Appels
Related Links
Rien van der Schaft: "I Had the Role of Chef d'Equipe and Not Team Trainer"
Van der Schaft Resigns as Dutch Team Trainer Effective Immediately
Peutz and Van Silfhout Appointed Dutch Team Trainer for Pony, Junior, Young and U25 Riders
Tineke Bartels Resigns as Dutch Team Trainer for Pony, Junior and Young Riders
Laarakkers Replaced by Tineke Bartels as Dutch Pony Chef d'Equipe