Denmark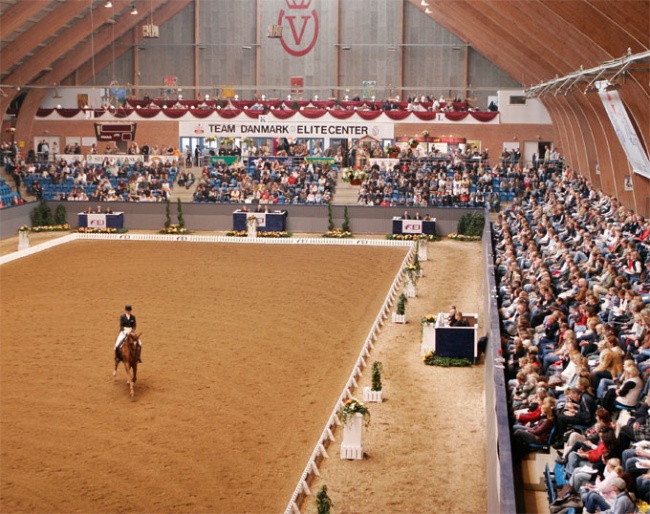 The annual Danish World Cup qualifier, held each year in October, will move location - from Herning to Vilhelmsborg - due to the financial impact caused by Covid-19. 
Herning was dropped  as venue and the Danish national equestrian centre in Vilhelmsborg came to the rescue to keep the Danish world cup slot in place.
"The uncertainty and the severe restriction of the allowed number of spectators make the implementation in the known format financially impossible, and we had no choice but to cancel or move the World Cup qualification this year," says Casper Cassøe, one of the organizers behind the event. 
The Herning edition at the big indoor exhibition centre Jyske Bank Boxen is organized by Equitour Aalborg (Jens Trabjerg and Andreas Helgstrand) in partnership with the Danish warmblood society and Danish Equestrian Federation. 
Cutting Costs
The financial insecurity made Herning too expensive as a location, but in a trimmed version in Vilhelmsborg the investment remains worth it.
Significant costs will be cut by hosting it at its already established equestrian centre in Vilhelmsborg instead of paying for the Jyske Bank Boxen.  Vilhelmsborg has permanent stables, heating and training facilities for horses and riders, and the facilities for the spectators can be scaled to match the current requirements of the authorities.
"The organizers expect the move to cost a six-figure amount but have chosen to invest in maintaining the event in Denmark," Cassoe added.
Morten Rodtwitt, director of the Danish Equestrian Federation, is pleased that the Danish CDI-W remains secured for 2020.  The FN "praises the event organizers behind World Cup Herning. In a difficult time, they have shown constant care, been creative and, not least, willing to think in positive, alternative solutions. The World Cup is a prestigious tournament that only the very best international event organizers will have the opportunity to hold, so it is crucial that Denmark remains part of this circle. By moving the qualification to Vilhelmsborg, we keep the qualification on Danish soil while taking the necessary health measures, and this is a solution that our federation supports 100%. The same will undoubtedly apply to the Danish dressage riders, who will be more than ready to go for the first World Cup qualification in October."
Odense, Vilhelmsborg, Herning
It is the 14th consecutive year that Denmark has hosted a World Cup leg. The locations have changed between Odense and Vilhelmsborg and it moved to Herning in 2017. 
Vilhelmsborg hosted the World Cup finals in 2000. 
Related Links
 Van Grunsven, Supreme Goddess of the Kur, Wins 2000 World Cup Finals
Home side's hero Helgstrand sweeps to victory again at 2005 CDI-W Aarhus
2005 Western League World Cup Countdown Begins