2006 World Cup Finals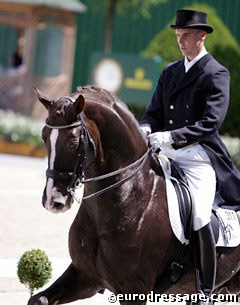 The FEI World Cup dressage season kicks off in earnest this weekend at the Danish National Equestrian Centre, Vilhelmsborg, Aarhus, with the first of seven Western European League qualifiers.
Aarhus, hosting the largest dressage event on Danish soil this year, is preparing to welcome a host of international talent.
Heading the home side's entries Andreas Helgstrand, who placed fifth at this year's stellar final in Las Vegas, has opted to ride Blue Hors Don Schufro in an attempt to reclaim the prize he won here last year on Blue Hors Cavan.
In his first outing since the European Championships in Hagen, German team rider Klaus Husenbeth will enter the World Cup fray for the first time here with Piccolino. Compatriot Ann Kathrin Linsenhoff, one of the stars of last season's league starts her points' hunt with the lovely mare Wahajama. They are joined by Ellen Schulten-Baumer and World Cup stalwart Gina Capellmann-Luetkemeier.
The Netherlands also fields some young talent here with 2005 European team debutante Laurens van Lieren riding Hexagon's Ollright and Kirsten Beckers on the stallion Broere Jazz.
It will be welcome back Kristy Oatley, who returned to international competition last month after the birth of her baby son Oskar in February. Oatley gained sixth place here in Aarhus at her first Final in 2001. The Germany-based Australian will ride Quando-Quando, on whom she placed 13th at the 2004 Final.
For Britain, Fiona Bigwood has opened her points' card already with second place at the Central European League qualifier CDI-W Kaposvar with Mr G de Lully, while the new - and youngest ever at 20 years of age- national champion Laura Bechtolsheimer has a win from CDI-W Marianska-Lazne under her belt with Douglas Dorsey.
And Around The World……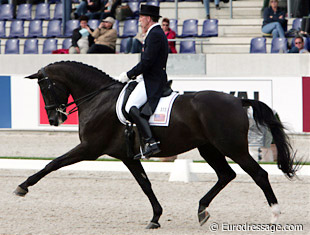 The Central European League Final will take place in Warsaw, Poland on 17and 18th March 2006. Currently leading the standings is Zsofia Dallos, daughter of Hungary's most prolific World Cup representative Gyula Dallos.
The USEF 2006 U.S. League Final will take place March 16-19 in Wellington, Florida. Currently top of the ranking is Las Vegas finalist Leslie Morse, in pole position with Kingston and third with Tip Top. In between, George Williams and Rocher, now back better than ever after her year's injury break, set a new record freestyle score to win at Devon recently.
Canada's participation will be decided at the League Final Toronto, which takes place from 9-13 November 2005
The Pacific League Final will be held at Werribee, Australia from 18-19 November 2005.
Photos copyrighted: Astrid Appels/Eurodressage
Back to the 2006 World Cup Finals Index