2006 World Cup Finals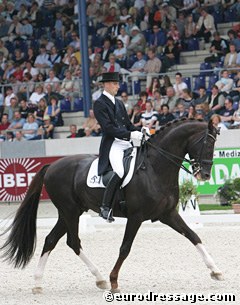 It was standing room only at Vilhelmsborg, Aarhus this afternoon where the Western European League of the FEI World Cup dressage opened with a decisive victory for the second year in succession for local hero Andreas Helgstrand.
This time, Helgstrand piloted the 12-year-old Oldenburg stallion Blue Hors Don Schufro to win with two percent in hand over Holland's newest star Laurens van Lieren aboard his European team ride Hexagon's Ollright. In third place, Ellen Schulten-Baumer guided Donatha S, like Don Schufro sired by Donnerhall, to a 74.88 per cent score.
The winner said: " I'm very happy not just with today but the whole weekend. Don Schufro is in great shape and becoming more steady in his work - he only did his first grand prix last year. I can ride him more forward now. He gives me a super feeling to ride. It is like cars, all can 'go' but there's a difference with a Ferrari!"
While the main goal for Don Schufro is next summer's World Equestrian Games, Helgstrand may bring out his trusty campaigner Blue Hors Cavan for some more World Cup outings.
Laurens van Lieren was thrilled with Hexagon's Ollright. This young combination (Laurens is 23, Ollright nine) has had a whirlwind of a year with the summer's highlight a team silver medal at the European Championships. Now they are focussed on earning a place to ride at the Final in Amsterdam. " Last year we came here and placed 13th, so we have moved up eleven places", said the Dutch rider. " Today I felt I was really riding with the music and that my horse was really with me. At the start of the show he was a bit nervous as he is very sensitive to the crowd noise, but we just practised some relaxation techniques and he really tried."
Their next outing will be the Maastricht qualifier. " I really want to go there and show even more progress. Our communication is so much better than even a half year ago and we understand each other more. It is amazing to experience. I would love to ride at the Final in Amsterdam in front of the home crowd", van Lieren added.
Foreign judge, Holland's Wim Ernes, commented: " It was an exciting class with some very good rides and a high standard overall. Don Schufro is very talented with highlights in piaffe, passage and transitions. The degree of difficulty was not so high, but that will come with more experience. Laurens had a very good ride, taking a lot of risks. There was just one mistake at the end - some uneven steps in the extended trot through tension - when a member of the audience stood up. But Ollright improved over the show becoming more relaxed. Donatha S is a horse with real power - the extensions are real highlights - but the general impression could be a little smoother."
He was full of praise for the show: " The organisers do their best to get everything right and the focus is on the horses and riders. The audience is super, and every good ride gets huge appreciation, not just the home riders."
The third weekend of November is a busy one for the Western League with Maastricht and Stockholm taking place. Earlier next month first the Pacific than the Canadian Finals will decide the representatives who will head to Amsterdam for the 2006 Final. Maastricht is likely to be the first FEI World Cup outing this season for title-holder Anky van Grunsven, while Jan Brink, who clinched the Aachen championship in August after claiming two bronze medals at the European Championships, could ride in Stockholm.
RESULT 
FEI World Cup Freestyle to Music Qualifier, sponsored by Ecco 
1, Blue Horse Don Schufro (Andreas Helgstrand, DEN) 77.88 
2, Hexagon's Ollright (Laurens van Lieren NED) 75.95 
3, Donatha S (Ellen Schulten-Baumer GER) 74.88 
4, Guinness (Louise Nathhorst SWE) 74.43 
5, Wahajama UNICEF (Ann Kathrin Linsenhoff GER) 73.88 
6, Douglas Dorsey (Laura Bechtolsheimer GBR) 73.30 
7, Piccolino (Klaus Husenbeth GER) 72.63 
8, Wilson (Kristian von Krusenstierna SWE) 72.33 
9, Amando (Gina Capellmann-Luetkemeier GER) 71.20 
10, Paganini (Jeroen Devroe BEL) 70.78
Related Links
Scores 2005 CDI-W Aarhus 
Andreas Helgstrand Rides Personal Best at 2004 CDI-W Stockholm
Andreas Helgstrand Fourth in Voting for Danish Sport Talent of the Year 2004
Back to the 2006 World Cup Finals Index