2004 CDI-W Stockholm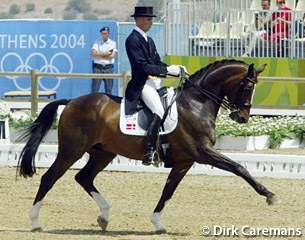 Andreas Helgstrand and Blue Hors Cavan claimed their second successive victory in the FEI World Cup Western European League with a sparkling freestyle performance in front of an enthusiastic audience of over nine thousand.
The Danish pair, in performing "their best freestyle to date," saw off a challenge from the hotly tipped Spanish combination of Beatriz Ferrer-Salat and Beauvalais to claim first prize of a Mitsubishi Outlander, on a score of 79.47%. "I hope I can keep it, I need a new car" said the winner.
Cavan, who also won here in 2000 and 2001 with his previous rider Lars Petersen, now holds the record as the Globen Arena's most successful dressage horse. "He could not have gone better today, he was working with me all the way", said Andreas Helgstrand, who only started riding Cavan at international level in May this year. "It was daunting to start riding a horse with such an impressive record", he added, "but he had a great grounding and he has no bad points." The combination is currently standing second in the league on 40 points and well on the way to a place for April's FEI World Cup Final in Las Vegas. Helgrstrand also intends to start his promising younger stallion Don Schufro in the World Cup next year.
Ferrer-Salat, team silver and individual bronze medallist at the Athens Olympics, finished one and a half per cent in arrears. She was happy, but noted that although the arena has a great ambience the atmosphere was hot for the sometimes spooky Beauvalais. Olympia is her next outing, having opened her account with 17 points and ninth place in the current standings.
It was a great day for the Danes as Per Sandgaard and Zancor also performed their best ever freestyle for third place on 76.37%. Sandgaard, who is based in Sweden, only started riding the 13-year-old gelding three years ago. "He was only at elementary level in dressage and had only done five shows," said Sandgaard. "He was for sale at the time - though he isn't now - and he was and still is very sensitive. It took time to get close to him and we are still developing our relationship." The Danish rider, on 15 points and standing joint 11th with Germany's Isabell Werth and Holland's Sven Rothenberger, is now encouraged to try for a ticket to Las Vegas. Their freestyle was a crowd pleaser to a medley of music from the 1980's: " That time was the partying period of my life, and I'm happy every time I ride to that music," Sandgaard added.
Without Jan Brink, whose star stallion Bjorsells Briar is being brought back slowly to work following a knock to his knee, former World Cup champion Louise Nathhorst placed highest for the Swedish home side in eighth place on the stallion Guiness, but she was only just ahead of Brink's fiancée Minne Telde, who had a super ride on the sometimes tense Bjorsells Sack for ninth. The top twelve riders all scored over 70 per cent. Ground jury President, Sweden's Birgitta Bergsten commented: " Almost all the horses went better today, being calmer than they were in yesterday's grand prix."
The next leg of the FEI World Cup dressage takes place in Maastricht, The Netherlands, on 11-12th December. Germany's Ann-Katrin Linsehoff, who placed fourth in Stockholm on Renoir-UNICEF, still heads the standings on 50 points.
Andreas Helgstrand Ready For Second World Cup Qualifier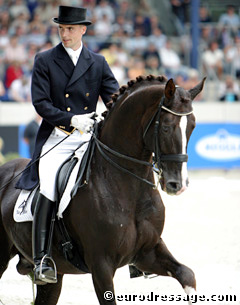 The second Western League World Cup qualifier is coming up this weekend in the Globen arena in Stockholm, Sweden. Winners of the first World Cup qualifier, the Danish Andreas Helgstrand and his Hanoverian mount Blue Hors Cavan, will be putting the pressure on the other riders in Stockholm. This time, however, he will get some serious competition from the 2004 Olympic bronze medallist Beatriz Ferrer-Salat, who has brought Beauvalais to Sweden to gather World Cup points.
Helgstrand and Cavan meant to compete at the CDI Stuttgart last weekend, but Cavan sustained a minor injury during transport to the show in Stuttgart, Germany. "He was only bad for one day, now he's frisky again," Helgstrand explained, telling that Cavan is back in top shape for the Stockholm show. The 26-year old Helgstrand realizes that the competition in Sweden will be very tough. "Beatriz Ferrer Salat is riding her Olympic horse and Heike Kemmer is coming too, but I want to compete against the best and get as many points as possible," Andreas said.
Helgstrand will be joined by Danish Olympic team mate Per Sandgaard on Zancor. "Zancor had a break after the Olympics, and so had I," Sandgaard said. "We were exhausted. Athens was a fantastic experience, but afterwards you realize how tired you are. This is the first time that I am really looking forward again to ride in a show. I'm very happy to be able to ride in the Globen. On freestyle night, they have a sell out crowd of 10,000 people."
Competing at the CDI-W Stockholm are:
Andreas Helgstrand - DEN - Blue Horse Cavan / Blue Hors Don Schufro
Jon Pedersen - DEN - Esprit de Valdemar
Per Sandgaard - DEN - Zancor
Laurens van Lieren - NED - Hexagons Ollright
Thamar Zweistra - NED - Hexagons Kyrain
Beatriz Ferrer Salat - ESP - Beauvalais
Wayne Channon - GBR - Lorenzo
Helena Larson - SWE - Corrado
Louise Nathhorst - SWE - Guinness
Minna Telde - SWE - Bjorsells Sack
Tinne Vilhelmson - SWE - Just Mickey
Kristian von Krusenstierna - SWE - Wilson
Liane Wachtmeister - SWE - Mr Bean
Heike Kemmer - GER - Albano
Ann Kathrin Linsenhoff - GER - Renoir
Gina Capellmann Lutkemeier - GER - Amando
Ellen Schulten Baumer - GER - Lesotho
Image copyrighted: Astrid Appels/Eurodressage - No Reproduction Allowed
Related Link
Scores CDI-W Stockholm 2004