2020 Bundeschampionate Qualifier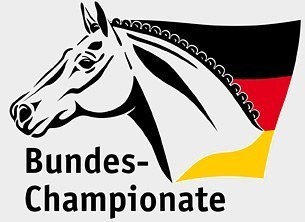 The 5-year old Deep Infinity and the 6-year old Lamantia became the winners of the Bundeschampionate qualification classes held at the small regional show in Zeven, Germany, on 27 June 2020. 
Judges Cornelia Albrecht, Peter Olsson and Bärbel Geppert assessed the L-level dressage horse test for five year olds and put Tessa Frank on Jasmin Troike's Deep Infinity at the top of the board. Bred at Gestut Lewitz, the Hanoverian gelding by Danciano x Sir Donnerhall scored 8.3 for the victory. Two combinations tied in second place with an 8.0 score: Stefan Blanken aboard Prisca Brugger's Hanoverian gelding Surealo (by Scuderia x Belissimo M), and Lena Waldmann aboard Gestut Bonhomme's Rhinelander mare Venice Beach (by Van Vivaldi x Davignon). 
In the 6-year old division, judges Olsson, Geppert and Cornelia Hinsch assessed a class of 10 pairs and put Nicole Kirschnick on Jorg Clasen's Lamantia first with 8.0. The Hanoverian mare Lamantia (by Lorenzio x Florencio) was the only horse to achieve the Bucha minimum qualification score. Jörn Kubelke and  Bernd Freye's Hanoverian gelding Quintessential (by Quantensprung x Donnerhall)were second on 7.8. Three days earlier this pair also tried to qualify for Warendorf at the trial in Verden, but scored 7.6.
Results - 2020 Bundeschampionate Qualifier - Zeven
5-year olds
1 Deep Infinity - Frank,Tessa - 8.3
2 Surealo - Blanken,Stefan -  8
2 Venice Beach -  Waldmann,Lena -  8
4 Gucci - Schmidt,Tassja -  7.6
5 DSP Alpha Royal - Bewerungen,Eike - 7.5
6 Fürstentanz - Goerens-Ripphoff,Kira -  7.4
7 Facila - Garrn,Katalin -  
7 Wahre Liebe GK - Henkel,Maren -  7
6-year olds
1 Lamantia - Kirschnick,Nicole - 8
2 Quintessential - Kubelke,Jörn - 7.8
3 Gentleman's Style  - Fischer,Lukas - 7.7
3 DaVinci G  - Frank,Tessa - 7.7
5 Day by Day - Dieckell,Anke - 7.6
6 Fine Art von Bellin - Desender,Bart - 7.5
7 Bismillah  - Rainsborough,Eva - 7.3
7 Donnerknispel MLP - Homuth,Andreas - 7.3
9 Dorincourt -  Kunze-Bretschneider,Juliane - 7.1
10 Despacita  - Schucher,Mareike- 7
Related Link
Eurodressage Coverage of the 2020 Bundeschampionate