Dutch Dressage Stars
Dutch Dressage Stars is a brand new partnership of three Dutch horse scouts who have merged their talent for spotting, training and selling high quality dressage horses while providing excellent customer care. 
Dutch Dressage Stars will hold its first online auction of three carefully selected and trained 4-year olds that have a promising future ahead of them.
Leeghwater (by Franklin x Tango), Liberg (by Spielberg x Goodtimes) and Lionel (by Toto Jr x Olivi) can be your future star.
The first auction starts on 30 June 2020 and ends on 4 July 2020 at 20h00. 
Dutch Dressage Stars
Dutch Dressage Stars is founded by Nikay van Duren, Diederik van Silfhout, and Diederik Wigmans.
The goal of DDS is to create an easy and transparent way to buy your dream horse after Corona restrictions partly shut down the worldwide trade. 
"The three of us decided to hit the road to find nice horses and buy them ourselves as a vote of confidence in these horses," said Nikay van Duren. "Then the horses will be trained by very experienced riders and, thereafter, they will be available to you through an online auction."
"We aspire to present horses with such high natural quality that in case they're not sold, we would love to put in some extra time and educate them to higher levels," Wigmand added.
Customer Care
Dutch Dressage Stars offers horses everyone desires.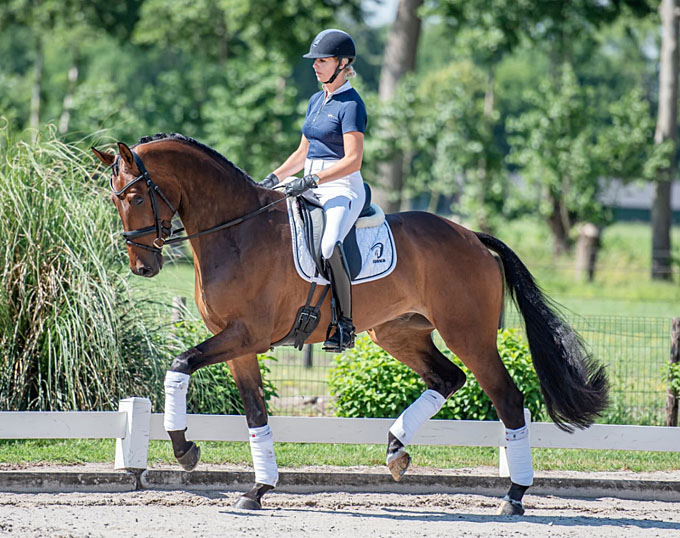 "To guarantee that we can offer well trained horses, we decided to auction 3 to a maximum of 6 horses a month," said Van Silfhout. "We hope that the years of experience of our team, in the dressage sport as well as the sales of dressage horses, will give you courage to buy your dream horse at a time in which we are not as mobile as we want to be due to Corona."
"We hope to not only give confidence to our existing clients, but also to new clients based on transparency and by working together with your own contact person/mediator," Diederik explained.  "Of course we take into account the commission of your mediator who is welcome to try the horses when you're not able to come and try them yourself."
Dutch Dressage Sars will maintain a maximum limit for try-outs, in number of persons and in time, for the welfare of the horse. 
All horses are extensively examined by dr. E. Enzerink of Veterinary Centrum Someren, who is a Dutch Team veterinarian.
Reports and X-rays are available on request. 
For more information, visit www.dutchdressagestars.com