2020 Bundeschampionate Qualifier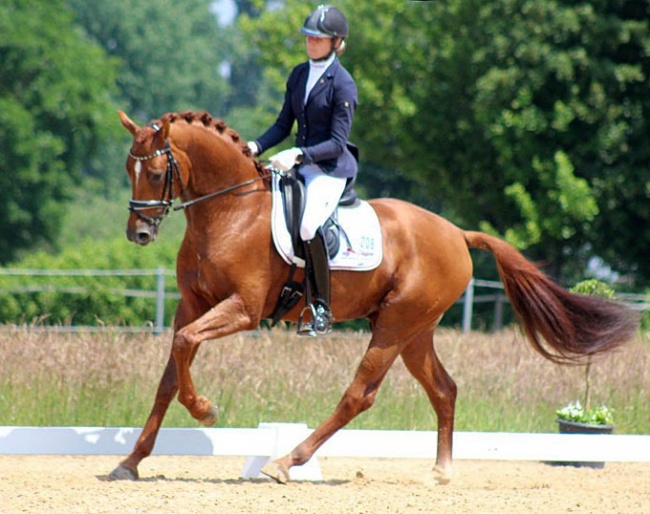 The 5-year old Dark Hill and the 6-year old Rose Royal became the winners of the Bundeschampionate qualification classes held at the Kobold equestrian centre in Uder, Germany, on 24 June 2020, a tiny village in central Germany.
Fifteen pairs contested the L-level dressage horse test and five combinations were entered in the M-level dressage horse test. The qualification classes were sponsored by horse dealer Fabian Scholz. No less than 10 combinations achieved their ticket to Warendorf at this selection show!
Carina Bachmann and Maria Günther's Hanoverian gelding Dark Hill (by Damon Hill x Stalypso) topped the board with a whopping 8.8 score. Ann-Christin Wienkamp and Pferd 24's Escolux (by Escolar x St. Moritz) were second on 8.5, while Carina Bachmann steered Frieda Tauber's Hanoverian gelding Livino (by Livaldon x Wolkentanz I) to a third place with 8.3.
In the 6-year old division, Ann-Christin Wienkamp steered Michaela Kaldewei's Hanoverian mare Rose Royal (by Rubin Royal x Belissimo M) to victory with 8.60 points. Mareike Mimberg and Helga Schmikale's Westfalian gelding For Future (by Furstenball x Samarant) were the runners-up with 8.30. Lisa Marie Koch and Mireille Segatz-Bunte's Oldenburg mare Tomahawk's Girl (by Tomahawk x Rubinstein) were third with 8.2. Only five days ago this pair competed at the qualifier in Rhede where they had 7.7.
Results - 2020 Bundeschampionate Qualifier - Uder
5-year olds
1. Carina Bachmann - Dark Hill (by Damon Hill / Stalypso) - 8.80
2.  Ann­ Christin Wienkamp - Escolux (by Escolar / St. Moritz) - 8.50
3.  Carina Bachmann - Livino (by Livaldon / Wolkentanz) - 8.30
4.  Philipp Hess  - Magic Mike (by Millennium / Linolando) - 8.20
5.  Madita Zurheide - Van Primero (by Van Vivaldi / Stedinger) - 8.10
5.  Matthias Schneider Bremer- Aperol Spritz (by Sezuan / Werenfels) - 8.10
5.  Jill Dahlhaus - Francino (by Florenciano / Ferragamo) - 8.10 
8.  Ann­Christin Wienkamp - Sandoz (by Sezuan / Desperados) - 7.70
9.  Carina Bachmann - Franz ­ Ferdinand (by Fürsten­Look / L'Espoir) - 7.50
9.  Stefanie Hladik- Didgeridoo (by Don Frederic / Piaster) - 7.50
11.  Philipp Hess - Fior de la Luna (by Fürstenball / Londonderry) - 6.90
11.  Anna Schlöffel - Donnerlittchen PS (by Don Nobless / Fabriano) - 6.90
13.  Ute Belitz -  Quantero (by Quaterback / Kaiserwind) - 6.60
14.  Caroline Thees -  Solero (by San Florestano / Santino) - 6.00
Aurelia­Sophie Weimann - Fantastic F (by Fürst Nymphenburg II / Weltmeyer) - RET
6-year olds
1. Ann ­Christin Wienkamp - Rose Royal (by Rubin­Royal / Belissimo M) - 8.60
2.  Mareike Mimberg - For Future (by Fürstenball / Samarant ) - 8.30
3.  Lisa Marie Koch - Tomahawk's Girl (by Tomahawk / Rubinstein) - 8.20
4.  Ann­Christin Wienkamp - Ehrensache (by Ehrenstolz / Lauries Crusador xx) - 7.50
5.  Elena Gronewold -  WaldeckO (by Fürstenball / Sandro Hit) - 6.30
Related Links
Eurodressage Coverage of the 2020 Bundeschampionate