2020 Bundeschampionate Qualifier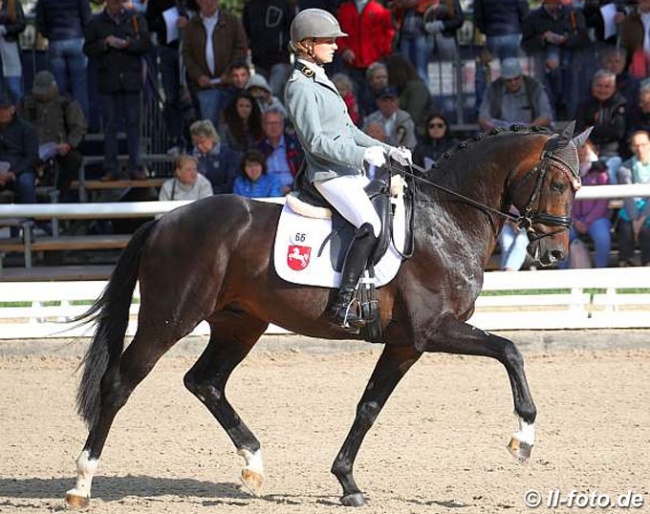 The 5-year old Fernando Parrado and the 6-year old Birmingham became the winners of the Bundeschampionate qualification classes held at the specially organized qualifier (due to corona) in Verden, Germany, on 24 June 2020. 
Eighteen combinations contested the 5-year old division and the class was won by Anne Koch aboard Hans Richelshagen's Hanoverian gelding Fernando Parrado (by Furst Belissaro x Del Piero). The pair scored 9 for walk, 8.5 for trot, 8 for canter and submission and 8.5 for general impression to finish first on a winning total of 8.4 points. The horse has been named after Fernando Parrado, one of the 16 survivors of the famous airplane tragedy of the Andes, of which the movie "Alive" was made. Lena Waldmann and Gestut Bonhomme's Westfalian licensed Maracano (by Millennium x Lord Loxley) were the runners-up with 8.3. The black stallion earned 8 for walk, 8.5 for trot and canter, 8 for submission and 8.5 for general impression. Hannah Laser and Wahler-Heicke's Westfalian stallion Escalito (by Escolar x Conello) was third with 7.8 points. 
Ten combinations lined up for the 6-year old division and the winner was Janina Tietze aboard the Celle state stud's Westfalian stallion Birmingham (by Bretton Woods x Furst Piccolo) on an 8.6 score. The dark bay stallion got 8.5 for walk, 9 for trot, 8.5 for canter, submission and general impression. Lukas Fischer and Kerstin Klieber's Oldenburg stallion Gentleman's Style (by Grey Flanell x Sir Donnerhall) were the runners-up with 7.7. The dark bay got 8 for walk, trot and canter, 6.5 for submission and 8 for general impression. Jörn Kubelke and Bern Freye's Hanoverian gelding Quintessential (by Quantensprung x Donnerhall) were third on 7.6 points. 
Photo © LL-foto
Results - 2020 Bundeschampionate Qualifier - Verden
5-year olds
1 Anne Koch - Fernando Parrado (by Fürst Belissaro / Del Piero) -  8.4
2 Lena Waldmann -  Maracana (by Millenium / Lord Loxley) - 8.3
3 Hannah Laser - Escalito (by Escolar / Conello) - 7.8
4 Nicole Klatt - Fräulein Feni (by Fürstenball / Sandro Hit) - 7.7
5 Zina Facklam - Famous Nymphenburg (by First Ampere / Stedinger) - 7.5
6 Svenja Peper Oestmann - Feliziano (by Flashdance / Floriscount) -  7.3
7 Katja Slupinski -  Fleur de Vie (by Fidertanz / Sandro Hit ) - 7.2
8 Eike Bewerungen - lpha Royal (by Antango / Fidertanz) - 7.1
8 Leonie Bramall - First April BD (by ) - 7.1
8 Birte Senftleben - Don Machiavelli (by Don Nobless / Sandro Hit) - 7.1
11 Jessica Lynn Thomas  - Greyson (by Grey Flanell / Fürst Romancier) - 7
11 Corinna Schwarz - Balvino Gold (by Belissimo M / Serano Gold) - 7
13 Deborah Johannhardt - Bellarina (by Bordeaux (NLD) / Sandro Hit) - 6.9
14 Kevin Lensky -  Libero (by Livaldon / Worldly) -  6.8
14 Marita Pundsack- QC Fun Maker (by Fürst Wilhelm / Fidertanz) - 6.8
16 Jan­Niklas Mürmann -  Fräulein von Nymphenburg (by First Ampere / Don Gregory) -  6.6
17 Lena Bollmann -  Darnacia (by Don Index / Harvard) - 6.2
Christoph Wahler - Q­Sieben OLD (by Quantensprung / Fidertanz) - RET
6-year olds
1. Janina Tietze - Birmingham (by Bretton Woods / Fürst Piccolo) - 8.6
2 Lukas Fischer - Gentleman's Style (by Grey Flanell / Sir Donnerhall) - 7.7
3 Jörn Kubelke - Quintessential (by Quantensprung / Donnerhall ) - 7.6
4 Tessa Frank - DaVinci G (by Don Juan de Hus / Stedinger) - 7.4
5 Bernadette Brune - Faible (by Zhivago / Canterbury) - 7.3
5 Lisa Maria Schneider - Frederike O (by Fürstenball / Sandro Hit) - 7.3
7 Anna­Lena Kracht - Hollywood (by Dante Weltino / Herzensdieb) - 6.9
7 Saskia Sophie Kunz - Little Hollywood (by Livaldon / Wertschatz) - 6.9
7 Jörn Kubelke - Emilio Cariño (by Windsor / Buddenbrock) - 6.9
10 Christoph Wahler -  Daisen (by Danone I / Weltruhm) - 6.7
Related Link
Eurodressage Coverage of the 2020 Bundeschampionate